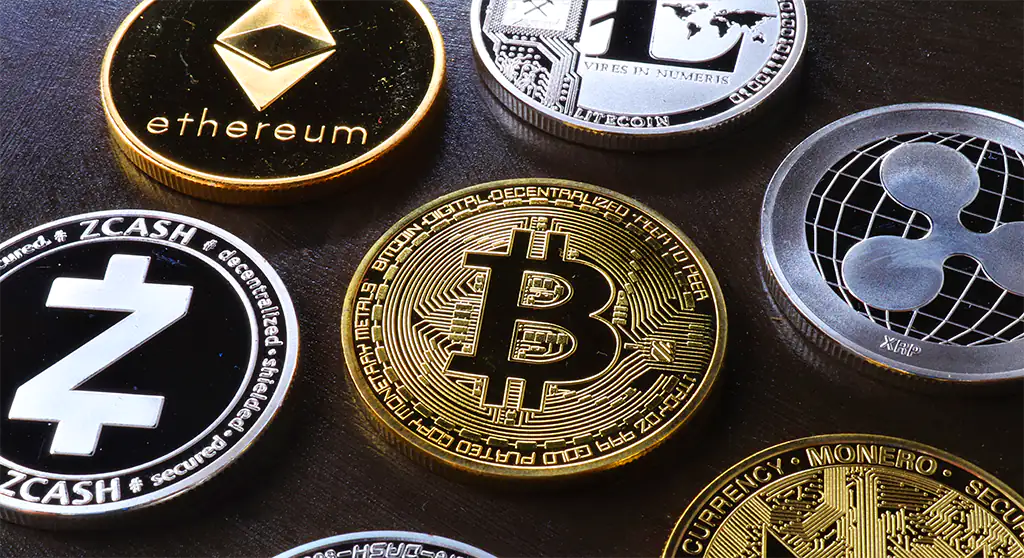 Cryptocurrency seems to be the talk of the financial world lately. And people are beginning to test the waters. A recent survey showed that 13% of Americans purchased or traded cryptocurrencies in the last year. So if you've been thinking about getting into the game, here's what you need to know about investing in cryptocurrency for beginners.
In this article, we'll cover:
What cryptocurrency is
Why do people invest in cryptocurrency
The pros and cons of cryptocurrencies
Tips for investing in cryptocurrency as a beginner
What is Cryptocurrency?
Cryptocurrency, commonly referred to as crypto, is a digital currency that exists entirely online and has no physical form, unlike traditional cash or other assets like gold and silver.
Cryptocurrency runs on a secure technology called blockchain. The concept behind blockchain is that it acts as a decentralized ledger system. Each transaction on the chain verifies the one before it, thereby creating an immutable ledger.
In other words, the blockchain system of recording transactions is impossible to alter because the latest link in the chain is immediately distributed to a vast network of computer systems. Opposed to a single database, as is common with traditional banking systems.
When you purchase a cryptocurrency, it's stored in a digital wallet affiliated with you. Unlike a typical checking account or investment account, your crypto wallet is not kept with any kind of financial institution. You can keep multiple kinds of coins in your wallet. These wallets are heavily encrypted and very secure.
The first and probably most well-known crypto is Bitcoin, and it has certainly seen a meteoric rise in popularity since its creation in 2008. But beyond Bitcoin, there are thousands of other cryptocurrencies available for purchase, including some other household names like Ethereum and the "meme stock of the crypto world," Dogecoin.
Why Do People Invest in Cryptocurrency?
Crypto has been called a speculative asset by some, perhaps partly due to heavy volatility and prices that can change dramatically with a single tweet. But volatility aside, people are still investing for a myriad of reasons.
Some people are looking to crypto as a "get rich quick" scheme. And while a few notable investors have made significant money, generally, investors who strike it rich were among the first to purchase a coin before it went mainstream.
Others are investing in cryptocurrency because they see it as a long-term play. As crypto becomes more widely accepted, these investors anticipate the value to increase over time.
But perhaps the biggest reason people are investing in cryptocurrencies right now is that it's become a cultural phenomenon. Crypto investing has become synonymous with counterculture and going against the mainstream financial institutions. And that's a big allure for investors looking for opportunities to make money outside of day trading single stocks.
But all those reasons aside, there are some tangible pros and cons to investing in cryptocurrency that beginners need to consider.
Pros and Cons of Cryptocurrency
There are numerous benefits to cryptocurrency, including:
Decentralization: Blockchain technology operates on a decentralized database which means there's no need for a centralized financial institution like a bank.
Anonymity: There are some cryptocurrencies that allow for complete anonymity.
Accessible 24/7: Unlike the stock market that closes on weekends and holidays, the trading window for crypto is 24 hours a day, every day.
Open to Everyone: The crypto markets can't be shut off because a government says so.
Crypto is Becoming More Widely Accepted: Along with key players like Square and PayPal, more vendors are starting to accept cryptocurrency as forms of payment.
But you'll also want to consider the cons, which include:
It's Confusing: For most people, cryptocurrency and its underlying technology are difficult to comprehend. In fact, about 1 in 3 investors claim to know little or nothing about their crypto investment.
No Safety Blanket: Most major banks and credit card companies will reimburse you in the case of fraud. But if someone hacks a crypto exchange and steals your coins, that money is likely gone forever.
It's a Risky Investment: Since crypto has only been around for a short time and it's subject to extreme highs and lows, the money you invest is more volatile than if you choose an asset class that's proven to be more stable over the long term.
Tips for Beginner Cryptocurrency Investors
All in all, cryptocurrencies are in their infancy. And that means it could be years or decades before we can definitively say whether or not investing in cryptocurrency is a wise move. But if you're on the fence and feel like you're ready to dabble, here are 4 tips to get you started.
1. Check Your Financial Plan
Before you dive headfirst into a crypto investment, you'll want to take a look at your broader financial plan. Anyone ready to invest in crypto should likely have:
Discretionary income to invest
If your financial plan is solid and you decide you have money to spare for an up-and-coming asset class, then you're ready to research.
2. Research, Research, Research
When the crypto market is surging, it's incredibly tempting to dump every spare penny you have into it. But misunderstanding cryptocurrencies is a major fault of beginner investors.
Take time to understand how crypto works, the best platforms to buy and sell cryptocurrency, and how it fits your broader financial picture. Doing all this research upfront puts you in a far better position to recognize the best cryptos to invest in and also how the investment may benefit you in the future.
3. Test the Waters First
Cryptocurrency is too new to go dumping in every dollar from your existing portfolio. Instead, consider starting with a small amount. Then, mentally earmark those funds as "fun money" and not something of which you're demanding a return.
4. Consider Investing in Crypto-Adjacent Companies
If you're curious about crypto investing but aren't yet ready to buy coins, you might consider buying stock in a company whose market value depends on the success of the crypto market. For example, consider buying shares of a cryptocurrency exchange like Coinbase or a fintech company with a stake in the crypto space like Square.
How to Start Investing in Crypto
If you've assessed your financial situation and feel like you're ready to play in the crypto market, it's easy to get started.
Pick Your Platform: Choose a platform through which you'll purchase your crypto. Coinbase is one of the most well-known exchanges.
Choose Your Crypto: As a beginner, you may choose to start with more well-known coins like Bitcoin or Ethereum.
Consider Storage: Digital wallets are a reasonably complex topic, so you'll want to dig in and research whether you want to store your crypto in a hot or cold wallet.
Transfer Funds and Buy: Exchanges typically allow you to hook up a bank account to transfer funds, but some will allow a purchase with a credit card, too.
Manage Your Investment: Just like you might buy and sell some assets in your stock portfolio, you can choose to take an active or passive stance in your cryptocurrency investment. Think about things like when you might choose to sell specific crypto and how you'll manage recurring investments.
The Bottom Line
Investing in cryptocurrency can be a good financial move for beginners once you've done your research and understand it better. Overall, it's still a relatively new market and subject to explosive and sudden changes in value. So be cautiously optimistic when it comes to the future of cryptocurrency investing. Remember that diversification among other assets is still key to a stable long-term financial plan.