UPDATED: May 13, 2022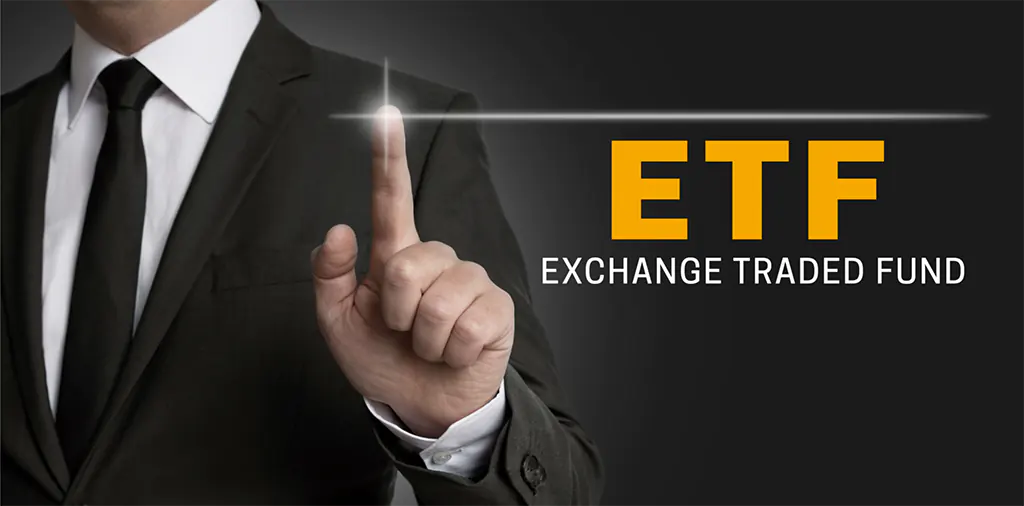 ETFs were invented in the 1990s as an easy way to trade and invest. The formal name, Exchange Traded Fund, explains exactly what they are. An ETF is a basket of securities that is traded on a stock exchange. 
These securities can be a variety of investment types: stocks, bonds, currency, commodities and more. Some ETFs have one specific theme or asset class (U.S. Large Cap stocks), while others represent a more diversified portfolio.
ETFs are Easy to Trade
Since they're available through stock exchanges, investors can trade ETFs with a click of a mouse. The transaction is similar to that of stocks, and shares are held in a brokerage account, IRA, or basically any type of investment account.
Unlike mutual funds which settle up at the end of the day, investors can buy or sell ETFs throughout the trading day at the current market price. Exchange Traded Funds are a great way to get the asset class exposure you want with minimal effort.
Diversification
By their nature, ETFs are diversified holding a basket of securities. For instance, some ETFs track a particular index, such as the S&P 500 or the NASDAQ.
Other ETFs invest in themes or specific industries i.e. Biotechnology, artificial intelligence, and quantum computing. This approach has the advantage of holding stocks in a variety of different companies avoiding single security risk.
This is especially useful if you are just getting started investing, since they can diversify your portfolio quickly.
Exchange Traded Funds are Hands-Off
ETFs are great for the passive, hands-off investor. This is because all an investor will usually do is select a fund or two, purchase, and then let the value grow. For investors with big and small portfolios, these are good options to distribute risk and opportunity. They require very little work on the investor's part, and misfortunes in an individual company don't affect the whole fund as much.
Why Should You Consider Buying an ETF?
Cost Effectiveness
When you buy an ETF you're investing in a basket of securities, similar to mutual funds. However, many mutual funds are actively managed by humans, and have high expenses.
By purchasing shares in an ETF, investors can take advantage of low cost, passive management. As a result, there are fewer human hours required to manage an ETF, and the cost savings is passed on to investors.
Furthermore, the basket of securities can be bought and sold for zero or minuscule trading commissions at most large financial institutions.
Income
Just as with stocks and mutual funds, ETFs can pay out interest and dividends to their investors. Dividends are payments that companies make to their stockholders to return capital. Interest payments are paid to bondholders from the issuer (for example, a corporation, government, state, etc.).
Some ETFs are income focused, intended specifically to invest in dividend paying stocks, providing passive income to investors. 
Tax Benefits
If you purchase stock-based ETFs and sell them at a profit, they're taxed the same way as an individual stock. This means that they are subject to the short-term or long-term capital gains rates.
Dividends are subject to the same tax rules as dividends paid to owners of individual stock holdings. In other words, the taxation rates are the same as purchasers of individual securities.
Why is this important? In short, it means that from a taxation standpoint trading in ETFs is roughly the same as owning individual stocks. You are not paying for taxes from a bunch of regular trading by the fund owners, such as you'll often see with actively managed mutual funds. Capital gains from mutual funds are often distributed to investors, triggering income tax whether the investor wants it or not. 
Keep in mind, the above tax implications only apply to non-retirement accounts.
Disadvantages of Exchange Traded Funds
Like any other kind of investment, there are disadvantages that investors should be aware of. With careful planning you can mitigate them.
Settlement Time
Like stocks, ETF purchases and sales have a clearance or settlement time. When placing an online trade, the ETF isn't purchased or sold immediately, so the money doesn't go into or out of your account right away. Transactions have to go through a clearing house, and according to the SEC, it takes two to three days for this to occur.
Some other securities are faster: mutual funds can clear as soon as the next day. Therefore, you might have to wait a bit longer to get your money.
ETFs have been a great innovation for the individual investor providing a low-cost, tax efficient alternative to expensive mutual funds.