UPDATED: April 5, 2022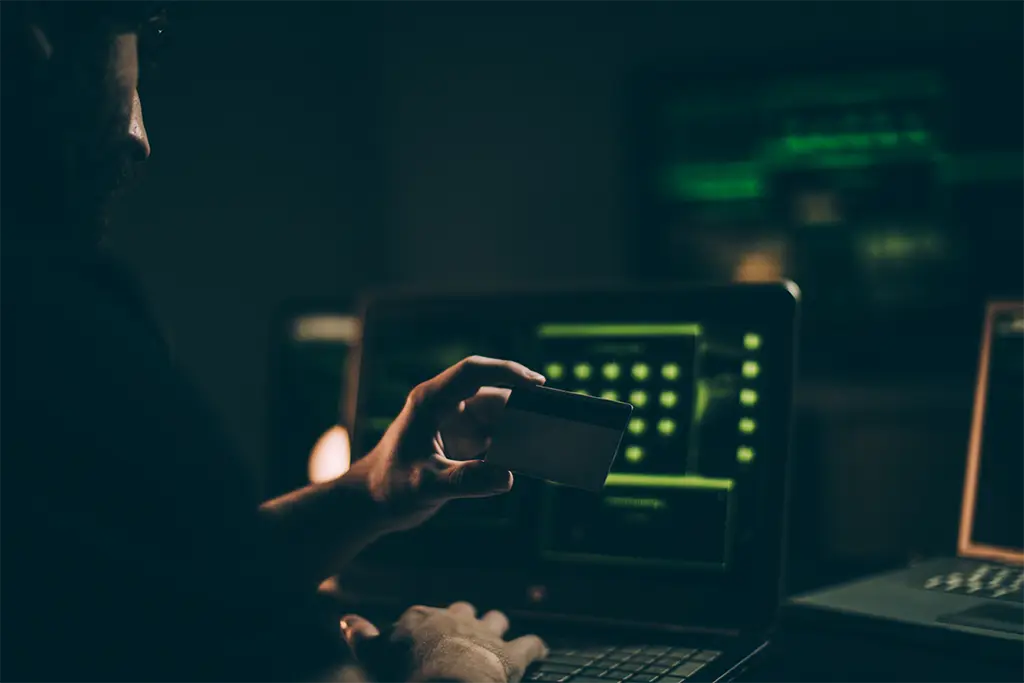 Online shopping has become such a part of our culture that many people now know their credit card numbers by heart. Because we're so comfortable entering in these numbers, we sometimes do so to make a purchase without thinking, possibly opening oneself up to your credit card getting hacked.
When consumers become more at ease, hackers also become more advanced. From data breaches at large companies to skimmers on gas station pumps, it seems like there's a high likelihood of your credit card information being compromised at some point. So what do you do if your credit card gets hacked?
How Can I Tell if My Credit Card Was Hacked?
If your credit card is hacked, one of two situations will follow. Your card information may be used to make purchases, or the card information was accessed as part of a larger data breach but not used.
Obviously, if the card is used to make a purchase, it's a bit easier to tell that you've been hacked. And credit card companies have gotten pretty savvy with their ability to spot charges that seem out of place. So the first indication you've been hacked could be a call from the company verifying your past few transactions.
If you're not so lucky as to be alerted by the card company, you may notice:
Transactions from vendors you don't recognize
Transactions from locations you haven't visited
Small charges that you don't recall making
A higher balance on your card than you usually have
If your card was compromised but not used, then it's a bit more challenging to know it happened at all. The only notification you may receive is from a vendor whose information was breached.
If you notice any strange activity on your card or receive notification of a data breach, it's time to take action.
One of the easiest ways to catch unlawful transactions on your credit card is by tracking your expenses and having a budget. Even if you only update it a few times a month, its pretty easy to catch transactions you didn't make.
What Should I Do if My Card Was Hacked?
If you suspect anything strange with your credit card, the first step is to immediately call your credit card company. Most companies will reverse the fraudulent transactions, cancel your card, and issue a replacement right away. Sadly, card compromises are not uncommon, and the team you work with should be experienced in helping you through the process.
After you've opened a case with your credit card company, there are additional steps you can take to be sure there won't be long-term negative consequences.
Freeze your credit: To protect against someone opening credit in your name, you can freeze your credit. This process, which is free of charge and doesn't affect your credit score, means lenders won't be able to access your credit to authorize a new account without your consent—no need to worry about your access to credit, though, as you can unfreeze it at any time. Here are the three major credit bureaus, and where to go to set up a freeze: Equifax, Experian and TransUnion.
Set up online alerts: If you have online access or an app to check your credit card transactions, you can likely set up email, text, or push notifications each time a transaction is made. Because you'll receive the alerts in real-time, it can notify you of any ongoing fraudulent activity. And it can also give you a leg up if there comes a next time that your credit card gets hacked.
Check your credit report regularly: If your card is hacked as part of a data breach, hackers may never even use the information. But it's also possible that a hacker who accesses your credit card information is looking to steal your identity. In that case, they might not just charge purchases to your card but apply for credit or loans in your name. In addition to freezing your credit, checking your credit report regularly (once a year at a minimum) can alert you to potential identity theft sooner.
Review your statements regularly: Set aside time each month to review previous transactions and be sure you know what they're for. If someone hacks your credit card, they could make small purchases at first to see if you notice before upgrading to something bigger. Catching these small amounts and reporting anything curious to the bank means they can issue a new card and stop fraud before it gets worse.
Prevention is Best
Whether or not your card has been hacked, there are preventive measures you can take to keep yourself as safe as possible during purchases. You can help make online purchases less risky by taking the below steps.
Check for site security: Always check the upper left corner of your browser window to ensure there's a lock showing in front of the web address before you make a purchase. The lock means transactions processed through the website are secure. Never enter your credit card or personal information on a site without a lock.
Be cautious about public computers or WiFi networks: Public computers and WiFi are safe for everyday internet browsing. But if you're planning to enter personal information online, it's best to do it from a personal device and a trustworthy WiFi connection.
Check for phishing before you provide information: Before you click any link that requests your personal information, you'll want to verify the sender. Even if you're expecting an email, it's best to go to the vendor's site directly or, better yet, give them a call to confirm if the correspondence is legitimate.
Change passwords regularly: One of the best ways to keep your information secure is to change passwords regularly (monthly is best). And be sure to never use the same password for more than one site. Use a password manager to make this process easier.
The Bottom Line
The most effective way to combat credit card fraud is to practice preventive measures to protect yourself before you're a victim. Sometimes, as is the case with data breaches, it's out of your control. Protect yourself by:
Reviewing your credit report and bank statements regularly.
Notifying your credit card company immediately if you see any suspicious activity.
Using your credit cards on sites that are secure with WiFi connections you trust.
An ounce of prevention is worth a pound of cure. And that's more true than ever in today's volatile online climate. Knowing what to do if your credit card gets hacked puts you one step ahead of the hackers and enables you to shut down their schemes and get back to your life.