UPDATED: May 12, 2022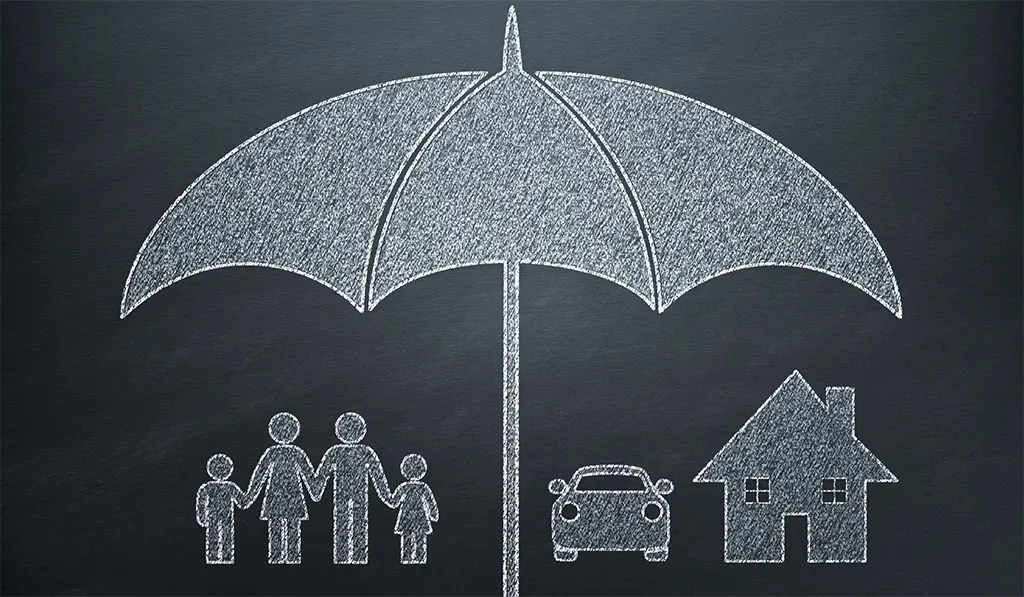 What comes to mind when you hear the term Umbrella Insurance Policy? If your answer was extra or additional insurance, you're right! 
When people talk about personal finance, or the goal of reaching financial freedom, it's not uncommon for them to leave out a critical component; protecting what we have, or what we'll have, and that could be a vital flaw. 
Having the right insurance is a key piece to the financially free puzzle. A small additional monthly expense can literally save you hundreds of thousands, if not millions of dollars, if you ever found yourself in a bad situation. 
Umbrella Insurance 101
An umbrella insurance policy is simply insurance beyond your existing standard coverage. For instance, you may have a standard auto insurance policy with $300,000 liability coverage. In the event you caused an at-fault accident, your standard insurance would step in and cover up to $300,000 in property or bodily damage. 
This would protect you for most auto accidents including a fender bender, minor property or bodily damage, and even totaling a vehicle. However, in the event you caused more than $300,000 in damage, an umbrella insurance policy would step in once you maxed out your standard insurance and cover your potential liability.
An umbrella insurance policy not only protects you for auto accidents, it will also cover your primary home or investment properties. While homeowners insurance can cover some liabilities, there are situations where the driver, or homeowner, is happy to have umbrella insurance coverage.
Filling the Liability Gap
Whereas a standard $300,000 liability coverage will protect you for most accidents, it will not protect you for horrific ones.
Here's an example: Joe is running late to an important early morning meeting at work, and chose to speed to make up the lost time. He flew through a 4-way intersection, didn't stop at the stop sign, and crashed head on with a minivan. Serious injury and property damage was caused, totaling $800,000.
How would Joe pay for the $500,000 remainder ($800k total expense – $300k standard insurance policy coverage)?
Scenario 1 – He did not have an umbrella insurance policy and would have to personally pay for the expenses. That means he'd have to either write a check for the amount he owes, or begin liquidating his assets to cover the shortfall. Depending on the circumstance, and the shortfall of your standard liability insurance, Joe could lose his home, boat, cars, certain investment accounts, future earnings, or even his business. 
Scenario 2 – He has an umbrella insurance policy, which would cover the full $500,000 shortfall. This policy costs him less than $300/year, and just saved him half a million dollars!
As mentioned above, an umbrella insurance policy will protect you at your home or property as well. Here's another example where an umbrella insurance policy will have your back.
Jack and Jill are home owners and love to entertain. They saved up for years, finally putting in a beautiful outdoor patio with an in-ground pool. They invite all the neighborhood families over one summer weekend for a refreshing dip in the pool and relaxing night by the fire pit. Mary's husband, Mark, slips and falls on the patio landing directly on his head resulting in a serious brain injury.
Mary and Mark fight this case in court suing Jack and Jill for not having the proper lighting on the patio, which they claim may have prevented the fall and injury. The court finds Jack and Jill at fault, and awards Mark a $2,000,000 settlement, which is well beyond what a standard homeowner policy will cover.
Jack and Jill had an umbrella insurance policy. Despite living with a heavy heart and guilt, they do not need to pay the $2,000,000 settlement.
Who Needs an Umbrella Insurance Policy?
Risk mitigation and protecting assets are equally as important as earning income and diversifying your revenue streams. If you're reading this article, you either have, or will have, something worth protecting.
For that reason, you're likely someone who should consider an umbrella insurance policy. You can have an additional $1,000,000 in coverage for less than $20/month. We hope you never have to use this policy, but in the event you do, it's there and you'll be grateful.
The Bottom Line
For a minimal monthly expense, you can protect what you've worked so hard to earn. Adding an umbrella insurance policy is simple to set up and inexpensive.