UPDATED: May 2, 2022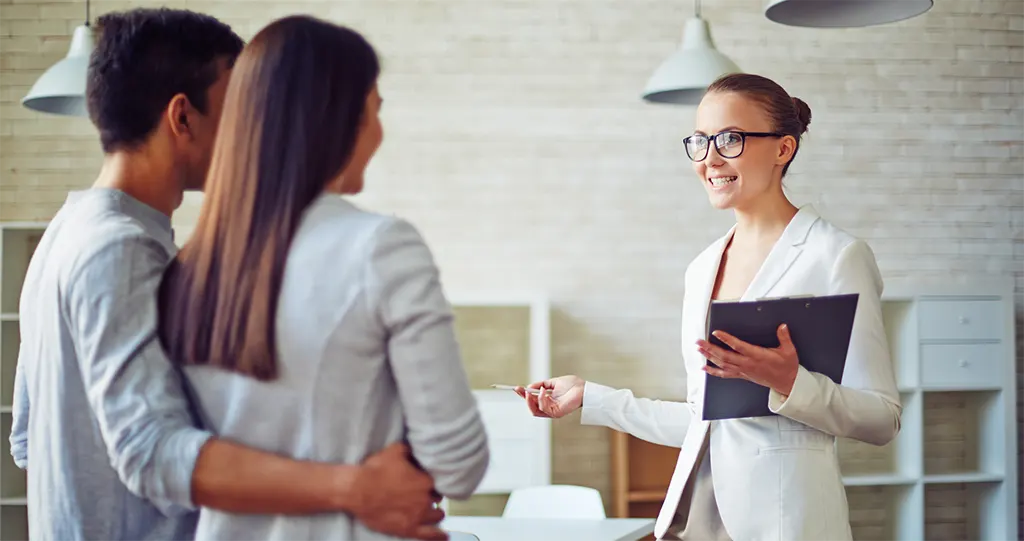 Selling your home can be expensive, with costs adding up quickly. But one of the most significant costs, real estate agent fees, isn't set in stone. While the seller generally covers real estate commission, sellers and buyers alike need to understand how real estate agents get paid.  Here are some tips on how to negotiate and pay lower real estate fees.
What are Real Estate Fees?
Real estate commissions are the 5-6% (on average) fee paid to the real estate team for their assistance in the selling and buying process. The commission is often split between the seller's agent, the buyer's agent, and the brokers involved in the transaction.
Since the commission is traditionally paid by the seller , many looking to sell their homes will factor it into the asking price to make sure it's covered.
FREE Mortgage/Refi Quotes Comparison
Compare Multiple Offers Instantly
How Agents Make Money
It's important to recognize that real estate agents work for commission only. This means the percentage they receive after settlement for bringing a buyer and seller together is their only source of income. While the commission cost can seem like a lot to a seller, the reality is that the agents aren't taking home as much in their pockets as you might think.
To break down how much an agent might receive in a transaction, let's use an example of a $250,000 home sale. A 6% commission means $15,000 is on the table for the agents. Assuming the seller's agent and the buyer's agent are different, they may be looking to split it 50/50 with each agent receiving $7,500.
The agent then needs to kick back anywhere between 25-45% to the person behind the scenes, their broker. If the broker takes 25%, the agent is left with $5,625 from which they'll still need to pay taxes, marketing, and invest back in the business. The agent takes home what's leftover.
How to Reduce Real Estate Agent Commissions
A lower rate on your agent's commission means more money in your pocket. But it's critical not to get so caught up in reducing commissions that you fail to find an agent who can get the job done. Often, working with an agent can result in a higher sale price which more than makes up for the hit you take in paying commission.
Since agents make their money from commission, it's not always going to be an easy sell to get them to come down on this number. Use the tips below to negotiate commission while keeping things fair for both sides.
Shop Around
If you're early in the selling process, weigh your options. Call several agents to ask their commission rates. If you prefer one over another, but they're sitting on a higher rate, see if you can use another agent's lower commission as leverage. If an agent really wants the sale, they may be willing to come down on their rate.
Try Someone New
A newer agent may be more willing to reduce their fees in return for the listing. If you're comfortable giving a novice experience and you're not on a time crunch to sell, consider giving a hungry, inexperienced agent a shot.
Use The Same Agent To Buy
If you're looking to purchase a property in the same area where you're selling, consider using your agent for both. An agent is likely to accept a lower commission if they can count on receiving a 2-2.5% commission on two transactions instead of 3% on one.
Spiff Up The Place
If your property is move-in ready, it drastically decreases the amount of effort a listing agent needs to put in. If you've already put in the leg work to do repairs ahead of time and the property is ready to sell itself, see if the listing agent is willing to compensate you by lowering their rate.
Have The Same Agent Represent Seller & Buyer
Since traditional real estate fees are split between the two agents working the deal, using the same agent for both sale and purchase results in that agent receiving both commissions. The concept of dual agency is uncommon and not legal in all states.
But if you find yourself in the situation where a potential buyer is using your same agent, see if the agent would be comfortable taking a smaller percentage, 4% instead of 6%, since they'll get to keep the whole thing.
Use A Lock Box
Putting a lock box at the property means your agent doesn't need to be around for every showing. When buyer's agents can come and go as they please, the time savings for your agent might be worth a lower real estate fee in their eyes, especially if they're busy.
Spread The Word
You might have others in your circle looking to buy or sell around the same time, see if your agent will give you a discount on commission for the referral. Guaranteed business is often worth the few thousand dollars they'll discount from your sale.
If You're Still Not Happy Paying Commission
Do it yourself! If you truly can't find an agent willing to come down to the commission you're comfortable paying, consider listing the property yourself. If you have the time and energy to do it, an FSBO (for sale by owner) listing could make sense.
If you already have a buyer in mind (family or friend) or live in a popular area with a great market, FSBO can be a good option. But keep in mind that if you choose this approach, you'll be responsible for all the things an agent would do, from paperwork to marketing. Many people would rather spend the few thousand dollars to have an agent take care of the dirtier aspects of the process for them.
Successfully negotiating a lower commission means more money in your pocket after the sale is made. Use that extra cash to add to your emergency fund or treat yourself to something nice when it comes time to furnish your next home.
FREE Mortgage/Refi Quotes Comparison
Compare Multiple Offers Instantly