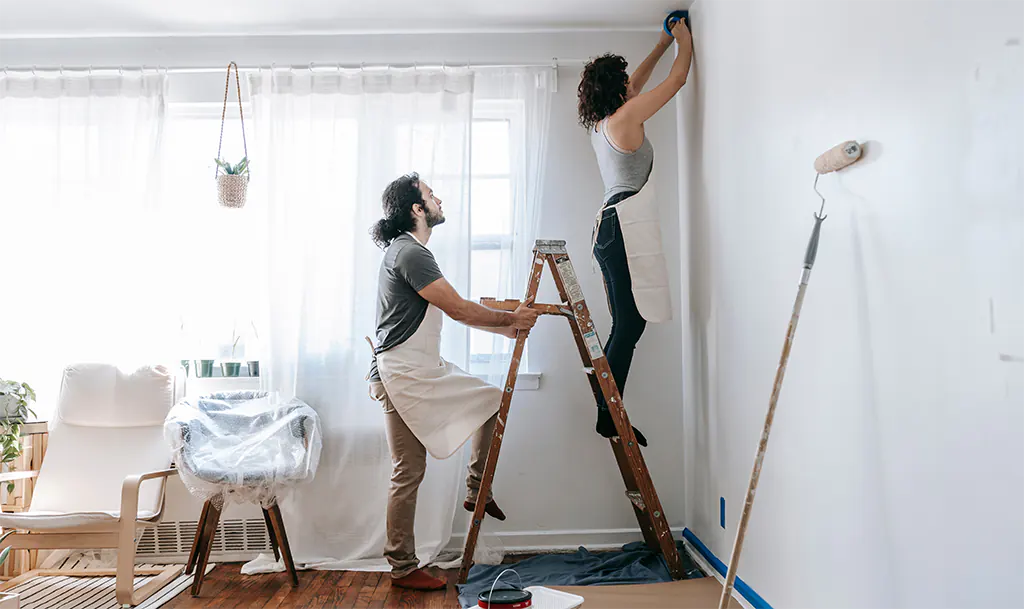 Deciding to pursue a home renovation is a big choice. And whether you're remodeling a kitchen or bathroom, adding a deck, or replacing siding, the hope is that the upgrades you make will add value to your home and make it more comfortable to live in now. But is it really ever the right time to undergo a disruptive home renovation? Before you take on your next project, here's what you need to know about how and when to invest in home renovations.
FREE Mortgage/Refi Quotes Comparison
Compare Multiple Offers Instantly
When it Makes Sense to Renovate Your Home
There are certain seasons of life and particular renovations that make more sense to pursue.
You have practical reasons for the change. A renovation makes a lot of sense if you plan to stay in your home for a while, and what you have planned will directly increase livability. With expanding families and more people working from home, an addition that provides more living space to your existing home may make sense. If you're a top chef and the kitchen isn't conducive to making culinary magic, a kitchen overhaul could be just the thing you need to want to stay in your home for years to come.
You have the capacity to organize the renovation. If you're chasing around 3 small children, it may not be the best time to be tearing down walls or having contractors dragging dirt through your house. Only commit if you have the mental capacity to keep the renovation organized and on track.
When you can afford it. This might seem pretty obvious, but it doesn't make sense to take on a lot of debt to renovate a home. As we'll discuss in the ways to fund a renovation below, using a loan is a viable option to pay for a home project. But using a loan only makes sense when you can get a great rate and already have a plan in place and the means by which to pay it back.
The renovation will add a lot of value. Some home renovations by nature add more value to your home. For example, kitchen and bathroom upgrades tend to have a great return on investment (ROI), while putting new carpeting in bedrooms rarely adds to the bottom line at all.
When to Hold Off on Home Renovations
Knowing when not to renovate is just as important as knowing when to do it. So if you're in one of the following situations, it may make sense to press pause on that next project.
If you're selling soon and haven't yet had an inspection. Before you sell your home, it's essential to first address any significant structural issues. Once those have been cleared by a home inspector, you can make those minor cosmetic changes that increase the home's appeal.
If you'd out-price your home for the neighborhood. A major renovation can dramatically increase your home's value. But it's worth noting that each neighborhood has a capped value, which is the top price buyers are willing to pay. So it's important not to perform renovations that could put you over the value. For example, if you buy a house for $450,000 in a neighborhood with a capped value of $500,000, performing a $100,000 renovation may create a nicer home, but potential home-buyers may not be willing to pay that price for the neighborhood. To combat this, you can always talk to a real estate agent and get a price assessment both pre and post-renovation.
You don't love your location. Changing the interior or exterior of your home with a renovation may not be enough to make you fall in love with your home if you don't love where it's located. For the price of some renovations, you may be better off looking to make a move to a different neighborhood altogether.
How to Fund and Invest in a Home Renovation
There are several strategies you can use to finance your next home renovation.
Save in Advance and Pay in Cash
While a little old-fashioned, saving for an extensive home renovation and paying for it in cash is a great strategy. It may take you several months or years to save, depending on the size of your renovation. But making a point to save each month and not pursuing the renovation until you have the cash means you'll avoid taking on debt to pay for the upgrades.
Use Your Home's Equity
Some homeowners choose to use a home equity line of credit (HELOC) or home equity loan to pay for a home renovation. And this is a popular choice because you're using your home's equity to make the upgrades, and in turn, the value of your home will likely rise. But keep in mind that the interest rate of many HELOCs is variable, so that means you could be subject to rising interest rates that are out of your control.
Take Out a Loan
If you don't yet have the equity in your home to use a HELOC or home equity loan, you can look to other loan options to fund a renovation. The most popular option is a personal loan. If you have a good credit score, you may qualify for a low-interest personal loan. The major benefit of this type of installment loan is that you'll have a fixed interest rate, set loan term, and definitive payoff date (assuming you stick with the monthly payments as planned).
Refinance your House
When you refinance to borrow more than you owe on your current loan, the lender gives you a check for the difference. This is called a cash-out refinance.
What to Consider Before You Renovate your Home
If you've decided to renovate and have a plan to pay for it, here are a few items to consider before demo day.
Decide on the scope. Home renovations have a way of snowballing into much larger undertakings if you let them. If you've decided to do a minor bathroom renovation, write out a plan for what it includes and, more importantly, what it doesn't include. Will you replace finishes, re-tile the shower, and replace the toilet? If the new flooring looks good, will you extend it into the hallway or cut it off at the bathroom door? Getting intentional about defining the bounds of the project will help you to avoid scope creep later on.
Define your budget. Regardless of which strategy you choose to fund your project, it's important to first establish a budget. Home projects have a way of expanding after you dive in, so stay firm to the budget you choose. Even when the upgraded fixtures look shinier, remember that those small costs can add up quickly and blow any financial plan you put in place.
Decide between DIY and hiring help. You may be able to do certain aspects of a home renovation yourself. But it's also wise to consider where your skills end and research the appropriate vendors to do the bits you can't. Some renovations may require specific permits that only a licensed contractor can pull. So when in doubt, get a quote from a professional, then use that information to decide if you can decrease the price by doing some of the handiwork yourself.
The Bottom Line
Home renovations can be an amazing way to increase your home's value and your overall satisfaction with living there. But there is a time and method to every renovation. So before you lift the sledgehammer, be sure to assess if it's the right time both financially and for any upcoming life changes. Then, if the time and money are right, nail down your scope and budget, and don't be afraid (or too proud) to ask a professional for help.
FREE Mortgage/Refi Quotes Comparison
Compare Multiple Offers Instantly