UPDATED: April 22, 2022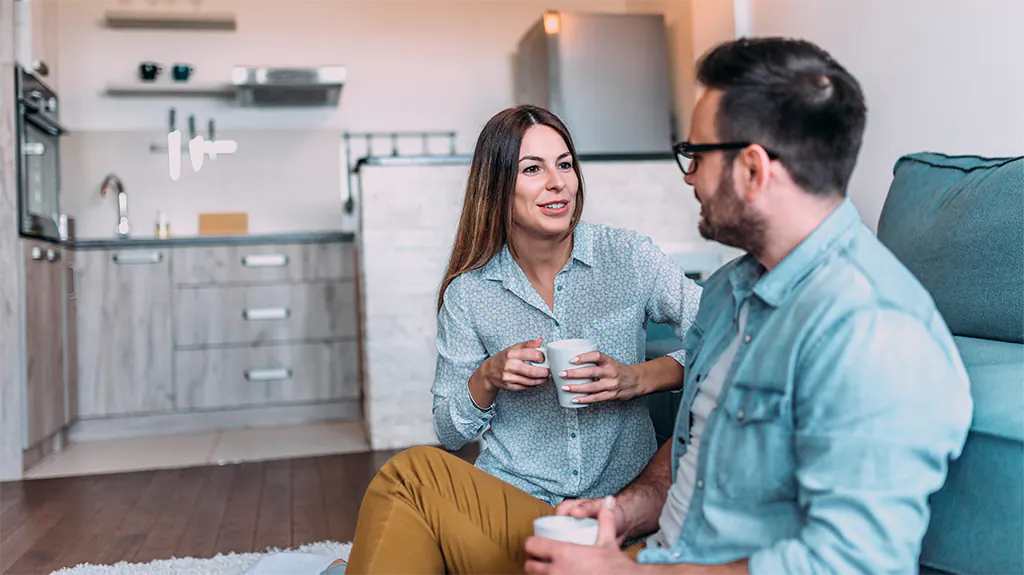 In matters of the heart, many singles are focused on finding the "right person." Typically, the most appealing and compatible traits of their ideal, right person include looks, kindness, similar interests and the capability to get along with friends and family. When choosing someone to potentially spend our lives with, many people neglect talking about money with their fiancé.
Finance discussion is often viewed as taboo. When meeting a date for dinner, few people will ask, "How was your day? Do you contribute to a 401(k) or do you have debt?" Most would agree being that forward about money in the beginning would be off-putting. However, it is vitally important to learn your fiancé's attitude about money and finances before tying the knot.
Many couples never have a discussion about these issues until they are married and perhaps have opposing views on personal finance basics such as credit card debt or how much to save each month. 
Therapist Andrea Bonior wrote in the Washington Post that people often spend quite a bit of time and effort on planning the perfect wedding. However, she wrote that getting married is not the same as being married and "If therapists like me had our way, there would be far more preparation and discussion around the latter than the former."
Source of Stress
Most experts emphasize that communication is the key to achieving a successful relationship. Thus, the optimal time to go over money issues is before the engagement. Couples must have a detailed discussion and go over many possible issues that could lead to fights and acrimony.
Unfortunately, among all the topics that can lead to disagreements and fights in a relationship, money may be the greatest source of stress. Money is a leading cause of stress in relationships as affirmed by a survey conducted by SunTrust Bank.
Some 35% of all respondents experiencing stress in their relationships cited money as the primary cause of friction. (Annoying habits came in second, at 25%.) When partners don't share similar money habits, it can lead to bigger disagreements.
"Money really touches everything. It impacts people's lives," stated Emmet Burns, brand marketing director for SunTrust.
Studies also show that the more frequently married couples fight over money, the greater the chance for marital problems. Research also suggests that 70% of married couples argue about money more than any other topic.
With all that stress, it may not be surprising that for many couples talking about finances and money can often be a topic that is off-limits. There may be a few reasons for this resistance to discuss money. Maybe one partner is insecure about his or her financial situation and talking with a partner would force him or her to deal with the reality of a serious situation.
Perhaps the couple has only been dating for a few months, and they fear that bringing up such a "real" topic will put a damper on a promising relationship.
Another possibility is that each partner has not even considered discussing finances with the significant other and figured that everything would simply work itself out.
Little Green Lies
Another way couples avoid discussing money is to lie. In fact, almost a quarter of Americans lie to their partner about their finances, according to a recent GOBankingRates survey of 500 adults across the U.S. Among the 22% who have lied, the most common thing they don't reveal to their partner is their spending habits.
The second most common thing Americans have lied to their partners about , with 8% of those surveyed choosing this response, is their debt. Having too much debt can be a turnoff, according to the GOBankingRates survey.
Among the other things the survey found that Americans have lied to their partners about is their salary, savings, investments, credit score and gambling habits.
It's not surprising that people also don't want to admit how much they spend because another GOBankingRates survey found that one of the biggest financial deal breakers in relationships is overspending.
Needless to say, money can be a major source of contention. Whether it is about your income, spending habits, credit score or income, when you lie to your partner, you are also lying to yourself.
The saying "what you don't know can't hurt you" does not apply to a healthy financial relationship. Honesty is definitely the best policy here because being honest with yourself and your partner is one of the best ways to avoid arguments and hurting each other's feelings.
Love and Money
Financial compatibility often plays a huge role in deciding the success of your relationship. There is no doubt that money will have an impact on any choices you and your partner decide to make, or not to make.
Couples should discuss several important questions:
How do your spending habits match up?
If there's debt, who is primarily responsible for it? 
What are your expectations around joint accounts versus separate ones? 
Does the couple want  to buy a house, have kids or retire early? 
Each of those things requires a considerable amount of financial planning, and if the couple is not on the same page or don't share the same values when it comes to money, it may cause problems down the road.
Even early on in a relationship, money can be a significant issue. Money can come into play if a couple decides on taking trips together or move in with the partner.
In fact, any other kind of activity that involves commingling of finances requires addressing the problem sooner than later to avoid awkwardness (or a relationship-ending blowup) down the road. That means the couple must be willing to have a potentially uncomfortable conversation.
The discussion about budgeting and lifestyle is crucial for future happiness. We learn little about money in school, and even less about discussing it. Couples must share their attitudes about money early on because problems relating to financial matters are a major reason why marriages break down.
A common dynamic in relationships is when one person is a spender and perhaps racks up large credit card debts, while the other is a saver and quite frugal. The spender might have years' worth of credit card debt or student loans, while the saver might have good credit and minimal or no debt. When two people have opposing views on finances, it can easily lead to conflict.
Therefore, the first (and most crucial) step to avoiding a relationship disaster is to simply talk about it. After that, the couple can transition into asking about each person's financial past and present, i.e., deeper issues that the partners may not want to discuss until the relationship becomes more serious.
"This is What My Money Looks Like"
The way to handle the talk is to broach the subject carefully, with a great deal of empathy and respect. Money is a tough subject to broach so it may be easier if you take baby steps.
In other words, try to ease into it with something like, "I know you do not like talking about money, but I think it's important that we can tell each other everything. I'd like to share some of my issues with money and hear about yours."
Every couple, engaged or not, has the "where is this going" conversation sooner or later. So when that conversation arises organically, it can be an important opportunity to have a second, deeper conversation about money. The talk should include what both partners want from the future, and inevitably, finances will come up.
This conversation has to carefully cover all the basics:
How much do you earn? 
How much do you owe (student loans, credit cards, and other debt)? 
How much do you spend and save (down to how intensely you budget, or whether you budget at all)?
Its a Two-Way Street
Now is also the time to take note of anything you might be concerned about with your partner's financial situation. A little consumer debt may be manageable, but if your partner owed tens of thousands of dollars to credit card companies, would that be something you could stomach? Unfortunately, many people keep the amount of credit card debt they have secret from their spouses.
Remember that the sharing goes both ways. Whatever you want to learn about your partner, they should get to discover the same about you. If you have accrued a significant amount of debt, you owe it to them to be honest about it.
It's much easier to tell them early on how much you owe and figure out a plan of attack. If you wait too long to disclose it, your  debt could skyrocket to a seemingly unmanageable amount. Neither of you needs to be perfect, but you must be on the same page, and be open to working through current or future money problems together.
Final Two Discussions
If you have successfully navigated the discussions about finance, savings and debt, you and your partner are ready for an in-depth discussion whether or not your financial habits and goals are compatible. For example; If you want to start saving for a house, is your partner willing to forego large expenses like vacations until you both have saved enough for a down payment?
Finally, a couple must decide if they are ready to combine their finances. Some couples choose to set up a joint bank account as soon as they decide they are in it for the long haul while others decide to keep their money separate for their entire lives.
Ultimately, talking honestly and openly about your finances could save your relationship. It may not sound like much fun to have frank discussions about money, finances and lifestyle choices, but getting along in that department makes everything else easier and more enjoyable.