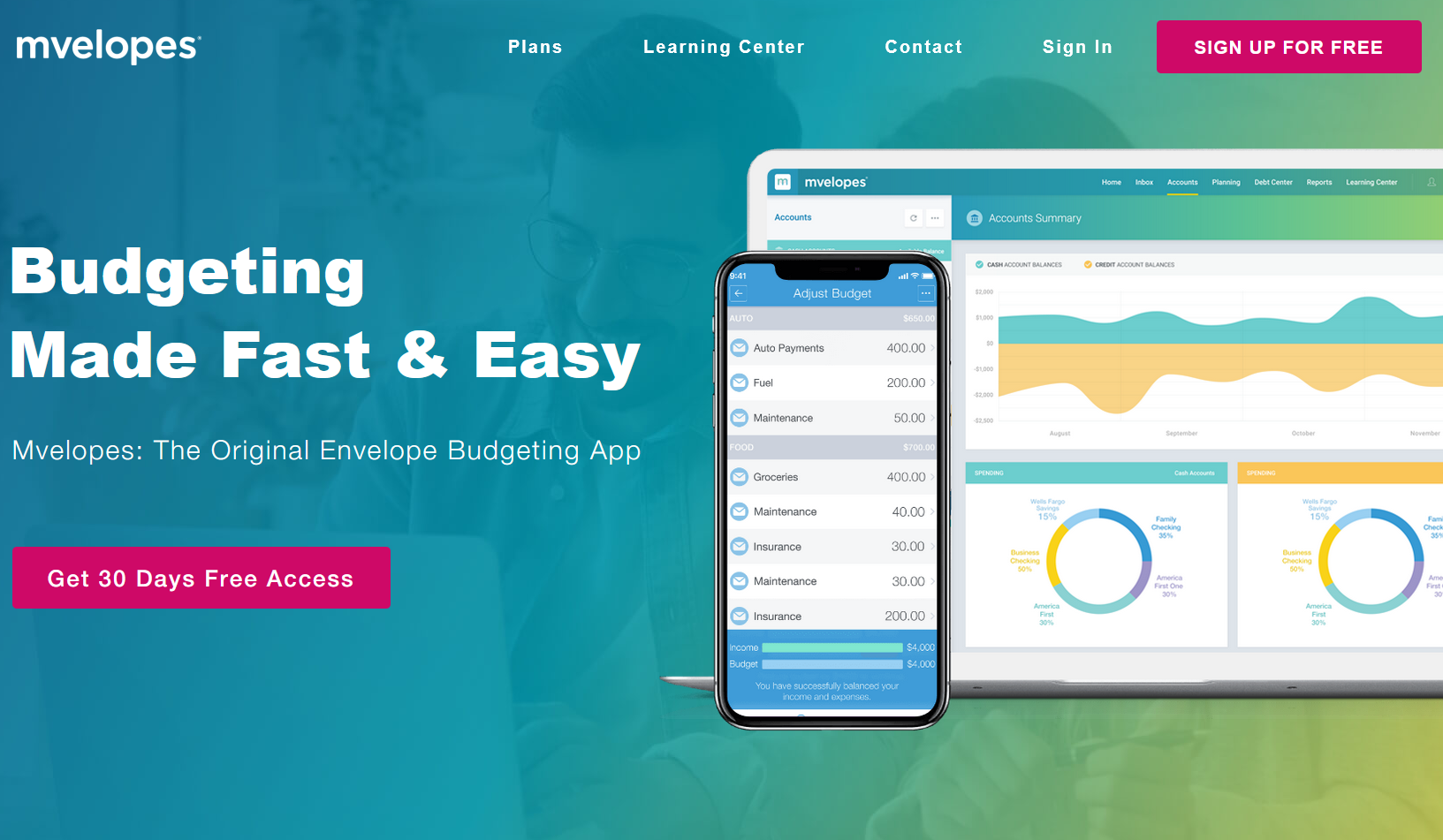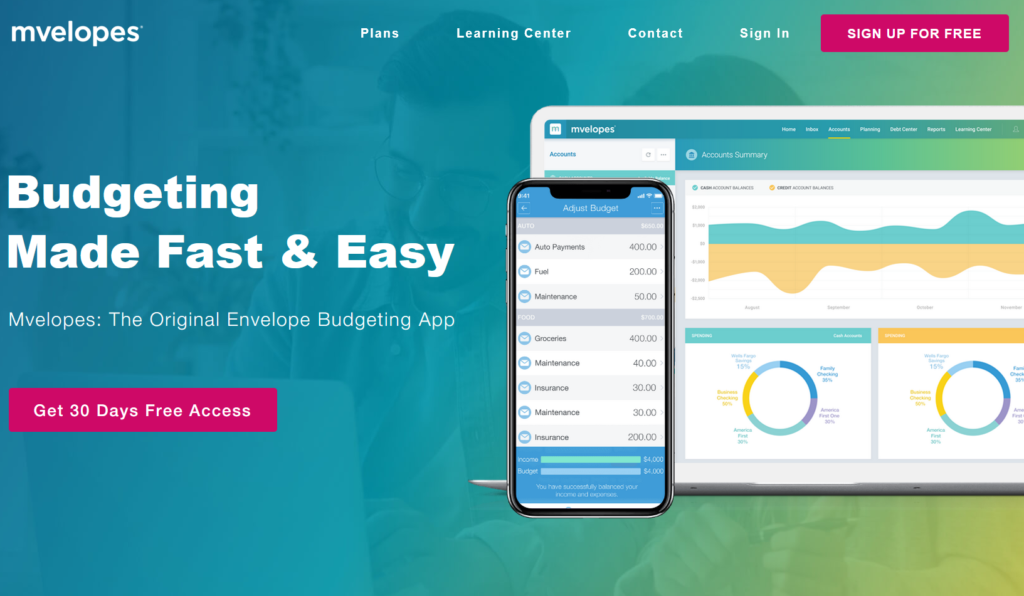 Ratings for Mvelopes
Features

Ease of Use

Interface

Cost
Summary
Mvelopes also has plenty of unique features that separate it from other similar personal finance apps on the market. The free trial that they offer gives you a taste of what you can expect if you decide to continue with the service and pay for the monthly membership. In this budget software review, we will explore the features of Mvelopes and let you make the decision of whether or not this budget app is worth it to download in 2022 and beyond.
Pros
Awesome customer reviews
Safely links to your bank
Live chat support
Dedicated personal coach
Mvelopes is a popular personal finance and budgeting app that provides a twist on a classic cash-saving method of budgeting your money with a physical envelope.
The idea behind this method is that people usually spend less money when they use physical cash as opposed to a credit card, so keeping the cash in an envelope is supposed to decrease unnecessary spending and minimize credit card debt.
This budgeting app is different from other well-known services like Mint and PocketGuard since it encourages its users to manage their money before and after they go to spend it.
Mvelopes touts its incredibly positive customer reviews, as they have over 4,000 ratings that have an average score of 4.4 out of 5 stars. Mvelopes also claims that its users save over $6,000 when compared with people that don't have an active spending plan. It's unclear what the timetable for these figures is, but Mvelopes is still clearly very effective.
Mvelopes Features
Unlike our review for the Wally budgeting app, Mvelopes allows you to link your credit cards, checking accounts, and savings accounts and ensures you that your data is safe with its industry-standard SSL/TLS encryption that many big banks use. The app also lets users create a PIN every time they log in for added security.
Once you've added all your accounts, the Mvelopes system will give you the option to assign your available cash into "envelopes", which are pre-set so you can add your income and set up your budget. Mvelopes uses this data to help create a budget that you can stick to over time.
The original cash envelope strategy worked by creating multiple envelopes for your different categories of expenses. For example, you'd have an envelope for your groceries, car payment, gas, entertainment, etc. Once you run out of cash in the envelope for the month, you are then done spending in that category.
However, the old cash envelope strategy has become somewhat outdated, as carrying hundreds of dollars in cash in separate envelopes isn't ideal for most people. Mvelopes solves this issue with the ability to link your bank accounts and credit card information in the app. You're also able to manually input your cash transactions into Mvelopes as well.
The concept of the envelopes is integrated into this personal finance app with "digital envelopes" where you can customize the amount in each to better manage your budget each month. The app makes it easy to track your spending in different categories and once you've used your entire budget in one category, you'll know that it's time to stop spending.
Some other features of the Mvelopes budget app include:
Live Chat Support
Mvelopes knows that creating and managing your budget may come with questions or you may have a hard time linking your banking information. Their live chat assistance can answer any questions you may have in a matter of minutes.
Extensive Knowledge Base
The Mvelopes app has a section for common questions and other helpful information that you may find helps you in creating a budget and sticking to it.
Interactive Reports
Almost all personal finance apps today come with detailed reporting so you can easily track your spending over time, and Mvelopes is no exception. You can easily see your spending from the past week, month, and year and tailor your budget over time.
Debt Reduction Center
This feature is only available for the Premier and Plus memberships. It allows you to focus on reducing your debt over time by creating an effective budget and giving you helpful tips and strategies on how to minimize debt through smart spending.
Dedicated Personal Coach
Plus members will get a dedicated personal coach that they can check in with periodically to review their spending habits and make sure that they're using all the features of the app to the fullest extent.
Personalized Financial Plans
Plus members will also have the ability to work with their coach to create a personalized financial plan with clear action steps on how to make an effective budget that you can stick to. It's important to know that most other personal finance apps don't have the option of having an actual person reach out to you and advise you like Mvelopes has.
Ease of Use
Mvelopes gets a 5 out of 5 for its ease of use and user interface. The app is very well designed and makes it very easy to see your spending, track your budget, categorize your spending, and continuously learn how to best manage your budget.
Unlike some personal finance apps, Mvelopes is also available on your desktop computer in addition to your Apple or Android phone so you can manage your Mvelopes account at home or on the go.
We recommend going with the Premier plan since it's only another $4 up from the basic plan. The Premier plan is ideal for people that are looking to pay off debt fast and those that will make use of the extensive tools and support that Mvelopes has to offer. It includes video master classes so you can get any questions answered and learn how to manage your budget effectively.
Mvelopes Interface
The interface for Mvelopes walks you through step-by-step how best to utilize the app. You can sign up for Mvelopes for free initially with their free trial, then you will need to select one of the three plans available.
Once you sign up, you'll then create your custom spending plan in less than 15 minutes right on the app. Mvelopes walks you through linking your bank accounts and the steps to take to create a budget for yourself.
Once you've set your budget, you're ready to start to take control of your finances. Mvelopes says that their app gives you financial peace of mind so you can sleep easier, stop living paycheck to paycheck, and spend your money on the things that actually matter.
Cost
Unlike some of Mvelope's competitors, this is a paid app with no free options except for a trial subscription for the first 30 days. The basic Mvelopes subscription costs $5.97 per month or $69 per year. Its Premier subscription costs $9.97 per month or $99 per year. And the Mvelopes Plus subscription costs $19.97 per month or $199 per year.
Mvelopes is Best For
Mvelopes is best for people that know they may exceed their budget at times and want to be more budget-conscious. It's also great for those that may have tried other budgeting apps without much luck.
Since most other budgeting apps are similar in nature in tracking your spending, Mvelopes comes in with a different approach and brings back the old-school method of storing cash in physical envelopes to minimize your spending.
The ability to separate your expenses into categories can be very effective for people that may go to the grocery store and overspend. Mvelopes creates your budget for each category, and once you run out of money in the envelope, you can't spend any more.
Of course, if you need to spend more on food, gas, or other necessities, you can still do this even if you run out of cash in your Mvelopes category.
Bottom Line
When it comes to budget software, Mvelopes provides a twist on the age-old cash envelope strategy that you or your parents may have used back in the day. The strategy does have some merit to it, as studies have shown that you spend less if you make your purchases in cash as opposed to on a credit card.
Mvelopes provides a product that is updated for the digital world today and still provides enough value to justify its paid packages. We recommend getting started with the free trial to get a feel for the app. Once you know you like it and find it useful, you can move on to one of the paid packages Mvelopes has to offer.
If you have trouble sticking to your monthly budget, Mvelopes could be the solution for you. Visit the Mvelopes website to find out more information on this budget app software and why it may be the right solution for you to reach your financial goals.