UPDATED: July 29, 2022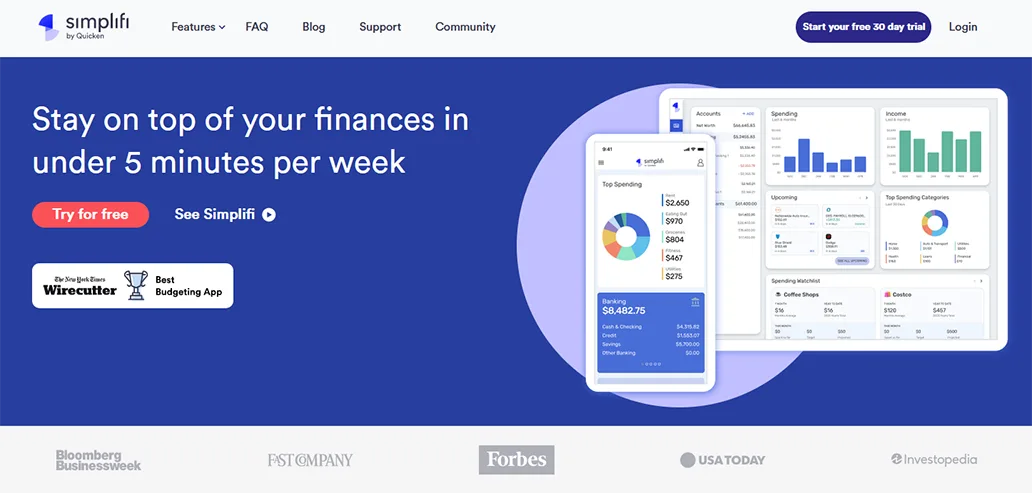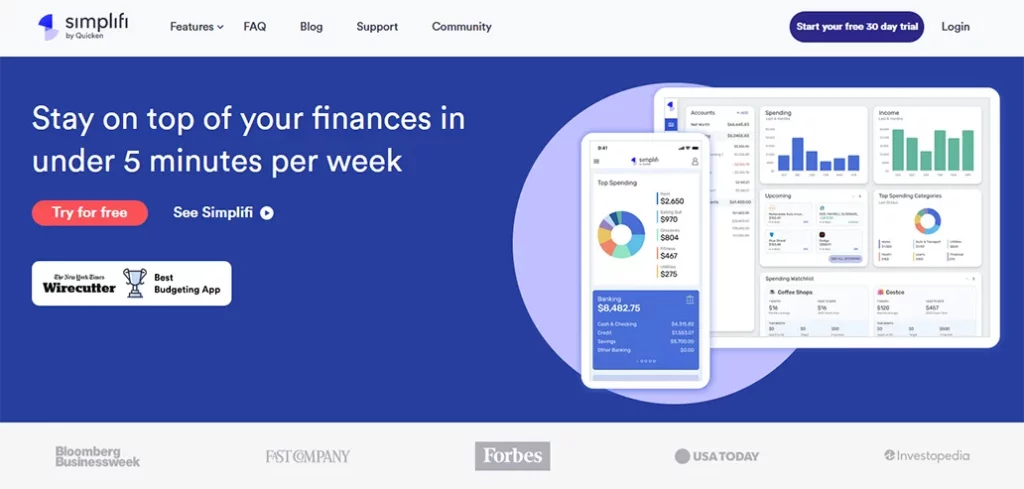 Ratings for Simplifi
Features

Ease of Use

Interface

Cost
Summary
If you're looking for a budgeting app that will help you get your finances in order, you may have come across Simplifi by Quicken. This app is designed to help users track their spending, set goals, and stay on top of their bills. But is it worth the price? That's what we're going to answer for you. So read on for our full Simplifi by Quicken review and find out.
Pros
Comprehensive transaction manager
Great for beginners
Intuitive interface
Cons
Not the best for self-employed
No credit score
Simplifi by Quicken is a budgeting app that costs $5.99 per month. That may seem like a lot, but compared to other budgeting apps on the market, it's actually quite reasonable. And if you're someone who struggles to stay on top of their finances, it could be worth the investment.
The app itself is straightforward and easy to use. You can easily track your spending, set goals, and see where your money is going each month. There's also a handy bill tracker that ensures you never miss a payment.
One of the best things about Simplifi by Quicken is that it gives you the ability to see your financial picture as a whole. This can be helpful in understanding where you may need to cut back on spending or where you could be saving more money.
Overall, Simplifi by Quicken is a great budgeting app for those who are looking for a little help getting their finances in order. It's easy to use and provides a lot of useful features. If you're willing to pay the monthly fee, Simplifi by Quicken is definitely worth checking out.
But before you can commit, there's a lot more to cover. So let's dive deeper into this budgeting tool to make sure it's right for you.
Features
Our Simplifi budgeting app review wouldn't be complete without exploring its features. And Quicken made sure to offer a variety of features that can help you stay on top of your finances.
Here is a list of the features we will be reviewing from Simplifi:
All in One Finance Tracker
Personal Spending Plan
Savings Goals
Projected Cash Flow
Personal Finance Reports
Budget Worksheet and Watchlist
All in One Finance Tracker
The All in One Finance Tracker is the heart and soul of the Simplifi ecosystem. This is where you can see a snapshot of your entire financial position in one screen.
One of the best features of the All in One Finance Tracker is that it is forward looking. Not only do you get to see what you can afford to spend today, but it advises you of what bills and costs are on the horizon.
Simplifi can gather all of your income and expenses in a single dashboard. This is fully customizable as you can add both planned and surprised expenses to your app.
The bottom line with the All in One Finance Tracker is that it provides you with a full picture of your finances.
By combining all of your spending and expenses, Simplifi can show you exactly how much you really have to spend at the end of the day.
You can even run reports on your spending and savings trends to ensure that you are on track to meet your financial goals.
Simplifi Personal Spending Plan
Not everyone is going to like having a personal spending plan, but those who use them know how well they work.
The best part about Simplifi's personal spending plan is that it is automatic and you don't have to lift a finger.
Simplifi begins by taking your monthly income and automatically deducting any expenses like monthly bills, credit card payments, and even quarterly or annual expenses like property taxes.
From there you have an idea of how much you can actually spend and Simplifi will keep this up to date each time it detects a new transaction.
With Simplifi, there is no more mental math in your head, all it takes is a quick glance at your computer or mobile phone.
Savings Goals
What's one thing more difficult than trying not to spend? Setting and reaching a savings goal.
With Simplifi by Quicken, you can set your savings goals and set money aside for the future, for retirement, or for anticipated upcoming expenses.
When you enter your savings goals into Simplifi, you are telling the app what to automatically deduct from your income to meet your goals.
Add multiple different savings plans too! Whether it is an upcoming concert or next year's vacation, Simplifi can handle multiple different savings goals over different timelines.
This is an excellent way to manage your finances while also having enough money at the end of the day to pay down your debts or add additional money to your investments.
Projected Cash Flows
Any budgeting app can track your expenses, but Simplifi by Quicken actually tracks your cash flows. This means it keeps track of money coming in and going out.
Have regularly scheduled payments? Add reminders and notifications to your Simplifi profile so that you never get hit with late fees.
Simplifi can even provide a visual account balance projection based on upcoming expenses.
Simplifi Personal Finance Reports
The best part about budgeting software is that you receive a full data analysis of your finances.
This isn't just based on estimates or loose calculations, this is hard data that is created from your own personal spending and saving habits.
Simplifi provides robust and visually appealing personal finance reports that help you stay on track to meet your financial goals.
Want to know how your spending or savings are doing from month to month? Or even how much you are spending on things like gas or groceries? Simplifi can tell you all of this in one easy to understand chart.
Watchlists and Tags
Simplifi allows you to create your very own watchlists to see how you are spending in a specific category or even at a specific store or site like Amazon.
This allows you to set a personal budget to how much you can spend at these places within a given time period.
You can also add tags and filters to your spending so that Simplifi can add this into your budget for the future. This means if you take a weekend getaway, make sure to tag every expense for the trip with Weekend Getaway. Using this, Simplifi can tell you things like how many more getaways you can afford for the rest of the year.
Ease of Use
Simplifi is exactly as its name suggests: simple. Setting up an account is easy and only requires an email address and mobile number for 2-factor authentication.
From there you can select from over 14,000 financial institutions to integrate all of your financial accounts.
As soon as you add one or even multiple accounts, you get launched into the Simplifi dashboard where you get to see your entire financial picture in one screen.
The flow from screen to screen is seamless and smooth, especially on the mobile app.
Perhaps what is the most striking feature for the entire Simplifi ecosystem is how visually easy it is to understand everything. Using simple charts and graphs, Simplifi truly provides an 'at-a-glance' view of your finances.
Interface (Mobile & Desktop)
As with most multi-platform applications, Simplifi is easier to view on the desktop because of the larger screen layout.
With that being said, the Simplifi app for mobile is surprisingly efficient and easy to use. It is surprising at how much information Simplifi has managed to pack into the mobile layout.
The mobile app utilizes a card system for each different aspect of Simplifi's platform. Depending on what you want to see first or what feature you use, you can fully customize the order of these cards.
Simply put, the layout for both the mobile and desktop apps is user friendly and extremely intuitive. The placement of text and buttons are logical and the app is overall very graphically appealing.
Cost
Here's one area where Simplify might potentially lose some fans. There is a cost to the app.
It's not a terribly high cost, compared to other financial subscription services, but a cost nonetheless.
On a monthly basis, Simplifi will only cost you $5.99 but if you go for the annual charge, the monthly average fee drops down to just $3.99 per month.
No matter which option you choose, Simplifi does provide a 30-day free trial for new users.
What are the benefits of being a paid subscription service? Simplifi has no advertisements that clutter up the screen and also has enhanced security and customer support available.
Best Budgeting App For
People who want to take control over their finances and do most of their banking and investing online.
Simplifi is great for people who find they are getting nowhere with personal savings and investments and want to track all of their hidden expenses and costs.
Simplifi is also an excellent way for younger investors to manage their finances from an early age in a familiar and easy to use digital app.
Bottom Line for Simplifi
As you've likely determined by our Simplifi by Quicken review, this app is a great budgeting tool for those who want a little help getting their finances in order. It's easy to use and provides a lot of useful features. If you're willing to pay the monthly fee, Simplifi by Quicken is definitely worth checking out.