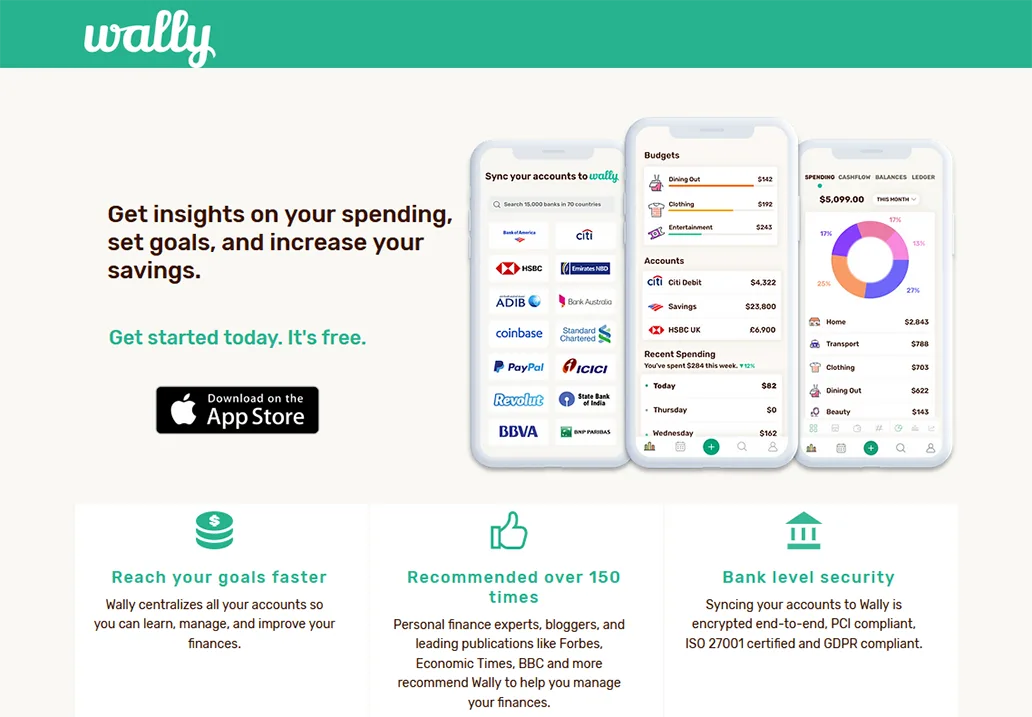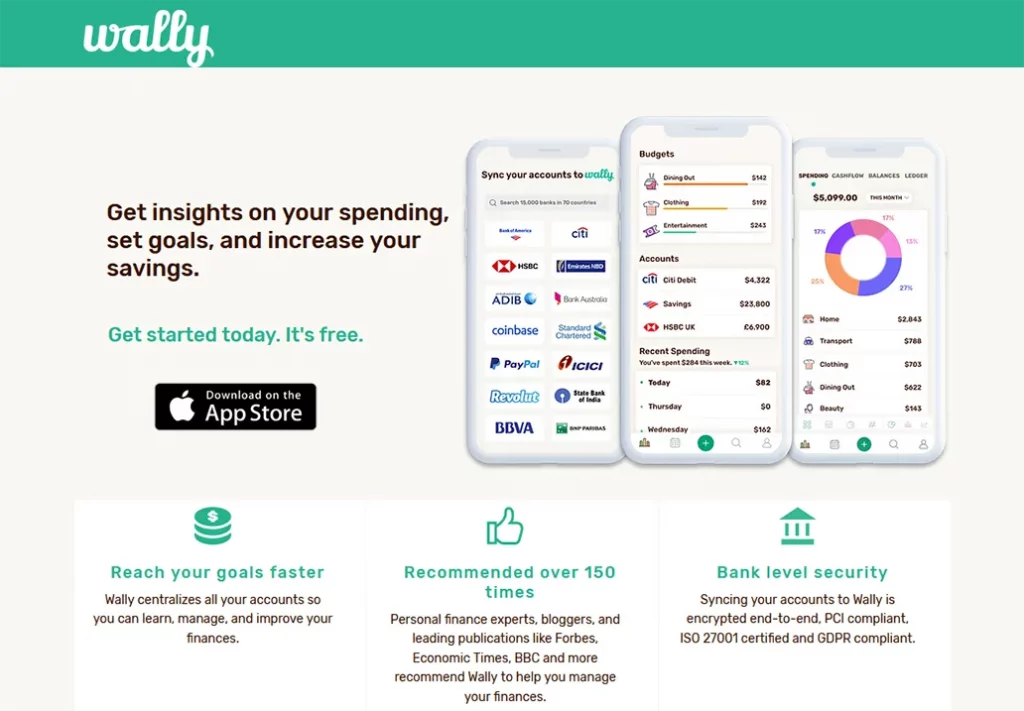 Ratings for Wally
Features

Ease of Use

Interface

Cost
Summary
Wally brands itself as a personal finance app, but the features of this powerful tool go beyond what most personal finance apps can do. Wally is useful for young professionals, families, and just about anyone else that wants to take control of their personal finances without having to pay for expensive software subscriptions.
The biggest mark against the app is that it's only available on iOS. So Android and desktop users are out of luck.
Pros
Free versions
User-friendly and easy to navigate
Advanced features at low cost
Cons
Customer service
No desktop version
No Android version
Wally boasts that it's been recommended over 150 times by reputable organizations like HuffPost, CNBC, Forbes, and even the Columbia Business School.
But can it live up to the hype? We think so.
The latest version of Wally 3.0 packs a powerful punch and is shaking up the personal finance industry. While Wally is only available for mobile iOS users, it's a great tool that helps keep all your financial information in one app on your phone.
Wally can be a good fit for people who don't feel comfortable inputting their banking information into an app since it doesn't directly connect to your bank. Instead, users who want to keep close track of their spending will have to input their expenses into the app manually.
Setting up your accounts in the Wally app is very easy. You can set up your checking accounts, savings accounts, gift cards, digital wallets, prepaid cards, and cash. You can also input several types of active loans into the app. You'll then record the available balance in each account, and you can track your spending over time.
Before we get into the features section of this budget software review, it's worth knowing that Wally is available in 70 countries and supports over 200 different types of currency, making it ideal for budget-conscious individuals worldwide.
Wally's Features
Wally is a versatile app with many different features that are helpful for just about everyone who uses the app. Below are some of the main features that Wally provides:
Spend tracker
Budgeting
Loan management
Reporting and insights
Bank-level security
Goal planning
Financial calendars
Foreign currency availability
Spend Tracker
The spend tracker is the top feature of the app and makes it very easy to input your expenses. This feature allows you to track expenses over the days, weeks, and months, and Wally provides easy-to-read pie charts and other graphics that show what your spending is like over time.
Budgeting
No personal budget app would be complete without the ability to easily manage your budget on the go. Wally helps you stay on top of your weekly and monthly budget right from the app, and makes it easy to create budgets based on different categories of transactions like groceries, entertainment, food, and more. Whether you're over your budget or right on track, Wally will let you know.
Loan Management
Wally also lets you keep a close eye on any outstanding loans that you may have since you can enter these details into the app with the touch of a button. Whether it be your mortgage, auto loan, or personal loan, you can track loan balances and ensure that you're up-to-date on any upcoming payments.
Reporting and Insights
Any reputable home budget app must come with advanced reporting and analytics, and Wally is no exception. Wally has a friendly user interface that breaks down your spending over time and categorizes your data. It shows percentages, allocations, and other useful stats that can help you cut back on your spending and give you a better picture of your current financial standing.
Bank-Level Security
Anytime you're inputting sensitive information into an app, you'll want to be sure that your information is protected in case of a data breach or cybersecurity threat. With Wally, you're in luck. Wally says that your data is encrypted end-to-end, PCI compliant, ISO 27001 certified, and GDPR compliant– all industry standards and exactly what you want to see from a personal budget app.
Goal Planning
In addition to tracking your budget and creating reports, Wally lets you set goals for yourself for the future to help you stay on track. Whether saving for your kid's college fund, buying a home, or paying off debt, you can set goals in the Wally app and watch your progress over time.
Financial Calendars
Do you have upcoming credit card bills? Or maybe you need to pay your mortgage bill on the first of the month. Setting reminders in your Wally financial calendar makes it super easy to stay on top of your bills to ensure you're not missing any deadlines. You'll get an overview of your past and upcoming transactions that are categorized chronologically in your calendar.
Foreign Currency Availability
If you're from countries outside the United States and Canada, you can still use Wally and get all the available features that the app offers. Wally is now active in 70 countries and converts over 200 types of currency inside the app. People traveling or studying abroad may find that the Wally app is a great way to track their spending while in a foreign country.
Wally's Ease of Use
With all the features, you may think that the app is clunky and overwhelming, but you'd be wrong. Wally is extremely user-friendly and easy to navigate. It's easier than ever to sync your accounts, view and manage your budget, keep tabs on your spending, and track your cash flow over time.
Wally helps you stay organized since it stores all your sensitive documents in one place. The app also allows you to upload bills, receipts, and warranties so you have a record of all your past transactions.
Interface (Desktop & Mobile)
Unlike other personal budget apps like Mint, Wally is only available for mobile iOS users, meaning anyone with an Android device will not be able to use the app. It's also not available for users on desktops, which may give some people a slight headache since everything needs to be done solely from the app.
However, Wally's friendly interface for iOS helps earn it a few points here. The designers made the app extremely intuitive, so there is no need for the ability to go in from desktop and make changes to your account. Wally is simplified, so everything you need is centralized on your mobile phone.
Cost
As we mentioned earlier, Wally is a free app that you can use to start taking control of your finances without any fees. However, Wally offers in-app purchases that expand its range of features and give you more control of your finances.
Wally Gold is an optional subscription-based feature that starts at $24.99 per year. This includes many advanced tools and functions that help you manage your money more efficiently. If you're in it for the long-term, you can opt for a Wally Gold Lifetime membership for $39.99.
You can also use Custom Budgets for $5.99, giving you advanced features when creating your budget plans. In addition, you can purchase the Multiple Currencies feature for $7.99, which allows you to alternate between different currencies within the Wally app. This feature may be useful for people traveling or with dual citizenship in two or more countries.
Wally is Best For
The best part of Wally is that people of all ages will find it extremely helpful in becoming more financially savvy and taking control of their expenses. Parents can use the Wally app to keep track of their child's spending or for themselves to create budgets and manage upcoming bills.
Young professionals who may have just moved out of their parent's home and are on their own will find that Wally helps them track how much they're spending based on different categories. Wally will let you know if you spent too much at the bar last night or if you're going out to eat too frequently.
If you have big goals you want to achieve one day, Wally also makes goal-setting easy and allows you to track your progress over time. Saving for your kid's college fund or building up a nest egg for retirement are all possible with the Wally app.
Bottom Line
Wally is a useful app for people interested in personal finance and improving their spending habits. All the features discussed in this budget software review show that Wally can hang with its competitors in this space and packs a powerful punch of functionality.
While customer support is nearly non-existent for Wally customers, you'll find that all the information you need to get started is on the app in frequently asked questions and other helpful resources that Wally provides.
While this no-frills app is only available for iPhone users not on desktops, we believe that Wally is a good option with all the features it has on its free version. If you're looking for more advanced features, Wally's reasonably-priced in-app purchases give you additional functionality that can enhance your budgeting and give you better insight into your financial profile.