UPDATED: August 2, 2022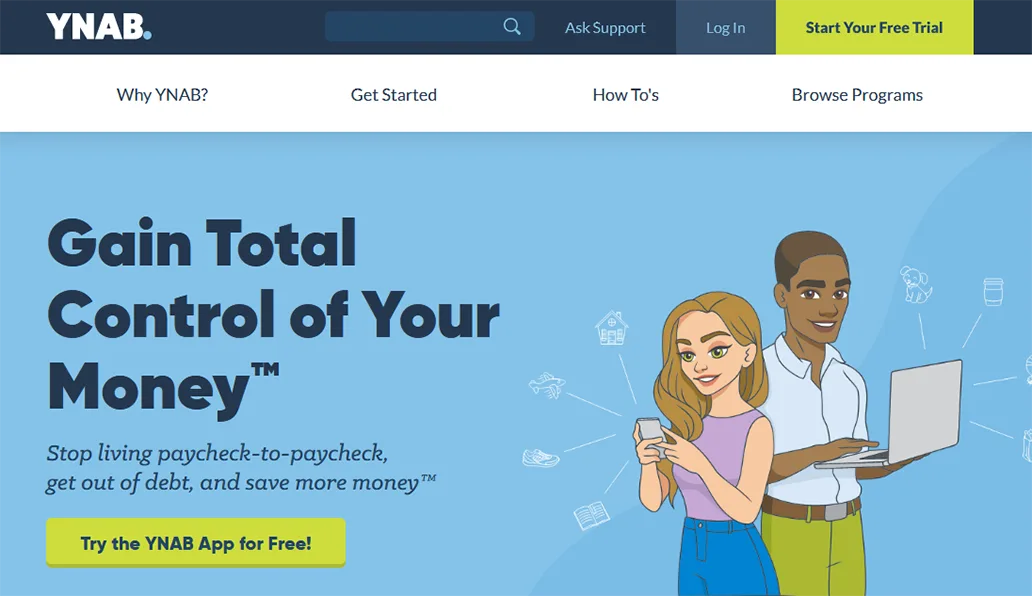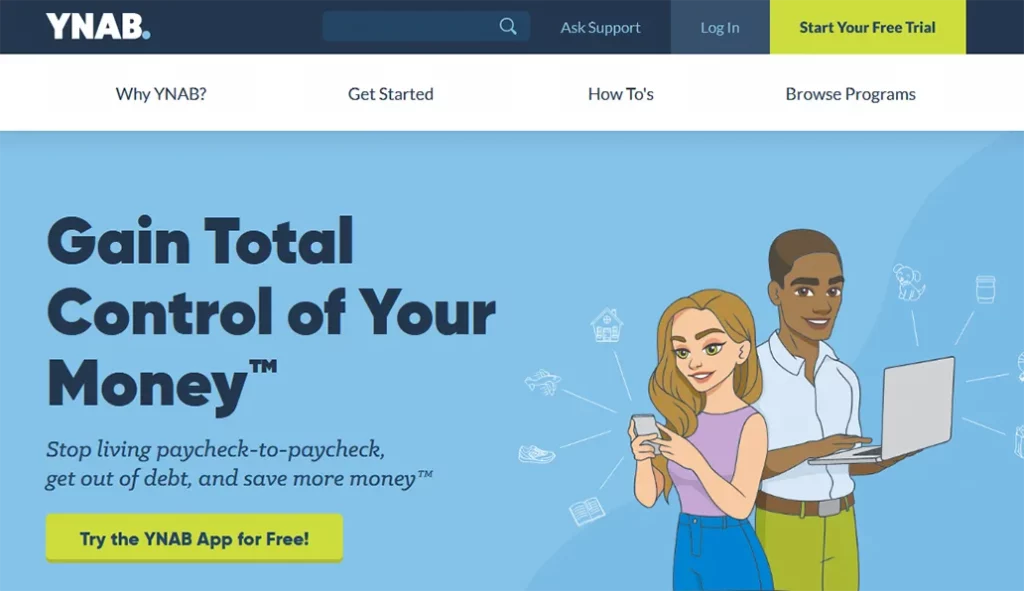 Ratings for YNAB (You Need a Budget)
Features

Ease of Use

Interface

Cost
Summary
If you need a way to budget without a mess, look at the YNAB App. It works to stop users from living from paycheck to paycheck and help them save more money. However, it comes at a price. Is it worth it? For some, the answer is certainly yes.
Pros
Goal-setting tools
Educational resources
Free trial
Detailed reporting
Cons
Expensive
No bill payments
Steep learning curve
No International banks
You Need a Budget, or YNAB, is an app that costs $14.99 a month for a plan or $98.99 for a year membership. It's one of the more expensive budgeting apps you can find on the market, though many features make the investment worth it for the person who can afford it.
The YNAB budget app is a secure way to save money and keep track of your expenses. You can link to your bank account to keep track of transactions, and there is real-life syncing for the best budgeting possible. The YNAB app makes it easy to keep track of expenses and keep everything in one place with a few clicks.
One of the best things about YNAB is all the charts and visualizations available. You can see your progress or even note where you need to improve to relish your victory or get back on track with your spending. It's excellent for those who need assistance with saving and budgeting but don't know where to go.
Our YNAB budget app review? Although expensive, it's an excellent app that can give you the tools you need to succeed. It's ideal for those serious about shifting the way they handle money.
However, there is more to understand before you commit. Let's dive deeper into this budget software review to help you determine if it's the ideal choice for you and the life you want to live.
YNAB's Features
When you invest in an app, you pick it for the features. Many excellent features come with the YNAB budget app. Many comprehensive features work together to make the best avenue for individuals to have a firm grasp on their financial situation.
Let's dive into each of these features. They're all unique, and the You Need a Budget app has everything you need to cut back on unnecessary expenses. Each will help improve you habits for the future.
Bank Connection
It's critical to know where your money is going. YNAB makes it easy to connect to your bank to monitor transactions and track where your funds go. You can see deposits, removals, and more right through the secure app.
There are only a few steps required to sync your bank. Once attached, you feel secure knowing the app won't miss any expenses.
If you have trouble linking an account, there's no need to worry! YNAB has an excellent staff available to help you with any issues with the app. There are also plenty of other features that can help you budget while the bank connection processes.
Real-Time Sync
The bank connection comes with a real-time sync. When money moves from or to your account, you can see it.
This sync is available on any device you want, whether you're using a computer, phone, or tablet. Anything will sync up to what is happening in real-time.
If you're a fan of staying on top of your spending at the moment, this feature will be an excellent one for you. It makes monitoring and budgeting much better than other applications that take time to update. YNAB is prepared to help now.
Goal Tracking
Through YNAB, you can set financial goals and track your progress. You can prioritize spending, work on saving, and set targets to keep your goals on track.
A single glance lets you know where you are in each category with a color - green, yellow, or red. It will also inform you how much you have left in each area if you want to limit your spending on a section such as entertainment.
Progress bars make everything in the budget easy to observe. You can leave the bars on or turn them off if progress bars aren't the right tool for you.
Loan Calculator
Are you interested in a personal loan? You Need a Budget has a loan loan calculator that can help you prepare for the debt and set aside money for the future at the same time.
YNAB allows you to experiment with payments to determine the best choice for your life. They can help you keep track of every feature that comes with the loan to prevent too much debt from appearing.
Do you want to shave off the payment period and avoid too much interest? Try YNAB's loan calculator.
Spending and Net Worth Reports
One of the best features of the You Need a Budget App is the accessibility to reports. Graphs and charts reveal your progress in spending, whether that might be good or bad.
Let's face it - numbers are tricky to take in sometimes. YNAB takes critical numbers and transforms them into a pleasing visual that anyone can understand with a glance.
YNAB will also provide data on the side of the chart. If you want the specific numbers, you can examine these at the same time. There's much to work with here if you're serious about changing the way you spend.
YNAB's Ease of Use
YNAB is an excellent application with plenty of tools at your disposal. You can work with a loan calculator, examine reports of your spending habits, and set goals for your future. How easy is the platform to use?
Once you get the hang of YNAB, it's an excellent platform. However, the philosophy may be tricky to grasp at first. Many report the learning curve to be steeper than other budgeting apps.
The learning curve is worth it if you want to change how you handle money. The extra effort will ensure you know what you're doing whenever you log in. The free trial period should be enough to master the platform.
Interface (Mobile & Desktop)
You can take advantage of the You Need a Budget app on either your mobile phone or desktop. You can find the desktop version through the YNAB website. The app is available on the Android and Apple stores.
The interface is simple once you get the hang of it, but it can take a little while to become comfortable with the navigation process. There are many features, and you will need to work with them to gain control.
Adding your bank information is the easy part. The tricky part is working with the budgeting philosophy.
Still, the hands-on approach is something many love. If you want to feel more involved in your savings, the interface is ideal.
YNAB's Cost
One of the critical items to consider is the cost when it comes to You Need a Budget. It's not a cheap budgeting app.
If you want the YNAB app, you need to pay $14.99 a month. To save a little money, you can opt to pay $98.99 for an annual membership.
There's another option for those who aren't sure they want to invest. You can get a 34-day free trial to test the features and determine if it's the ideal choice for your life.
As with all free trials, you need to add some payment information. You don't owe anything until the trial ends. Take advantage of the free trial if you don't know what to do.
YNAB is Best For
There's little doubt that the You Need a Budget app is an excellent choice for those who want to save money. It takes some time to learn, but once you have the hang of it, you're ready to go.
It's critical to note that this app is not for everyone. If you can't afford the fees and you're not serious about saving, there's no reason to spend $100-$150 a year. That would be a waste of money.
You Need a Budget is best for those who feel out of control and need to change how they spend. It offers everything you need in one place to sync to your bank and ensure you don't drift too far out of your ideal budget.
It would be ideal if this app were a little cheaper. Still, it's worth the investment if you can afford it and you're serious about making a financial change.
Bottom Line
Although the You Need a Budget app is expensive, it's worth it. It's an excellent tool that works best for those serious about cutting back on spending. You get a bank connection, a loan calculator, reports, and more features that will help you stay on track. If you can afford at least $100 a year, YNAB is worth checking out.