UPDATED: March 23, 2022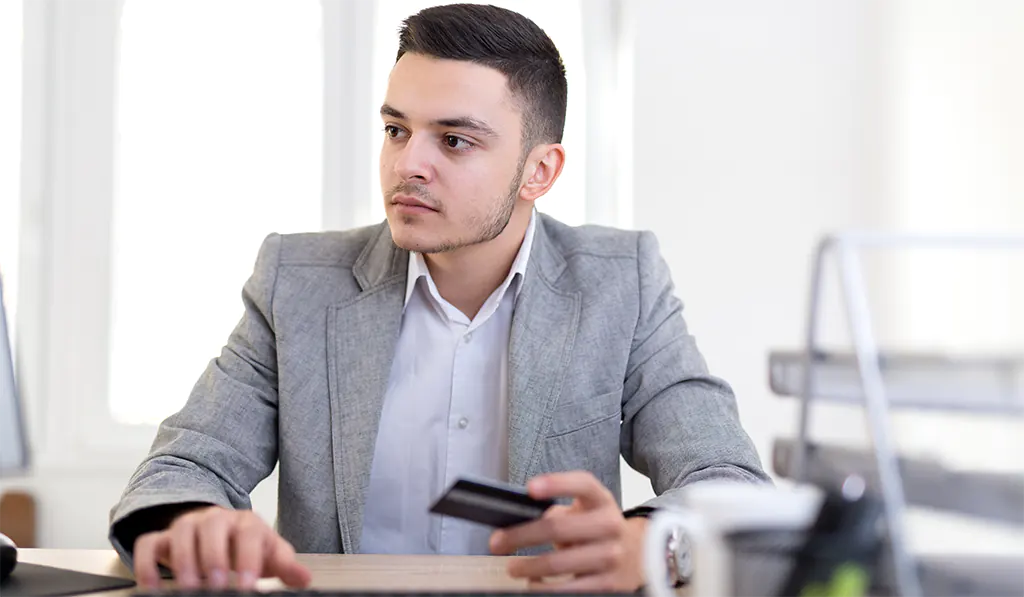 Sometimes running a small business can feel like you're paying ongoing expenses, one after another. Whether it's paper for the printer or a new payroll software, businesses are constantly spending money. And while paying in cash or using a debit card works, have you ever wondered if it's time to shift some of your short-term business expenses to a credit card? Here's how to tell if your small business needs a credit card.
Does My Small Business Need a Credit Card?
Just like not everyone needs a personal credit card, not every small business needs a credit card. And whether or not you're ready for one depends on your unique financial situation. It might be time to consider a small business credit card if:
You're ready to streamline expenses: If you regularly get to the end of the month and pull together spending from multiple sources, a small business credit card can be a smart way to streamline and track all purchases. But that doesn't mean it's a green light to spend recklessly or drastically increase your monthly spending.
You plan to use it for short-term debts: Credit cards are designed to help you spend money and pay it off shortly thereafter. If you're seeking long-term financing to expand your business, you may be better suited to look for a small business loan, personal loan or other debt with a lower APR.
But there are also certain situations where it may not be wise to try and get a business credit card. That includes:
If your personal credit score is low:  Especially if your business is young, lenders may base your creditworthiness on your personal credit score. If your score is below average, it may benefit you to wait to apply for a business credit card until your score has improved.
Your business doesn't have a steady income:  Creditors need to see that you can repay the money you use each month. If you fail to show a steady income stream from the business, they'll be less inclined to approve you for a line of credit.
You're already carrying a lot of debt: If you've taken on a lot of debt you're still working to pay back, it might be wise to wait to apply for a credit card until after those debts are settled or consolidated.
Benefits of a Small Business Credit Card
There are several benefits to small business credit cards, including:
Easy separation of Personal and Business Expenses
Keeping personal and business separate can relieve a lot of stress, especially when tax time rolls around. A single credit card statement with all business expenses will help you easily keep track of eligible deductions.
Ability to Earn Rewards Specific to Your Business
Credit card company reward programs will give everything from travel miles to hotel points or cashback. Based on the type of small business you have, it's wise to pick the card that offers rewards you'll actually use.
If you travel around the globe, a card that focuses on travel perks could end up being the best bet. If you have a construction company, maybe a credit card from a nearby retailer specializing in tools and lumber would be the smart move. Whatever you choose, be sure to maximize rewards and spend them before they expire.
Financial Flexibility
Credit cards can help to cover you in times of financial need. For example, let's say your customer invoices are due by the first of the month, but you desperately need more materials at month's end. A credit card can help tide you over until client payments arrive.
Potential Downsides to a Small Business Credit Card
While credit cards certainly offer perks, there are also potential downsides to consider. A small business credit card could put you in a rough spot if:
You Spend More Than You Can Reasonably Pay Off
As any credit card holder knows, it can be effortless to overspend while using plastic. Your spending habits shouldn't change just because the payment medium has. It's critical to continue to spend money based on your existing financial plan, or you may be in a situation where you're paying a lot of money in interest each month.
You Accidentally Put Personal Expenses on the Business Card
One of the primary benefits of a small business credit card is the ease of keeping expenses separate. If you begin to charge personal expenses to your business credit card, it defeats the purpose. Be sure to keep them separate and only trust employees who will use the card responsibly for business reasons.
Are They Hard to Get?
Since most business credit cards only require some kind of self-employed income, they're about as difficult to get as a personal credit card. Although when your business is young, creditors may look to your personal finances to indicate your creditworthiness.
If you struggle to maintain an average credit score, it could negatively affect your chances of getting a business card.
How To Get One
Research the best card: You know your business better than anyone, so you'll also know what essentials you'll need in a credit card. Be sure to look at fees, welcome bonuses, and the credit score you'll need to qualify. From there, you can choose a card that aligns with your business goals for rewards, cashback, or building credit.
Submit an application: As with any other line of credit, you'll need to go through an application process. To complete the application, you'll need easy access to personal information, like your address, income, and debts, as well as business information, like your Employer Identification Number (EIN), business address, years in business, industry type, and estimated monthly spending.
Wait for creditor approval: Once your application is submitted, the creditor will review and decide on extending you a new line of credit. You may be instantly approved or denied, or the process could take a few days if follow-up is necessary.
Starting making purchases on your new card: Once you receive and activate the card, you're free to start spending on business expenses.
The Bottom Line
Responsible business owners can use credit cards to streamline business expenses. When used correctly, credit cards can help small businesses to effectively budget and even earn valuable rewards in the process.