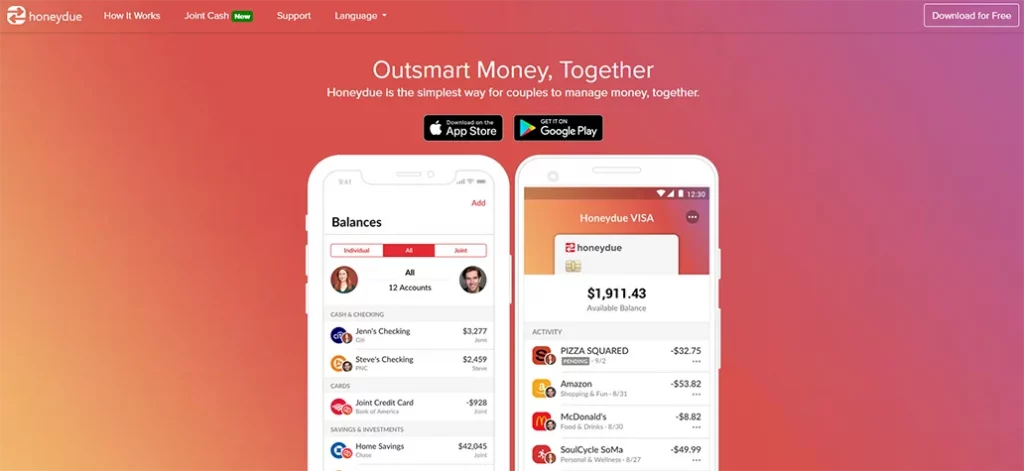 Ratings for Honeydue
Features

Ease of Use

Interface

Cost
Summary
Honeydue is a simple and effective budgeting and bank account app that helps you keep an eye on spending with your partner. It's great for couples who want to be more organized and accountable, and it's perfect for those who need a little help staying on top of their finances.
Pros
Designed specifically for couples
Ideal for joint accounts
Built-in chat function
It's free
Cons
Not the best for savings goals
No desktop app available
Ads in the app
The app is free to download and use, and it's available for both iPhone and Android devices. In fact, there are absolutely no fees to speak of, making Honeydue a completely free-to-use budgeting app.
If you're looking for an easy way to stay organized with your money and connected with your partner, Honeydue is definitely worth checking out.
But before you commit, it only makes sense to learn more about what Honeydue can offer you. We invite you to read our Honeydue review so that you can decide for yourself whether Honeydue makes your to-do list.
Best Budgeting App:
Features
Features are what make an app special and worth using. And when it comes to budgeting apps, a lot of them can start looking the same. While that's not necessarily a bad thing, it can make it hard to decide which one is right for you.
So, what sets Honeydue apart from the rest? During our time compiling our Honeydue review, we were pleasantly surprised to learn that the app offers some unique features that you won't find in other budgeting apps.
Let's examine Honeydue's standout features, so you can see how the app stacks up against the competition.
Account Tracking
Honeydue makes it easy to see all of your accounts in one place, including savings, checking, credit cards, and more. You can also see your partner's accounts, which is helpful for tracking shared expenses. Check out our guide to combining finances with your partner.
What's more, if you have any money tied up in loans or investments, Honeydue lets you clearly see it in real time.
Expense Tracking
The app makes it easy to track your spending, both individually and as a couple. You can see where you're spending the most money, and you can set budget limits to help keep your spending in check.
Bill Payment Tracking
Honeydue also helps you keep track of your bills, so you can make sure they're paid on time. With built-in reminders, you or your partner will always be kept in the loop about upcoming due dates.
Built-in Chat
Another great feature of Honeydue is its built-in chat function. You can converse with your partner about transactions and other account activities. This is handy for when you spot a charge that doesn't quite look right.
You can easily copy and paste direct charges to your account to show your partner for clarification. Review our post on talking to your partner about money.
Easy Account Management
The Honeydue app is set up in a way that lets you instantly toggle between users. This makes it easy to see just what you're spending, just what your partner is spending, or what you're spending combined.
Moreover, all of your spending is conveniently broken down into sections for each account. So if the accounts you added to Honeydue were your checking account, a personal loan, and a mortgage, for example, Honeydue itemizes your spending in each account for easy account management.
Security
One of the biggest and most warranted concerns that consumers have with apps like this is privacy and security. With Honeydue, you can rest assured that your information is safe.
The app uses 256-bit encryption to protect your data, and all of your information is stored on secure servers.
Plus, Honeydue doesn't just offer multi-factor authentication—it requires it. Thus, you can rest assured that there's an extra layer of security to your account.
Private Purchases
Honeydue allows you to keep some of your purchases private so that your partner can't see them. This one was a bit of a head-scratcher at first, as the app is aimed at helping couples maintain their finances.
But it makes sense in the event that you buy your partner something for, say, a birthday or anniversary, and you don't want them to know about it.
Ease of Use
Honeydue is an incredibly easy app to use. The interface is clean and straightforward, and the features are all well-designed and easy to navigate. Even if you're not particularly tech-savvy, you'll have no trouble using Honeydue to track your finances.
Honeydue is also available in a number of different languages, so it's accessible to users from all over the world.
In terms of accessibility, Honeydue ranks highly. It's an excellent app for anyone who wants to keep better track of their spending—and that goes for everyone from first-time checking account owners to seasoned investors.
And being available on both iPhone and Android devices means that just about anyone can download and use the app.
Now, with that being said, Honeydue is limited to mobile only. There is no desktop app or web-based interface. This may be a turnoff for some users.
Simplicity is key when it comes to budgeting, and Honeydue definitely delivers in that department. With more than 5 billion people in the world being mobile phone users, it's safe to say that Honeydue leaves out very few people.
Interface (Mobile & Desktop)
The interface is one of the most important aspects of any app. After all, if an app is difficult to use, you're not likely to stick with it for long.
Fortunately, the Honeydue interface is about as user-friendly as they come. The app is designed with simplicity in mind, and it's easy to navigate.
As we mentioned earlier, the app is a great fit for anyone who wants to get a grip on their finances, regardless of experience or status.
So if you're a couple who's just starting out and you want to get a head start on saving money and spending responsibly, Honeydue is right up your alley.
Conversely, if you're a big-shot investor who trades stocks and wants an accessible app to balance your finances, Honeydue's for you, too.
That's how accessible Honeydue is to its user base. You don't have to worry about knowing a lot about budgeting or finances. Just plug in your desired accounts, and Honeydue takes care of the rest.
You can get a pretty good idea of how Honeydue ranks among its users by reviewing its ratings on both app stores. On Apple's App Store, for instance, Honeydue boasts a solid 4.5 out of 5.
And on Google's Play Store, Honeydue clocks in at 4.1 out of 5. So if you have any reservations about the app's user-friendliness, those scores should put your concerns to rest.
Cost
Honeydue is a completely free app to download and use. There are no hidden fees, either. This was a concern with the Joint Banking option, as you have to sign up for a Cash Visa Honeydue card.
But we were pleased (and impressed) to learn that there are zero fees. Of course, free always comes with a price. That price comes in the form of ads within the app. A small price to pay, but it's there nonetheless.
It's worth noting that the Visa card for your joint account comes to you by way of Sutton Bank (Member FDIC). You can use this card at more than 55,000 ATMs scattered across the United States.
What's more, you can use those same ATMs free of any surcharges. This all coalesces into a truly free app.
Best For
Honeydue is best for couples who want to keep better track of their finances. If you're single and looking for a budgeting app, there are many other options available that are likely better suited to your individual needs.
There aren't a lot of apps that are strictly designed for couples, so it's nice to see Honeydue trying to reach this niche.
Honeydue's simplicity is a big selling point. So even if you are tech-savvy but your partner isn't (or vice versa), neither one of you should have any trouble getting the hang of Honeydue.
And because the app is available on both Android and iOS devices, you shouldn't have any problems downloading it regardless of the type of phone you have.
Many couples use different phone brands, so this is a big plus that often gets taken for granted.
Bottom Line
We live in an age where it's easier than ever to have numerous accounts across multiple platforms. But because of that, it's also easier than ever to let those accounts overwhelm and confuse you.
Honeydue aims to put a stop to this. In fact, Honeydue's mission is to "outsmart money." We'd say they're on track to do just that.
As you can see from our Honeydue review, the app is a solid contender with very few drawbacks. Overall, it's a great solution for effective money management. And with a price that's free, there's no reason not to give it a try.
Best Budgeting App: