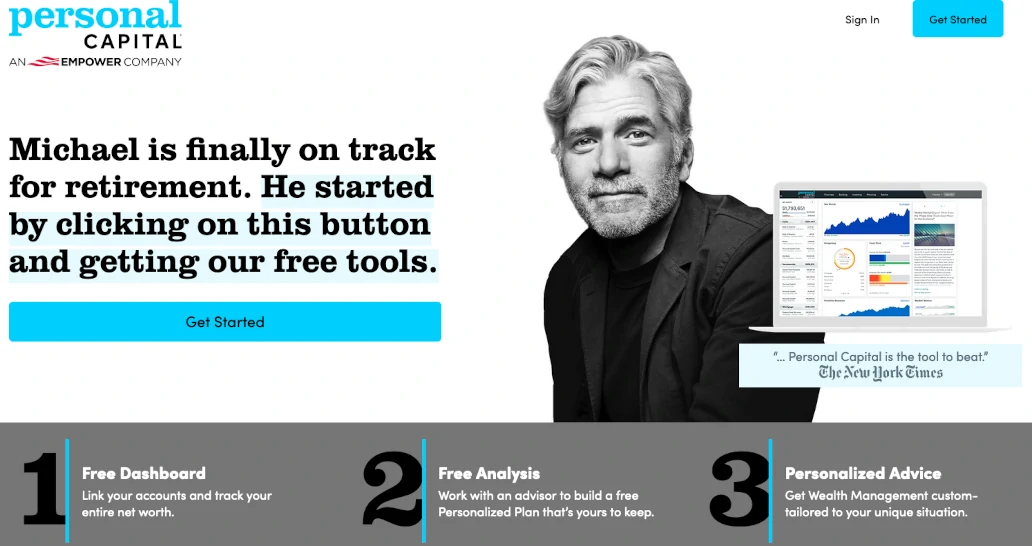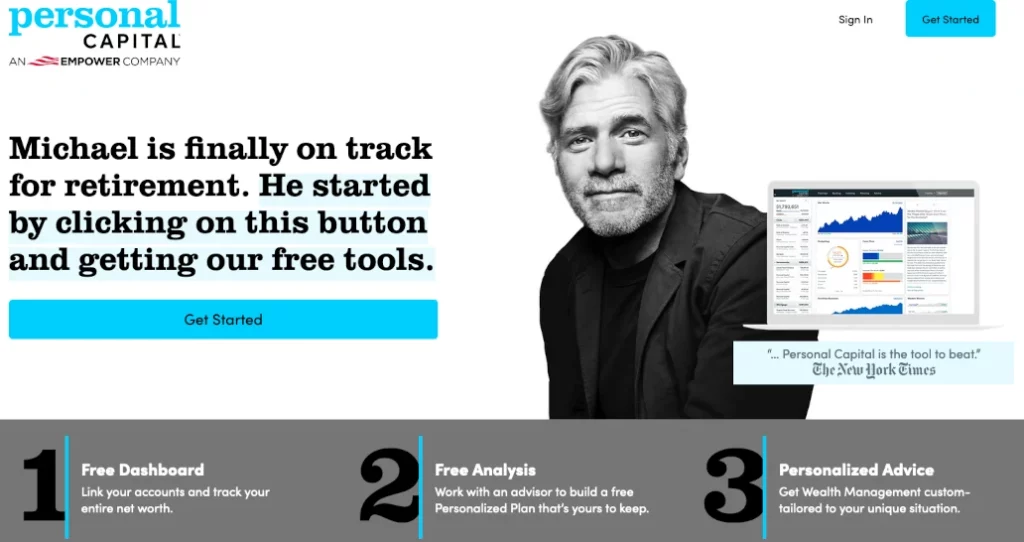 Ratings for Personal Capital
Features

Ease of Use

Interface

Cost
Summary
Personal Capital is a full-service investment advisor and management program with the additional bonus of including a very complete suite of financial planning tools.
Pros
Easy to use
Free features
Versatile and robust
Fiduciary Robo-advisor
Cons
Long setup time
High account balance minimums
Personal Capital was designed with the investment and financial professionals in mind, though the financial planning tools are good for basically everyone. The main drawback of this program is that they do have some relatively high account balance minimums before you can access their more robust investment tools. 
To help balance that limitation, however, many of the basic financial planning and budgeting tools offered by Personal Capital are completely free. That means that you can access an incredibly complete collection of financial tools for free and that the package only gets better as your investment portfolio and accounts grow. Free budgeting apps like Trim offer similar planning and budgeting tools, Personal Capital takes a step further with robust investing options.
Let's take a closer look at Personal Capital's features, ease of use, platform accessibility, and other details. 
Personal Capital Features
There are a lot of features packed into Personal Capital, so we can't review all of them. Instead, we're going to focus on some of the most important features they offer, along with some of the tools that will make the biggest difference in your investment portfolio and the features that help make Personal Capital stand out from crowd.
Robo-Advisor
Having a robo-advisor means that you can access high-quality investment advice and ways to tweak your portfolio to meet specific goals 24/7, basically whenever you have time to look at your investments. 
This robo-advisor also performs well and has good advice on average, making it a real asset for those just getting started investing or even for the most experienced investors. 
The only real downside to this tool is that there isn't a free version of it. You need to meet the 100k account minimum and some investment minimums before you have access to use Personal Capital's robo-advisor.
Fiduciary Advisor
Being a Fiduciary is a huge bonus for Personal Capital because it means that the app (and any advice you get from it) has to be held to a high standard of responsibility.
The advice Personal Capital gives you needs to be in your best interest, unlike many financial advisors who might choose to give less than optimal investing advice because it offers you some benefits while also benefiting them or their company in other ways.
Track Multiple Accounts In One Place
Having a dashboard that gives you a snapshot view of multiple accounts can sometimes be hard to find, much less use. The nice thing about Personal Capital is that you can add all of your investment accounts and their portfolio tools will take more than one account's information into their calculations.
One of the most important tools that comes with Personal Capital is the ability to evaluate your portfolio for hidden fees that can cut into your profits and reduce the value of your core investments.
It may be that you don't have a lot of fees cutting into your earnings, but for most investors, this tool will help you find the most valuable markets and cut down on expensive accounts that don't justify their costs and the long-term losses incurred by fees.
Retirement Planning
One of the features of Personal Capital that's designed for everyone, not just investors, so it's a good retirement planner to have even if you aren't using Personal Capital's more advanced features.
The tool is also reasonably versatile and will let you try different scenarios so you can plan more effectively. You can even input major events and expenses to help see how those kinds of situations will affect your retirement pad and whether you have enough of a pad in your budget.
Retirement planning and saving is especially important when you consider that most people don't realize how much they'll truly need to retire, knowing how much you need to set aside to successfully retire is huge. 
Budget Planning
In addition to tracking your investment accounts, Personal Capital also lets you upload your personal account information to the Dashboard and do everyday budgeting directly in the program. You can budget for different time-frames, from weekly and monthly budgets to an annual budget that pairs well with retirement, long-term savings, and investment plans. 
The real advantage of this tool isn't that it does anything that other programs don't also do, instead, its main strength is that it allows you to coordinate a lot of information that would normally be in multiple tabs or even multiple different apps all on one screen.
Cash Flow Tracking
Cash flow isn't a huge problem for a lot of people. If your primary source of income is a standard full-time job, chances are that you don't need to worry about cash flow because it's consistent and predictable.
But for investors, small business owners, and creative people with less predictable income, this tool is a real-life saver. The cash flow tracking is one of the best ways to get insight into whether your latest investment strategies are working, to see how your business is holding up to changing demands, or to plan for lean periods between work as a freelancer or contractor.
Again, like a lot of the financial planning tools in Personal Capital, the real advantage here isn't that this is a unique or groundbreaking feature. Instead, the main advantage is being able to use the cash flow tracker in combination with the other features included in Personal Capital.
Education Planner
This last tool is one that's fantastic for parents, but it's also a good resource for adults who want to plan on going back to school or who are saving to get their first degree.
Using estimates based on current prices, the education planner will help you make sure you have the money for college, whether you're sending your first kid or getting into the classroom yourself.
For investors, small business owners, and other professions, this is incredibly helpful if you want to up-skill or get secondary degrees or certificates to help you professionally. It's also helpful for planning for grad school and getting a more advanced degree for career development. 
Employer Plan Analysis
This handy feature helps make sure your personal retirement savings and investments are working in concert with any plans provided by your employer.
While not every investor is going to have an employee benefits package that offers a traditional 401k, if you have an employer-provided plan, you want to make sure your outside investments work well with that portfolio.
Ease of Use
Ease of use is one of the biggest things Personal Capital brings to table. The Dashboard with this program is specifically designed to make it easier to access all the information you need to make financial planning decisions and to provide a unified location for all of your accounts.
That's fantastic because one of the biggest problems with accessing financial information is having to move between different accounts and profiles with different providers.
However, there are some limitations to the functionality of this program. For one thing, to access the most helpful investment features you'll need to meet a cost barrier that can be difficult for your average person to meet.
Setting up your account can also be a bit of a chore, though the benefits are usually worth it in the end. The main problem is that you'll want to add as many accounts and loan balances as possible in a single sitting, which can mean gathering a lot of paperwork, passwords, and account information all at once.
The upside is that once your accounts are added you don't have to go through that process again. The downside is that for many of this program's target audience, it might take an entire afternoon to set up.
In addition, customer service and tech support are pretty reasonable with Personal Capital, which is good because they'll be able to resolve your problems relatively quickly if any issues do come up.
Daily transaction emails and two-factor authentication help provide some additional security and ways to monitor your accounts, which is another big bonus.
Interface (Mobile & Desktop)
Personal Finance continues the trend of being one of the most user-friendly investment portfolio tools by having some of the best interfaces in the game. 
Consistently rates as being user-friendly on both the mobile and desktop versions, Personal Capital is compatible with both Apple and Android devices, and you may even be able to access a version of it on some of your more miscellaneous devices as well.
Personal Capital Cost
Cost is the biggest barrier to some of the tools and functions of Personal Capital, but not all of them. You can access a robust tool set with a free account, with the caveat that more advanced tools like the robo-advisor only become available with a high (100k) account balance and some additional investment fees.
Overall, for the investors that can afford it, the extra tools are worth what they cost. Remember, you aren't paying 100k to use the tools, you just need to maintain that balance in your investment accounts. But for some investors who either don't like working with the robo-advisor or who don't have the capital required to access Personal Capital's best tools – the basic suite is still a powerful ally.
Best For
Personal Capital is designed for professional investors who already have a reasonably large portfolio and can afford to do a fair amount of trading. That said, beginner investors, even non-investors can still benefit from the other tools in the portfolio.
For most people, Personal Capital's most useful tools are likely to be the budgeting, retirement, and education planning tools – but even just the advantage of having all three of those tools in one place is worth the memory Personal Capital needs to install.
Bottom Line
Overall, Personal Capital is a powerful and versatile tool with a huge potential user base. The requirements for the most powerful tools like the robo-advisor are higher than for most of their competitors, which means that Personal Capital might be less suitable for investors that are just getting started.
Even then, though, Personal Capital's education and financial organization tools are still useful.