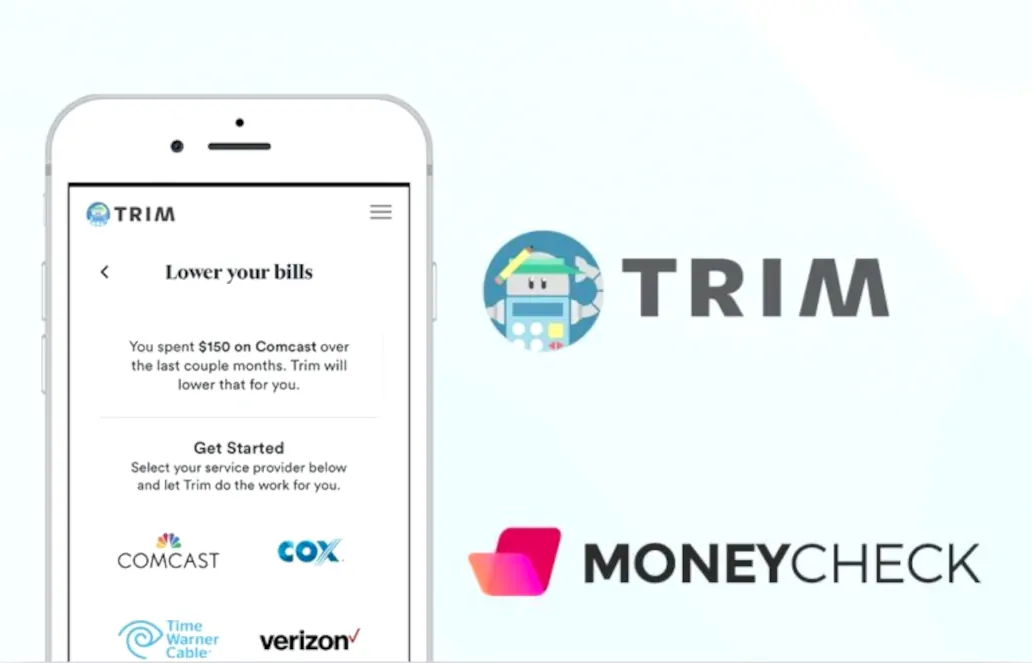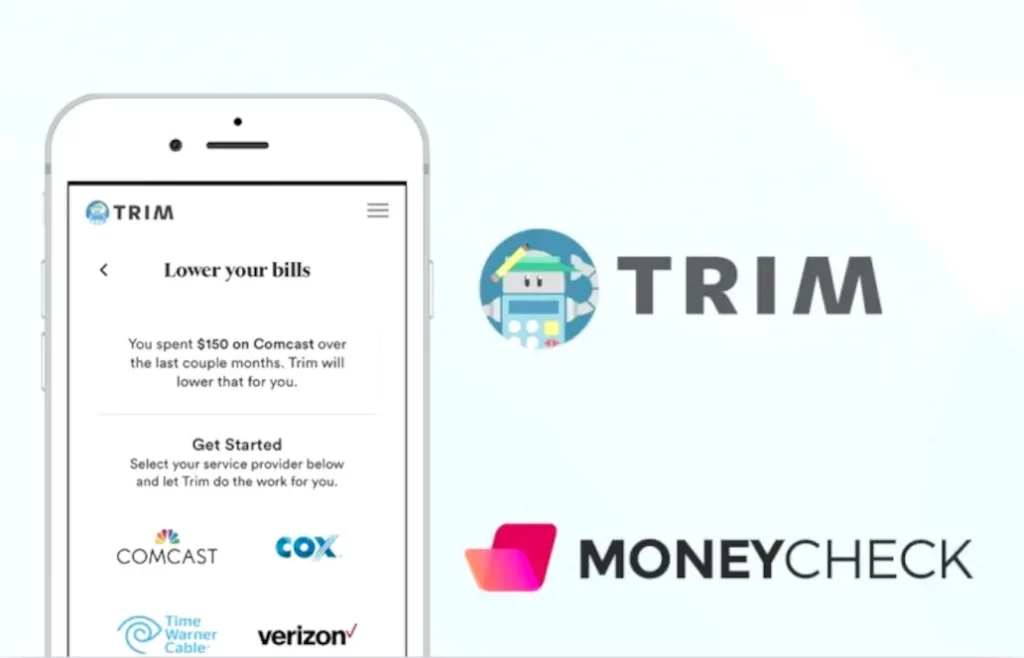 Ratings for Trim
Features

Ease of Use

Interface

Cost
Summary
Trim is a personal finance tool that helps you simplify your finances and improve your overall financial health. The app has plenty of useful features that aren't found in other personal finance tools, and its interface and ease of use are something that even technologically-challenged people will find intuitive and easy to navigate.
Trim has been featured in plenty of reputable publications such as ABC News, TechCrunch, The New York Times, and Good Morning America for its usefulness and ability to help save its users money in several different ways.
The major downside is it lacks many standard features you would expect from a budgeting app. However, it serves as a great add-on to a more traditional budgeting system.
Pros
Free
Can lower bills
Can reduce credit card APRs
Simple to use
Cons
Not ideal for budgeting
No investment tracking
No mobile application
Trim has been around for longer than other most personal finance apps, as it started in 2015 intending to help its users achieve financial stability. Since its inception, Trim has helped Americans save over $20 million with its app that helps you in managing everyday finances and saving money in new and innovative ways.
As its name suggests, Trim helps to "trim" your costs by cutting your expenses on everyday bills and purchases that you may be making unknowingly. Trim can see your current monthly subscriptions for apps or services you may not be using and suggests you discontinue paying for them.
Many people subscribe to streaming services, gym memberships, online games, or other investing apps that they never use. Trim can help eliminate these unnecessary expenses that eat away at the money you should be saving and investing.
The app has a lot of different services and features that aim to reduce your expenses and become better at managing your personal finances. If you're looking to track your expenses, save for a college fund, or find rewards for credit cards, Trim can help you achieve these goals.
In addition to all the ways you can use Trim, you also communicate with the app via text messages instead of in the actual application. Once you sign up for the free app and link your bank account, you are ready to start using Trim and taking advantage of all its features.
Trim Features
Bill Negotiation
One of Trim's unique selling propositions is that they have the ability to negotiate your rates for bills like credit card APRs, medical bills, bank account fees, and other utilities. While there are a few well-known competitors that also have the bill negotiation feature, Trim is a true contender. While some other competitors can only negotiate one or two bill categories, Trim can negotiate many.
To use this feature within Trim, you will give the bill summary to Trim and they do all the leg work. They get in touch with the company sending the bills and will let you know if they can negotiate the bill down for you. They give you the option of whether or not you would like to move forward once they've determined they can help.
However, it's important to know that Trim takes a 15% success fee off the entire savings you'll get for the first year. Otherwise, Trim and all its features are totally free for you to use.
Canceling Unwanted Subscriptions
Another highlight of the Trim app is its ability to cancel unwanted subscriptions for services you do not use. With the tap of a button sending a text to Trim, they can go in and cancel subscriptions for you. So stop piling up those BarkBox's and cancel the subscription.
They start by sending you a monthly update on all of your subscriptions, and then you have the option to cancel the subscription by replying to Trim's text with "cancel." Trim will then take the following steps to cancel the subscription by doing one of three things:
Sending the company an email
Calling the company to cancel the subscription
Sending a letter in the mail if needed
Subscriptions like gym memberships are notoriously hard to cancel, which is why Trim has the ability to send a letter in the mail since some gym memberships require it for cancellation.
TrimPay
TrimPay is a service that allows you to reduce your credit card debt by moving money from your checking account into the TrimPay system. Then it automatically pays off your credit card bills to get the money out of your checking account so you are less likely to spend it and contribute it to your credit card debt.
Building Your Savings
Trim has a unique feature where they give you access to SimpleSavings that offers you a 4% reward on your first $2,000 invested. The app allows you to transfer money from your checking account automatically each week, so you don't have to worry about logging in and doing it yourself.
Trim's other personal finance features include:
Financial monitoring
Spending analysis
Financial coaching
Other personalized tools
Trim's Ease of Use
Trim ranks very high on its ease of use, as you only need to link your bank account and credit cards to get access to all its features.
Once you've linked these two, Trim goes to work by analyzing all your financial information like unwanted subscriptions and how they can help reduce some of your current bills that you may be able to get a lower rate on.
One of the most useful parts about Trim is that it gives you the option to choose whether or not you want to cancel these services before it goes ahead and does it. Since negotiating bills requires a payment of 15% of the savings to Trim, you may want to consider whether it's worth it or not before you go ahead and make the deal.
Trim's Interface
One major drawback is that Trim doesn't have a mobile app. However, the online interface is intuitive and easy to navigate for users of all ages. The app is ideal for anyone interested in saving money and getting into a better financial position. It's also a valuable tool for people that want to cut down on unnecessary expenses and get their financial future on track.
While other apps, like YNAB (You Need a Budget), emphasize expense tracking and automated savings, Trim takes a different approach in making it a point to reduce expenses while still offering budgeting tools and ways to save more money.
Cost
Trim was previously offered in a free or paid version, but users now enjoy all its features free of charge. The way that Trim makes their money is through the 15% success fee that they charge when they negotiate your bills to a lower price. Other apps require you to pay for services like unwanted subscription cancellation, but Trim offers it for free to all its users.
Trim is Best For
Trim's unique approach to smart spending and managing debt is great for just about anyone. It incorporates many different elements of investing, credit cards, personal finance, and banking to give you a helpful tool to take control of your financial goals and reduce your spending.
The ability to cancel things like gym memberships makes it ideal for those with subscriptions they don't have any use for. If you think you may be overpaying for utility bills and credit cards, Trim's free features can help to minimize these costs and save you thousands each year.
While Trim may not have as many features as more popular personal finance tools on the market, it takes a unique approach to reducing your spending without too much intervention on your part. You simply enter your banking information into the secure application and Trim does the rest.
Bottom Line
We believe that Trim lives up to its name and they claim to help users save over $600 per year on average. Being a free service, there is simply nothing else out there that has the same features that Trim does as a free service.
However, Trim has some weaknesses that may make you want to explore other options in addition to using the Trim app. It falls behind its competitors like Simplifi in providing a historical view of your spending, accurate reporting, receipt tracking, and budgeting.
While Trim may not be an all-in-one solution, using its free features in conjunction with other personal finance tools will provide significant advantages for budget-conscious individuals. Therefore, we think its a great add-on service that would compliment a more typical budgeting app very well.