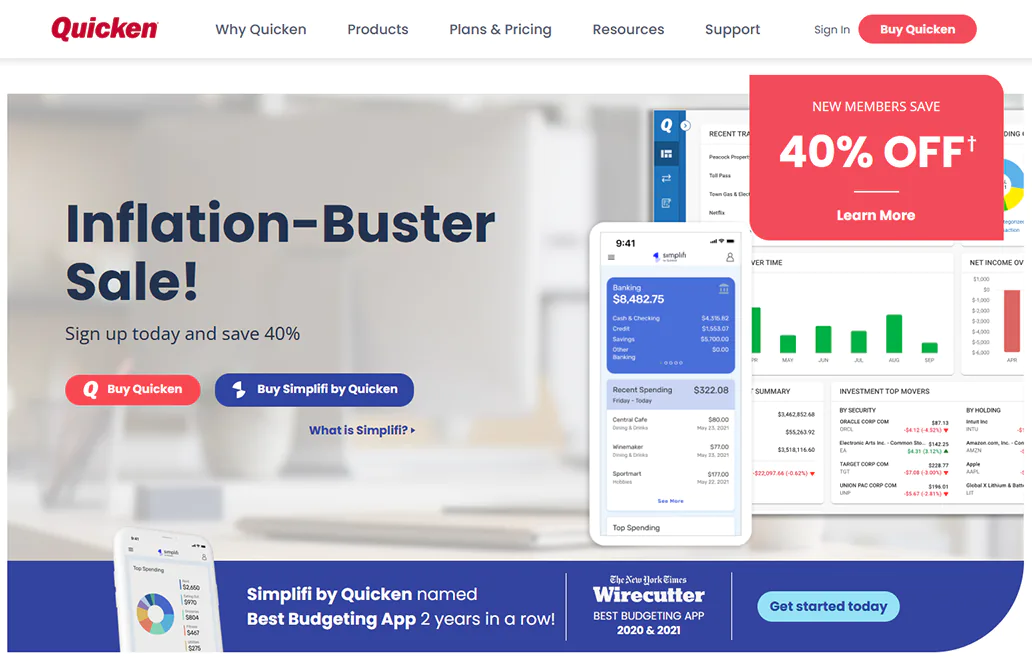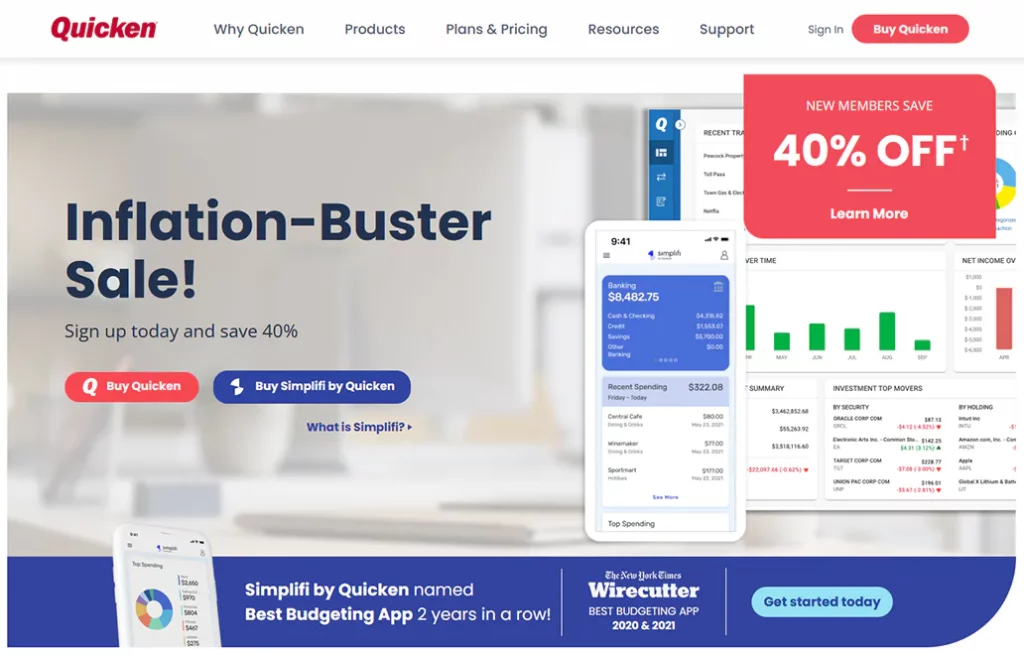 Ratings for Quicken
Features

Ease of Use

Interface

Cost
Summary
Quicken is one of the oldest personal finance apps available to consumers and has been around for over 30 years. The app is one of the most popular options for consumers that want the best personal finance tools and budget tracking software that money can buy.
Speaking of money, Quicken is one of the more expensive options among personal finance budgeting tools, but it delivers a powerful punch. This article will explain the different features of the Quicken app, the user interface, who this app is for, and whether or not we recommend you to use this all-in-one application for managing your finances.
Pros
All-in-one solution
30-day money-back guarantee
Effective spend tracking
Cross-platform availability
Multiple pricing plans
Export to Excel
Cons
Only for personal use
Fairly expensive
Like Simplifi, Quicken is useful because it gives you a clear understanding of how much money you have coming in and the source of your cash flow. The app also tracks your upcoming bills to ensure you don't accrue late fees or penalties. You can put bill reminders for any upcoming expenses like mortgage payments, credit card bills, utility bills, and much more.
The Quicken app also has features that show you how much money you have left over after paying all your bills and other expenses to give you an idea of how much you can spend on entertainment and what you can put into your savings.
Once you sign up for Quicken and choose your plan type, you'll connect your bank accounts, credit cards, investment information, mortgages, personal loans, and other financial institutions to ensure that Quicken automatically updates when you receive or spend money.
Quicken makes it very easy to track your accounts to see where your money is going. All your accounts and balances are listed in a vertical pane on the left-hand side of the screen. They've created a horizontal toolbar at the top of the page which divides the software into different categories, including:
Spending
Bills
Income
Planning
Clicking on one of these headings opens a sub-menu of different functions for each category where you can see detailed information and breakdowns of these headings.
Quicken Features
Spend management
One feature that makes Quicken so appealing is its spend management ability. They capture all the details you need to make informed financial decisions. Quicken allows you to connect to over 14,000 financial institutions where you can view all your accounts and transactions in one place. With Quicken's spend management features, you can:
Catch any unusual activity on your account
Track your transactions and search by the amount, payee, or type of transaction
Enable smarter money management by dividing transactions by household members
Budgeting
Quicken's budgeting feature works well when you connect your banks and credit cards because they know how much money is coming in and going out.
Quicken's budgeting tools let you discover areas of your spending that could be opportunities to save, or it can uncover regular expenses that may not be top-of-mind.
You can also personalize your budget so your recommendations are specific to your lifestyle and goals. The budgeting abilities also let you create as many categories in your budget as you'd like.
Quicken Bill Pay
Old versions of Quicken didn't have any bill pay features, but today you can track all your bills in one place with the Quicken Bill Manager.
Quicken says that this is the ultimate dashboard to pay, track, and manage all your bills and allows you to:
Keep all your bills right at your fingertips
Pay bills online
Manage unexpected and inconsistent bills in your budget
Simplify the bill-paying process
Other features of the Quicken Bill Manager include sending checks to anyone in the US and downloading and tracking your electronic bills without ever leaving the Quicken app.
Investment tracking
Quicken is one of the best personal finance apps because it has many features that some "all-in-one" apps don't have.
One of these features is investment management, and Quicken does this better than nearly everyone else. Their investment management software simplifies your portfolio diversification and unites all your investment accounts into one place.
Insightful investment tracking features like IRR and ROI reports help you understand how you can meet your investing goals over time.
Retirement planning
Quicken's retirement planning is extremely useful for planning for your financial future regardless of your age. You can create future models based on scenarios of how much you plan to put away for retirement each month and see your retirement contributions grow over time.
Quicken also has net worth tracking, so you can see how your overall net worth fluctuates over time. You can take snapshots of important retirement planning data, including your spending, that you can use yourself or take to your financial advisor.
Whether you're saving for a car, a college fund, or a new home, Quicken's retirement planning is a useful tool to help get you there.
Ease of Use
Although Quicken is loaded with nearly a dozen features, the app is surprisingly easy to use and works well on your desktop or mobile devices. Some users have complained about issues using the app on Mac devices. But other than that, you should find that the Quicken platform is seamless in setting up your accounts and allowing you to use all the features without any issues.
Quicken's Interface
The home page of the Quicken dashboard is meant to give you a comprehensive overview of your entire financial picture. Your accounts are broken into Spending and Saving, Property and Assets, Investing and Retirement, and Loans and Debt.
Quicken's dashboard is clean and visually appealing, and people of any age or tech-savviness should be able to get acquainted with the interface right away. We found that the budgeting reports were extremely helpful since you can personalize every category and the budget report was very easy to see if you were over or right on track with your budget.
The bill pay feature is another part of Quicken's interface that we found to be well-done. They claim that their bill pay dashboard is the "ultimate dashboard" that allows you to pay your bills easily and on time. They also have a calendar-like feature showing your upcoming or past due bills.
Quicken's Cost
With all the features that Quicken provides, you should expect to pay a pretty penny. We did mention that Quicken is one of the more expensive options on the market today, and we weren't lying.
Quicken has four plans that you can choose from. They range in price from $35.99 to $103.99 per year. Quicken also offers a service geared toward the younger generation called Simplifi By Quicken, which comes in at $47.99. Those using Simplifi can create monthly spending plans and use updated pie charts and graphs.
Quicken is Best For
Quicken is one of the most powerful budgeting and saving apps with plenty of useful features. But not everyone will find that Quicken is the best use of their time and money.
We believe that Quicken is best for people who will benefit the most from its features and ability as a tool to manage your finances.
First, people who want things to be simpler when managing their money will find Quicken useful. You'll enjoy the Quicken app if you want an all-in-one platform that you can check on the go while not sacrificing any of its features.
Some other finance apps on the market only specialize in one piece of personal finance. For example, some apps are only focused on budgeting and don't have the capabilities to manage your investments or personal loans. Quicken is your all-in-one solution that does it all, so there is no need to spend more money on other apps.
If you want in-depth information and details about your financial health, Quicken is the best app for you. They make it very easy to track your money to see where it's going each month. You can easily create budgets and monitor how close you are to meeting them at the end of each period.
Lastly, people new to budgeting or those just getting started with personal finance will find that Quicken is a powerful tool. Budgeting can be overwhelming for beginners, but the Quicken app makes it easy and has plenty of helpful resources for people that don't have as much experience with budgeting apps.
Bottom Line
Quicken is one of the best all-in-one personal finance apps today. We believe its features are comparable to Mint by Intuit, but with some bonuses.
While Quicken is one of the more expensive platforms available, it certainly packs a powerful punch with the ability to create custom budget categories, net worth tracking, investment management, and retirement planning.
The interface is very user-friendly, and people of all ages should quickly become familiar with the Quicken platform.