UPDATED: March 17, 2022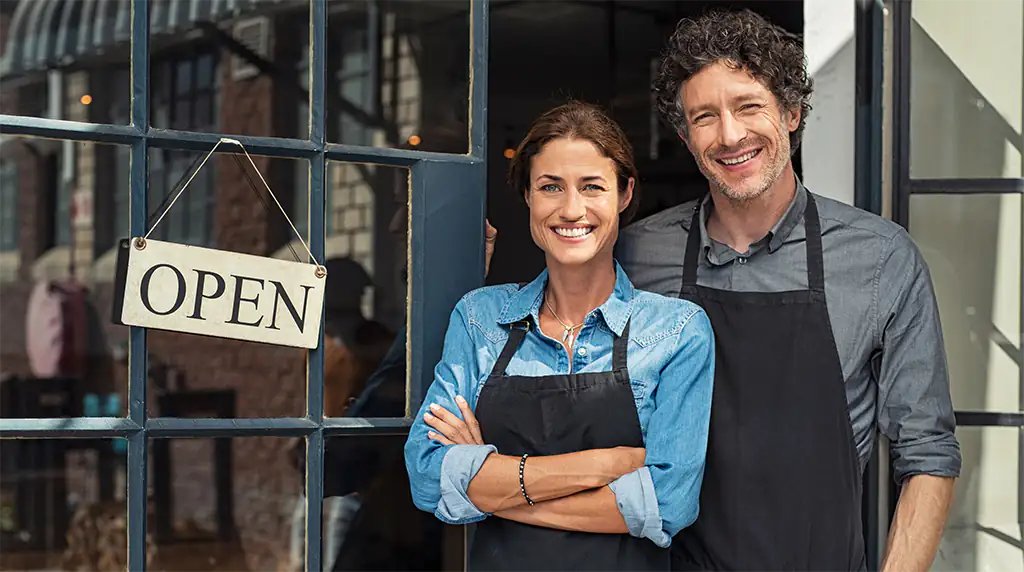 The COVID-19 pandemic hit small businesses especially hard. In fact, some major US cities lost almost 50% of all small businesses. While many businesses were forced to shut their doors for good, many others are struggling to bring revenues back to pre-pandemic levels. If you powered through the pandemic as a small business owner, here's what you need to know about how to grow your business in a post-pandemic world.
How the Pandemic Changed Small Businesses
The pandemic served as a huge wake-up call for small business owners. It rattled industries and forced businesses to wade into unknown digital territory.
Leadership teams had to figure out how to balance caring for employees' health while also making choices that would keep their businesses afloat. And as we begin to see the light on the other side, it's clear the pandemic changed small businesses in numerous ways.
The shift to digital:
If your small business didn't have a digital footprint going into 2020, you almost certainly do now. Businesses that previously existed in the physical space, like gyms and restaurants, needed to get creative and fast. And an abundance of digital communication platforms and the quick adaptation of Zoom meetings helped businesses navigate the move from in-person to online offerings. Social media proved to be one of the most vital sources of community and also one of the most considerable opportunities for brands to make their message known.
A sudden transition to a remote workforce:
Big banks and other industries used to having butts in seats every day took a hit at the beginning of the pandemic. But it turns out it might have been a blessing in disguise for the bottom line of both businesses and employees. With employees saving money on transportation and companies saving on real estate and office overhead, it turned out to be a substantial financial win-win all around.
A renewed need for innovation:
Not only did companies need to cater to a new way of managing their employees and their offerings, but they also needed to assess their market and look for new opportunities to monetize. We saw distilleries shift to churning out hand sanitizer and headband companies transition to the production of face-masks. A little creativity went a long way during the early days of the lock-downs. And businesses that were able to effectively pivot emerged victoriously.
Re-assessing employee wellness:
The pandemic exposed glaring health issues across the country. And it encouraged businesses to reconsider how they would make things safe for the return of employees and customers. Small businesses were also forced to consider employee's mental health and encouraged a reasonable balance between work and home life.
Needless to say, growth for small businesses was critical during the pandemic. And here's what you need to know to grow as we look ahead.
6 Ways to Grow Your Business Post-Pandemic
Given the numerous changes for small businesses over the last 18 months, it's the perfect time for companies to re-assess their goals and strategies. Here are the 6 best ways to grow your small business post-pandemic.
1. Support Your Internal Customers First
Work-life balance experienced a huge makeover during the pandemic. And as some companies move back to in-person work, it's essential to make sure employees are still maintaining that balance.
Small business employees are even more critical than those at larger companies. Often, these employees wear many hats and tend to be more emotionally engaged with the company. So it's more important than ever that small businesses put the needs of their most important customers first, their employees.
Keeping your focus on your employees' satisfaction ensures they'll deliver a better experience to your customers, which fuels business growth.
2. Get Ahead of the Next Disaster
If your company doesn't already have a well-thought-out and documented disaster response plan, now is the time to get it in order. It's important to assess both physical and digital disaster responses.
But businesses should also think beyond the next potential lock-down situation to other ways small businesses might be impacted in the future. Consider including:
What happens if the business loses a key employee?
How much runway do we have if we lose income for 1, 2, 3 months, or more?
How long can we sustain running the business if we lose access to core applications?
3. Build a Strong Financial Position
Many small businesses forced to shut doors for good during the pandemic didn't have a financial cushion. Getting ahead of the next disaster means having a solid disaster recovery plan and putting your business in the proper financial position to survive. A financial cushion doesn't necessarily mean spending room on your business credit card.
As you build emergency reserves, aim for at least 3 months of business expenses. It can be helpful to use cash flow statements from prior years to calculate your desired savings amount. Once you establish how much you need to save, make it a non-negotiable monthly payment until your reserves are fully funded.
4. Use All Available Channels
As people turn back to in-person events, it doesn't change the fact that digital offerings are here to stay. And keeping up a digital presence will be critical to thriving post-pandemic.
Create a presence on several social media and online channels. For example, consider starting a blog or making daily posts on Instagram to regularly deliver value to your clientele. A combination of in-person and online offerings is going to be incredibly important as we shift to the "new normal."
5. Focus on Your Email List
Email has withstood the test of time and the test of the pandemic. And with almost 90% of Americans over the age of 15 using email, it deserves your time and marketing dollars. Think about creating campaigns to nurture customers and digital journeys that encourage sales conversion.
6. Price Your Online Services Properly
In a pre-pandemic world, many online offerings didn't hold up to their in-person counterparts. For example, take a personal training session at a gym. Many gym owners didn't know how to translate to online services and drifted toward a lower price point for that offering.
In a post-pandemic world, companies have brought the value of their offerings even with those of in-person services. And customers are willing to pay for it too. So don't undercut online offerings; they've proved time and again to be just as valuable in the post-pandemic world, and they need an appropriate price tag to prove it.
The Bottom Line
The world of small businesses is forever changed by the COVID-19 pandemic. And what businesses do in the next few months will decide their fate long-term. So support your employees, create a physical, digital, and financial disaster recovery plan, build your budget and emergency reserves and solidify your digital offerings to ensure your business will thrive in a post-pandemic world.