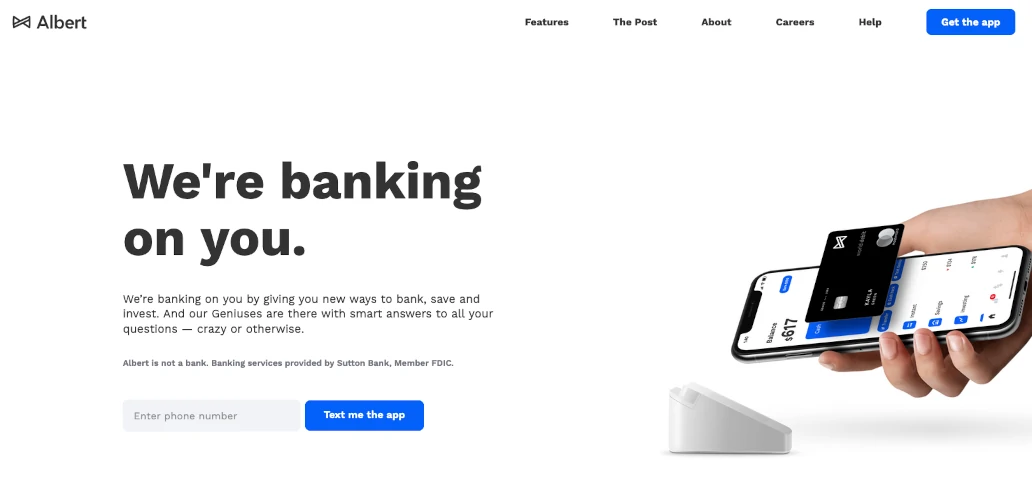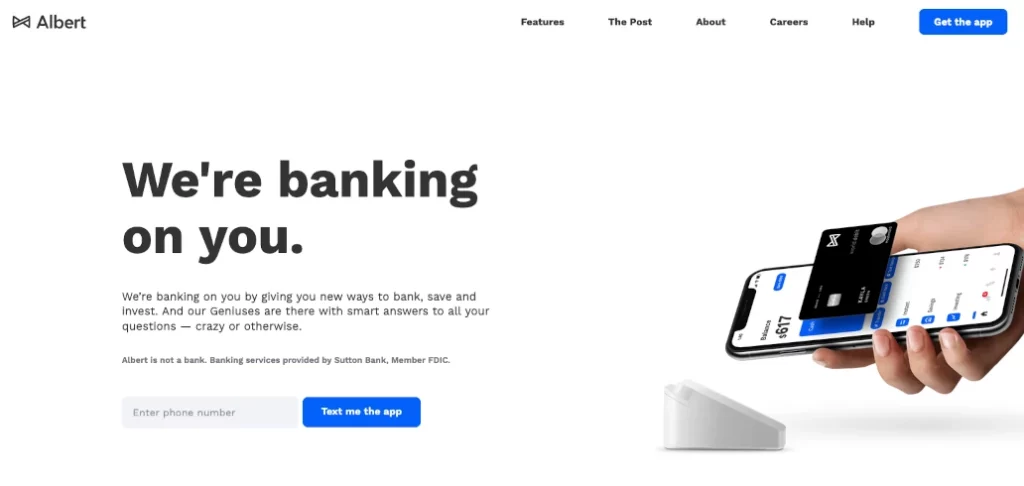 Ratings for Albert
Features

Ease of Use

Interface

Cost
Summary
Albert is an all-in-one finance app designed to offer all the features you need for day-to-day financial concerns, as well as advice and investment tools to help make the most of your resources.
Pros
Industry-leading security
FDIC insured
Syncs to accounts
Investment platform
Financial advice
Cons
No retirement offerings
Customer Service
If you're looking for help with your budgeting, retirement planning, or investment planning, Albert has features for you. 
Albert's app isn't really designed for business use, though some features may help with business finances. Instead, Albert is meant to make it easier for you to manage your personal finances, as well as finding ways for you to save money and make money management easier. 
Let's take a closer look at Albert's features, ease of use, and who Albert works best for. 
Albert's Features
Not all financial apps are created equal. It's important to make sure you've got the right tool for your needs. Otherwise, you might have a ton of tools, but none of the information or abilities you need.
This quick overview of Albert's features will help you decide if Albert is a good match for your financial needs.
Cash Back On Purchases
One of Albert's biggest draws is that they offer cashback offers at the stores you already use every day.
You need to sign up for an Albert debit card to access this feature, which means that you need to have an Albert account in addition to any other accounts you have linked through another bank. However, since it is a debit card instead of a credit card, this can be a much more affordable option for cash back. 
The exact amount of cashback you get for your purchases does vary between different kinds of transactions and can also vary depending on the retailer. However, average cash back is pretty generous, between 1-2% of your purchases.
Cash Advance For Bill Payment
In addition to offering cash back on purchases, Albert works to make it easier to budget for the month when you have a linked Albert account with direct deposit.
The app offers up to $250 in 0 interest cash advances on your next paycheck, assuming you have an Albert account and your check direct deposits into that account.
The loan is automatically paid back when your next paycheck comes in.
Unlike most payday loans, the 0% interest means that you aren't going to wind up paying back the loan for months and also lowers the total cost of the loan by a large amount.
If you're someone who struggles between paychecks, this feature can make budgeting easier.
Automated Saving
Albert is also designed to help with saving. The app monitors your cash flow, expenses, and how much you have left at the end of each pay period. Then, using your personalized finances the app helps determine how much you can safely save each month. 
Once you've decided on an amount that you can save, Albert sets up automatic transfers into your savings account.
Smart Saving And Custom Saving Goals
In addition to saving money automatically, Albert can also help you come up with good savings goals for your current financial situation, and also helps make saving easier by identifying potentially unnecessary costs.
Albert can help you find unused subscriptions, saving opportunities, and other ways to maximize your income so that you can reach your short and long-term savings goals. Trim's budgeting app has a similar subscription feature.
If you're struggling to put aside an emergency fund, this function is designed for you. 
Albert Genius – Financial Advice for Every Day
Feeling stuck and unable to reach your financial goals? Genius, Albert's paid advice feature, might just be the tool for you.
Access starts at just $6 a month, with the option to pay more if you feel like the service is worth it. Once you've got access to the Genius feature, you have 24/7 access to financial experts who can look at your financial situation and help you find good options.
Advice can range from ways to help your budget stretch further each month to how much you should set aside to reach your retirement goals. 
Exclusive Financial News
One of the perks of being an Albert user is that they also collect exclusive financial news and reporting to help you stay in touch with what's happening on Wall Street and more generally.
Especially given recent upheavals from Covid-19 supply chain disruptions to the war in Ukraine, financial news is important whether you're just looking for budgeting help or need information about investment performance.
The library is always coming out with more articles and financial news is kept as up-to-date as possible.
That means that you have access to the information you need whether you're an experienced investor or a financial novice just learning how to budget.
Investing
While most budgeting apps stick to the personal finance and financial goals side of things, Albert goes one step further with an easy and low-cost investment platform that makes it simple to get started in the investment world.
Investing advice from the Genius feature makes it easy to create a custom portfolio, while stocks and bonds search filters can help investors find the kind of companies, they want to invest in. 
Filters are also designed to let you filter looking for socially responsible companies, including filters like sustainable companies and women-led companies.
Auto investing allows you to set your preferences and start investing every paycheck. It's as simple as setting up auto savings but helps your money go even further.
Helps You Find Insurance
This feature is less an inherent feature of Albert, but an additional service they provide to users. Albert can help you find insurance deals, and search by specific kinds of insurance. 
This way you can quickly look at and compare different levels of insurance coverage and different insurance rates over time to see what options are going to work best for you.
Albert's Ease of Use
Overall Albert is a pretty easy app to use. A lot of the best budgeting features are built-in and kick in automatically so they're already there when you're ready to use them.
Like most budgeting apps it can take some time to get all of your relevant accounts linked, but that's not a big problem for most people.
The most frustrating part of Albert is that you need to open an Albert account to really take advantage of their most powerful features like cash back and easy investing.
Even then, Albert still has a lot of useful tools without signing up for an account. As an all-in-one budgeting app, it's pretty powerful. The automation and additional features that come with an account just make things a bit easier.
Interface (Mobile & Desktop)
Like EveryDollar, Albert is designed to be user-friendly and easy to navigate. There are a lot of different tools in place though, so there can be a lot of different windows to navigate for different portions of the program. 
The dashboard is going to be your main financial hub for information though. If you need more information than the dashboard provides, like to access the Genius advice feature or peruse the latest financial news, those areas are separate.
If you can navigate most apps on your phone or computer without a problem, Albert will probably be intuitive and easy to use. 
Cost
Most of Albert's features are free to use. Even investing comes with 0 commission, which can help make investing more accessible for people on a tight budget. The ability to identify savings opportunities also makes a big difference when it comes to budgeting.
Chances are, after a couple of months of using Albert, you'll have saved more than the minimum cost of its paid features.
The Genius feature is the primary paid feature when it comes to Albert. Starting at just $6 a month, that still makes this app one of the most affordable options out there.
That said, Genius is designed so that you can pay more for the advice you receive if you choose. Their pay-what-it's-worth model is designed to encourage users to pay a little more when they benefit, but not before. 
Of course, you don't have to pay more than the $6 minimum if you don't want to. That's entirely up to you!
Albert is Best For
Albert is probably going to work best for working people who have a little extra money or some wiggle room in their budget, but not necessarily a ton. It also has some benefits designed to help if you don't have any wiggle room – but only if you get an Albert account.
This app is useful for professionals but doesn't have some of the advanced features we'd want to see in a more complete investment app.
That said, accessing Albert's exclusive financial news and advice can give even very rich people with extensive investment portfolios some additional information.
Even so, we'd say that this app is designed for people who want their money to go further and is accessible even for people on a tight monthly budget.
Bottom Line
Overall, Albert offers a good lineup of budgeting tools and financial education to help build your budgeting skills on your own. The app also works to identify unnecessary costs so it's easier to make your money go further.
Investment tools and automatic saving makes it easier to plan for your financial future.
The one drawback to Albert is that they don't have any retirement-specific savings or investment plans. So, if you're looking for retirement accounts and advice you'll need to look for an alternative program.