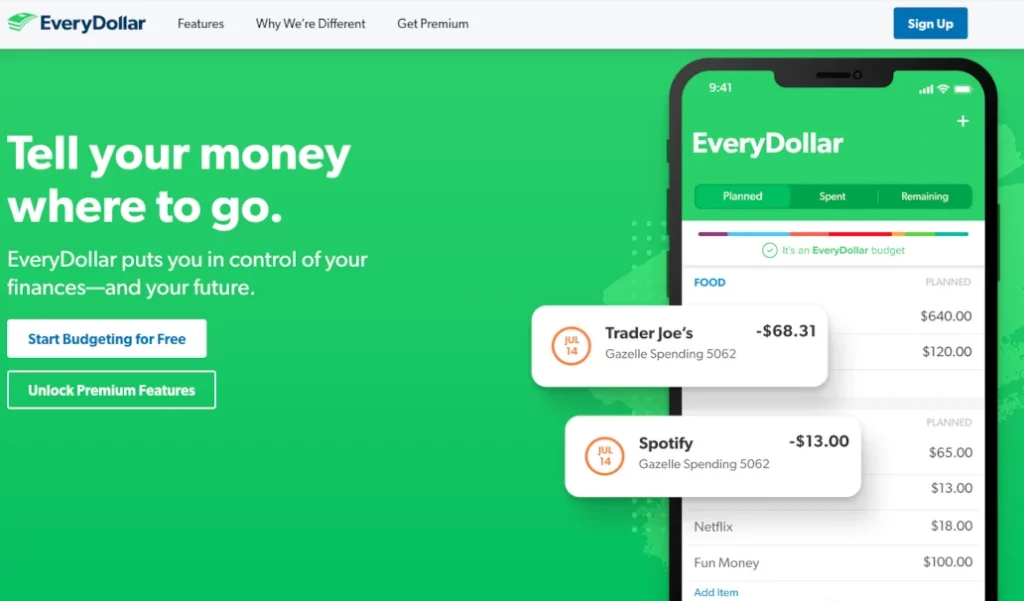 Ratings for EveryDollar
Features

Ease of Use

Interface

Cost
Summary
Every dollar is a budgeting app. It allows you to track how much money you make and gives you categories of where your monthly money goes. It was created by Ramsey Solutions by Dave Ramsey.
Pros
Very easy to use 
Unlimited budgets 
Transaction history is printable 
Allows for budget-breaking accommodations
Cons
Cost
Lackluster free version
Not personalized
Everydollar's budgeting app is aimed to help you spend your money the right way every month and not live outside of your means. It also helps you to plan (budget) where you're going to spend your money before the next paycheck comes, so you're prepared. 
Each month, you will know where every dollar you're making goes, hence the name. It also ensures you are not wasting money and helps you save money for the future. The app offers an easy-to-use interface and is easy to set up allowing you to have your budget in as little as 10 minutes. 
EveryDollar Features
Before downloading a new app, especially one that is going to be used for your money, you want to make sure that it has all the necessary features. This will allow you to know whether the app is right for you or not.
Every Dollar has similar features to other money tracking and budgeting apps, namely Mvelopes, as well as a few other ones that competitors don't have. You can also use many of the features in their default setting or you can personalize them to make the app more useful for you and your budget. We did find however that you cant take the personalization as far as many other budgeting apps.
Keep in mind the features might differ depending on whether you using the free or premium version.
Due Date Reminders
One of the easiest ways to wrack up more debt and find yourself in a financial crisis is by forgetting to pay your bills on time. EveryDollar's due date reminder feature allows you to avoid late payments and the fees that come with them. 
Debt Tracking
If you have any debt, the debt tracking feature will allow you to keep track of your balance, interest rate, and minimum payments. It will also help you budget for these monthly payments.
The debt tracking feature is only available for premium members.
Bank Connection
With the free version of EveryDollar, you will need to input all your transactions manually. With the premium version, you can add your bank account, and the app will automatically download and track all the transactions from your bank account. 
You can then drag each transaction to the category that applies it to your budget tracker. Examples include mortgages, insurance and auto loans. After you drag a transaction, you can see how much money you have left in that category. 
You can also link a credit card if you do not use your debit card or bank account for everything. 
Printable Transaction History
With EveryDollar's premium version, you can download and print your transactions. Many people still prefer hard copies of their finances and budgets so this is a nice way to be able to do that. 
Budget Breaking Accommodations
If you happen to have a bill that is over budget, the app will show a negative number in that category. You will then have to adjust your monthly budget to accommodate for the higher bill.
This allows you to still stay within budget and see where you can afford to move things around and still not go over your monthly goal.
Big Picture Dashboard
When you first log into the app, you should see a simple and straightforward dashboard where you can see a summary of your income and expenses. This allows you have a quick view of how much money you have coming in and how much is going out.
It's also shown as a percentage to make it even easier to keep track of your spending.
Debt Snowball
This feature allows you to add in all the balance of your debt to see how much you have in total. It will sort it from smallest to largest. This allows you to see which debts you can pay off first if you plan to use the debt snowball method.
You can also see your budgeted payments and whether you made them that month or not.
Ease of Use
You'll see how easy EveryDollar is to use as soon as you download it and open the app. It only takes about 5 minutes to set up and verify an account since the signup form is short and to the point. 
After making your account, you can easily set up financial goals from the lists and questions it provides you. You can also enter in personal information like whether you own a home or have kids. This allows the app to make more personalized recommendations for you.
Next, you enter in your monthly income and the monthly expenses you have. If you have the premium version, you personalize categories to make sure there is one setup for all the places you spend your money.
The free version only allows you to select categories that are already there so you might need to improvise if something you spend money on is not listed.
You can also add more categories if needed. You can add categories for savings and giving such as if you support a church or charity monthly. You can also make separate savings categories in case you have a few things you're saving for like school or a vacation. 
With the customization and easy-to-use dashboard, this is one of the easiest-to-use budgeting apps you can download.
EveryDollar Interface (Mobile & Desktop)
You can use EveryDollar on your mobile device or your computer. There is no app for desktops, so you will just go to the website and enter your login information. You can use it on a PC or Mac computer. It's able to work on Google Chrome, Firefox, Safari, and Internet Explorer. 
EveryDollar also has apps for Android and Apple devices. Most app users tend to have Apple devices so there are more reviews from the Apple Store than from the Google Play Store. 
On the apple store, it has an average of a 4.8 rating with about 60,000 reviews. For Android devices, the app has about a 4.1-star rating with almost 10,000 reviews.
As you can see, most people are happy with the app on both devices for the most part. It's easy to install and use.
Cost
There is a free and premium version of EveryDollar. Many people choose to go with the premium because of the many added features. The free version makes you do all your transactions and categories manually which can be a pain. It's basically just using a spreadsheet since the app is not doing any of the work for you.  
The premium version is $10.75 a month. This is a pretty steep cost compared to some of the other free budgeting apps like Wally. 
EveryDollar is Best For
EveryDollar is best for those who want to be able to see where all their monthly money goes. It can be easy to spend a few dollars here and there and forget about it. Then, when you get to the end of the month you are spending more than you are taking in. Every Dollar allows you to see where all that money goes so you can focus more on budgeting, saving and investing and less on banking transactions. 
EveryDollar is also best for those who need to keep track of debts. With the debt tracker and the debt snowball feature, you can see how much of your monthly income goes to debts like personal loans. You can also be sure you never miss a monthly payment again and get stuck with late fees. 
When you make your account you can also set up a goal. If you have a specific financial goal in mind, you can use the EveryDollar app to make sure you are budgeting for that goal. Some of the goals you can choose from on the app include:
Traveling
Saving for a home
Paying for your kids' college tuition
Stop living from pay check to pay check
Saving for retirement
Paying off debt
You can also choose more than one goal if you want.
Bottom Line
EveryDollar is a basic and useful app that allows you to track your spending relative to your income. You can also set up categories to see where you spend most of your money to see if there is an area where you need to cut back. 
While the free account version is useful and easy to use, the premium account is where the app shines. The app tracks your spending and categories for you so that you don't need to manually enter anything. At a quick glance, you know where you stand financially.
Give EveryDollar a try if you have a big financial goal you are having trouble reaching.