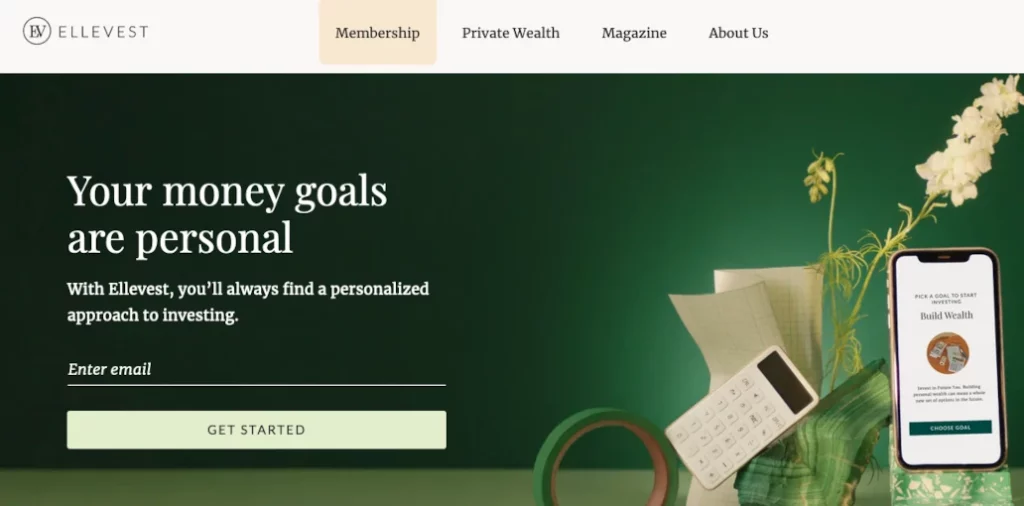 Ratings for Ellevest
Features

Ease of Use

Interface

Cost
Summary
Ellevest brands itself as a platform invented by women, for women. However, they fail to make it clear that the platform is welcoming of all genders.
Pros
Women-centric 

Low fees

No account minimums

Low-cost ETFs

Certified Financial Planners 

Gender-specific criteria
Cons
Limited account types 

No tax-loss harvesting

Features

Lack of customization 
The popular investing platform was started in 2014 by Sallie Krawcheck–one of the most powerful women on Wall Street who was the head of Bank of America's investment management division starting in 2009. Krawcheck led her division and generated $3.1 billion in profits during her short two-year stint with Bank of America.
Today, Krawcheck is the face of Ellevest. The goal of her investing platform is to do everything it can to close the gender pay gap in the United States by empowering women to take control of their investment decisions and personal finances. Ellevest hopes to provide its investors with the highest returns possible while still remaining a women-focused company.
While some investors may be put off by Ellevest clearly favoring women over men, there is no denying that Ellevest has made its mark on the industry and continues to thrive. They have over 120,000 active users–of which 90 percent are women.
This review discusses Ellevest and whether or not you should consider this women-centric platform for your investing and retirement goals. We go over the features of the app, who it's meant for, and how this platform compares to other investing platforms on the market.
Ellevest Features
Ellevest wouldn't be so popular for women if it didn't have loads of helpful features. Below are the top features of the Ellevest platform.
The only platform with women in mind
The driving force behind Ellevest is that women have historically been underpaid and unfairly treated in the business world. The gender pay gap is a real phenomenon and Ellevest wants to do something about it. Ellevest puts women first and helps them plan for life events like having children, taking time away from work, and the fact that they tend to live longer than men and need a different investing approach than their male counterparts.
Women who are financially savvy and those who want to start investing will find that Ellevest is one of the best platforms that empowers women and makes them feel like they belong in the investing world just like men.
Flat-fee structure
Instead of taking a percentage of assets under management (AUM) or expense ratios, like Acorns, Ellevest charges a flat monthly fee for their two tiers of services. Ellevest previously had three plan options but has since condensed its offerings into the Executive and Plus plans. Both of these plans offer learning resources, paid access to financial planners, and retirement tools with personalized investment plans.
No account minimums
Unlike competitors like Wealthfront, beginner investors will enjoy no account minimums to get started with Ellevest. All you need to do is easily sign up for an Ellevest account, answer a few questions, and you're ready to go.
Financial planning resources
We mentioned that Ellevest offers coaching access and other helpful resources that new investors will find very useful. Ellevest helps new investors get started investing. They host specialty workshops centering around different topics in each session meant to help beginners get started on the platform.
Automatic rebalancing
Automatic rebalancing is another popular feature among robo-advisors–and Ellevest delivers as well. The feature ensures that, as assets fluctuate and change over time, your account continues to stay balanced based on the risk profile you choose. This feature is ideal for investors who don't want to make trades daily and constantly monitor their investments.
Downsides
The flat-fee structure may be too much for small account balances
Those with small account balances may find that Ellevest takes a higher percentage of your account balance with its flat-fee structure. This makes Ellevest more appealing for those with higher balances often exceeding $10,000 or more.
Coaching access isn't free
In order to get access to financial planners and the resources that Ellevest has to offer, you'll need to pay a price. Those with low account balances may not be able to justify spending additional money on resources that eat away at their gains.
Little difference between Plus and Executive plans
According to their website, the only difference between the Executive plan and the Plus plan is that the Executive plan allows multi-goal investing and a bigger discount to consult with financial advisors–in our opinion, not enough to justify the costs.
No tax-loss harvesting
Tax-loss harvesting is becoming a popular feature among robo-advisors today. However, Ellevest does not offer this feature. Tax-loss harvesting is when a broker sells underperforming investments at a loss to take advantage of the tax benefits. Some robo-advisors have automatic tax-loss harvesting, meaning you don't need to take any action for the feature to work.
Low returns on cash management account
Ellevest is known for having a great cash management account feature. However, investors don't have the ability to earn interest on their savings which generates lower returns compared to competitors like Personal Capital.
Ellevest Ease of Use
Ellevest is geared towards women and many of their users are in a younger demographic, so it makes sense that they designed their mobile app and website with young professionals in mind.
Once you enter your email and create a password, like other robo-advisors, you'll be asked a few questions about yourself and your investing goals and personal finance goals including mortgage and personal loan payoff. Then you'll choose a membership plan which is either the Executive or Plus plan. At this point, Ellevest takes your answers into consideration and generates portfolio selections tailored for you.
Goal planning couldn't be easier with Ellevest and we believe they have one of the best platforms for setting and reaching your goals including building a winning retirement strategy. However, to access the multi-goal investing feature that includes college savings, retirement funds, and saving for a home, you'll need to upgrade your account to the Executive tier.
Ellevest Interface
The Ellevest platform has been around since 2014 and has undergone significant cosmetic upgrades since its inception. The mobile application is clean and it couldn't be easier to sign up for an account and get started with Ellevest.
Once your account is set up, you'll have access to all the features that your plan allows. We found that it was very easy and intuitive to navigate the Ellevest app, which means you shouldn't have any difficulty using Ellevest yourself.
Ellevest Cost
As we mentioned previously, Ellevest currently has two plans that users can choose from. First is the Ellevest Plus plan which starts at $5 per month or $54 per year. Next is the Executive plan which starts at $9 per month or $97 per year. While this may seem like a modest flat fee, investors with low account balances may find that these flat fees start to add up and may wipe out small gains over time.
Ellevest also charges for gaining access to workshops and consulting with financial planners–a key feature of the platform that some competitors like SoFi offer for free. Their specialty workshops cost $6 per session while the one-on-one guidance from a certified financial planner (CFP) starts at $115. However, Plus members and Executive members get a discount of 30 percent and 50 percent, respectively.
Ellevest is Best For
It's no surprise that the consensus says Ellevest is best for women. After all, their website and social media accounts don't try to hide the fact that it's a women-centric investing app. We believe that young women will find Ellevest empowering in their mission to close the gender wage gap and support women in the business and investing world.
Ellevest is also ideal for beginners who don't have much investing experience but know that contributing to retirement at a young age is important. It takes into account women's issues like taking time off after having a child as well as living a longer lifespan than men.
Bottom Line
We believe Ellevest has the potential to compete with the best of the best robo-advisors on the market. However, their approach to specifically targeting women investors is likely enough to deter men who otherwise may be interested in the platform.
Ellevest's features are similar to other robo-advisors but don't come with necessary features like tax-loss harvesting and generating interest on cash management accounts.
Taking everything into account, we believe you should look elsewhere unless you have a strong passion for women's rights and are willing to give up some standard features to support Ellevest's mission.