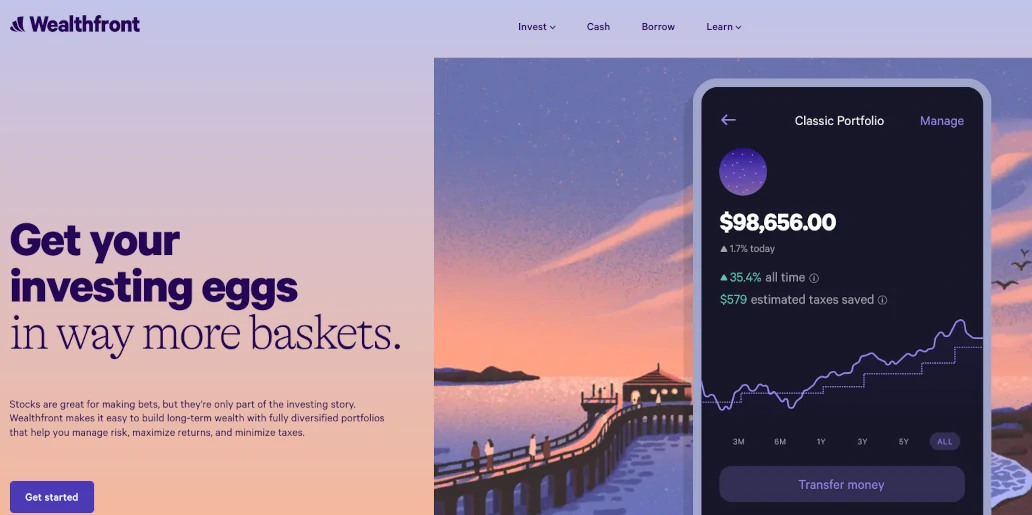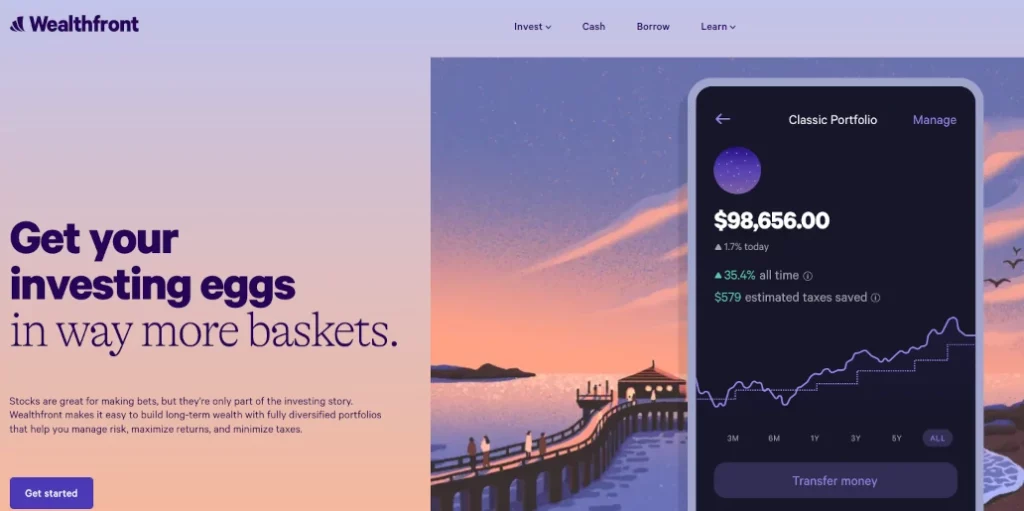 Ratings for Wealthfront
Features

Ease of Use

Interface

Cost
Summary
Wealthfront is often the top choice for investors and remains one of the original robo advisor apps, founded in 2008 by Stanford MBA Andy Rachleff. The platform touts 480,000 active users as of September 2022 and over $28 billion in AUM (assets under management).
Pros
Exceptional portfolio management
Adaptive investment portfolios
Socially responsible
Cryptocurrency investing
Risk-parity fund
Cash management accounts
Self-Driving Money
Tax-loss harvesting
Cost-effective
Cons
Minimal human interaction
Cheaper alternatives
No online chat support
Poor customer service
No fractional shares
$500 required initial deposit
Wealthfront has made a name for itself as one of the top picks for cost-effective investment apps that consumers rave about–receiving 5-star reviews from publications like Nerdwallet, Bankrate, and Investopedia.
However, Wealthfront's shortcomings center around little human interaction for investors and limited customer support. Wealthfront also could do a better job at incentivizing investors who bring a high balance to their platform.
In this Wealthfront investment app review, we will discuss the Wealthfront app, its features, and how to get started to allow you to decide whether or not you should use Wealthfront as part of your investment management tools.
Overview
Wealthfront continually garners recognition for being one of the top robo advisors on the market. It allows you to invest in a wide range of funds and assets, including:
Individual stocks
Socially responsible funds
Low-cost funds
And more
Wealthfront also made headlines in January 2022 when it announced that it would be acquired by wealth management giant UBS in a $1.4 billion deal. While some users might balk at the notion of the acquisition, CEO David Fortunato assured customers that the user experience wouldn't change and that they can look forward to utilizing some of the tools that UBS offers with their wealth management products and services.
Wealthfront's interface is highly user-friendly and attractive to investors of all ages and backgrounds. They also guarantee a custom portfolio that puts you in control of your personal finances and allows you to build a portfolio in investment vehicles in addition to stocks. Their experts create the portfolio and you can add and adjust your options to match your interests and risk tolerance.
The Wealthfront investing app remains a dominant powerhouse in the robo advisor space and shows no signs of slowing down after being acquired by UBS. You should expect to continue to see improvements in Wealthfront's functionality, investment options, and tools moving forward.
Wealthfront Features
Total portfolio management
Wealthfront has several features that aren't typical for robo advisors–making them unique from many of their competitors. Most robo advisors ask about your risk tolerance, time horizon, and other questions to build a portfolio that suits you best. However, Wealthfront changes the game in this regard.
They allow you to change your responses at any time, and you can adjust your allocations to suit your own preferences. They've also significantly expanded their low-cost funds to give investors the option to invest in funds that aren't available with other robo advisors.
Those with balances over $100,000 get access to a risk-parity fund designed to compensate high-balance investors for their risk (but costs 0.25 percent each year to remain a part of the fund).
Another feature Wealthfront is testing is its smart beta for those with a taxable portfolio of over $500,000. They weigh the stocks in your portfolio to increase your return using several factors contributing to higher gains.
Tax-loss harvesting
Many investors use tax-loss harvesting to reduce their taxable income at the end of the year. Tax-loss harvesting is often used by investors who sell one or more of their losing investments to offset other unrealized gains. Wealthfront uses algorithms to optimize your portfolio and make suggestions to save on your tax bill through tax-loss harvesting.
Portfolio customization
Wealthfront claims to have over 230 investment options, 17 asset classes, and 2 cryptocurrency trusts. Other investment categories for investors include commodities, foreign ETFs, tech ETFs, and bond ETFs. 
This makes Wealthfront one of the best options for investors who want to customize their portfolio rather than just having a robo advisor choose their investments. With Wealthfront, you can use the robo advisor to start and then alter your investing plan afterward.
Social responsibility
We've mentioned it a few times so far, but we want to reinforce the initiative that Wealthfront is taking to be a socially responsible company that offers a range of funds for investors–one being their social responsibility fund.
This diversified portfolio is hand-picked by Wealthfront to include companies focused on sustainability, equity, inclusion, and diversity. They tailor your socially responsible investments based on your risk level. For example, someone with a 5 out of 10 risk level will use a social responsibility portfolio consisting of:
36% US stocks
32% Municipal bonds
13% Foreign developed stocks
13% Emerging markets stocks
6% TIPS
Additionally, socially responsible portfolio management optimizes your investments for tax savings while using automation to buy and sell funds and rebalance your portfolio over time.
Self-Driving Money
Wealthfront's Self-Driving Money feature uses the power of automation and goal planning to help you reach your financial goals on autopilot. This feature gives investors plenty of options for how they can reach their goals using their automated tools. For instance, you can set an automation to transfer money from your checking account to your various investment accounts within Wealthfront or other external accounts.
Self-Driving Money lets you specify a percentage or dollar amount you want to be taken out and transferred directly into your investment accounts. Once your Wealthfront cash account is hooked up, you can let the Wealthfront robo advisor take over and enjoy the benefits of automation with your investments.
Wealthfront's Ease of Use
The Wealthfront app is highly intuitive and friendly for beginner investors and those who wouldn't consider themselves technologically savvy. Like most robo advisor apps, you'll answer a few questions about your timeline and risk tolerance, and Wealthfront creates your portfolio for you. However, Wealthfront is different because they let you customize your portfolio after they've chosen it. You can even go back and change your answers at any time since your investing approach changes over time.
Interface
Getting started with Wealthfront couldn't be easier. You'll sign up for an account and view a sample investment portfolio to get started. Some of the questions Wealthfront asks are information about your general investing goals, education, and retirement planning. 
You'll also need to choose your account ownership, which you have the following choices:
Individual brokerage account
Joint brokerage account
Traditional IRA
Roth
Trust
Simplified employee pension (SEP)
Once you choose your style (classic, socially responsible, or direct indexing), you can view Wealthfront's recommended portfolio based on your answers and risk level. Using a handy slider tool, you can view other portfolio options and see how your investments change based on your risk tolerance.
Lastly, you'll need to link your bank account to transfer funds into Wealthfront. They require a minimum account balance of $500 before they start investing in your portfolio.
Wealthfront Cost
Wealthfront also prides itself on being one of the market's most cost-effective comprehensive investment apps. While they don't have free features like Personal Capital, they have an account management fee of only 0.25% AUM and have a fund expense ratio of 0.08% for the core portfolio.
The app also doesn't have trading commissions or fees for withdrawals, transfers, or minimums. They pay 2% interest on cash balances and continue to offer high-balance accounts direct stock indexing.
Best For
While we usually recommend robo advisors exclusively to beginner investors who don't want to get bogged down in research and trading, we can honestly say that Wealthfront is a great option for beginner and experienced investors alike. They have all the tools savvy investors need at a low cost of 0.25% AUM annually while still catering to beginners.
Critics and consumers have lauded the app design and user interface, and the investment options that Wealthfront brings to the table are second-to-none. Venturing into the socially responsible investment realm is something only Wealthfront does well, which makes Wealthfront investors feel good about their investment portfolio.
Final Thoughts
There's a reason that Wealthfront receives high praise and numerous five-star reviews from authority websites like Nerdwallet and Investopedia. Total portfolio management, tax-loss harvesting, and portfolio customization are all features that most robo advisors can't compete against that Wealthfront does exceptionally well.
Whether you're a beginner investor hoping to get your feet wet or an experienced investor planning to bring a high balance to Wealthfront, you'll find that it's the perfect place to manage your money and stay on track with your financial goals.