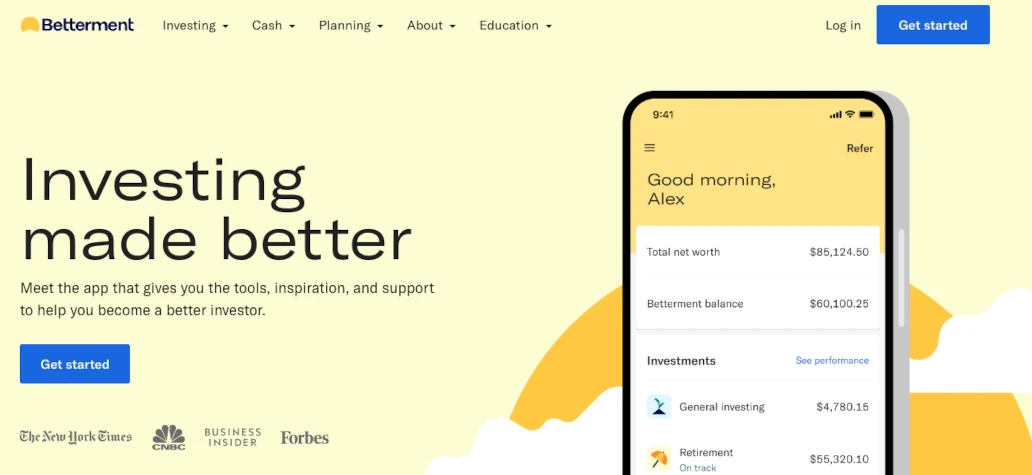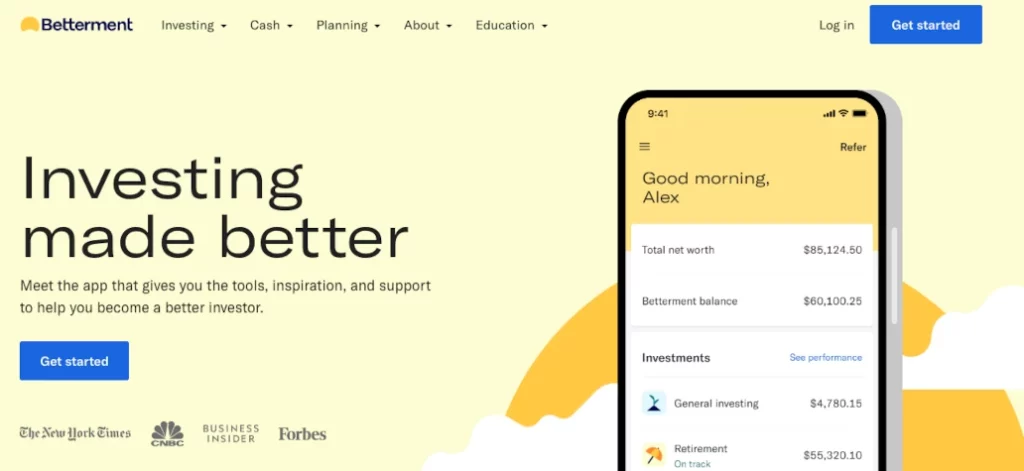 Ratings for Betterment
Features

Ease of Use

Interface

Cost
Summary
Betterment is one of the original robo-advisors and has continued to grow its platform over the last decade. Betterment outshines its competitors with its sophisticated yet simple investing platform with low fees, low account minimums, and excellent tax management features.
People who want to get serious about investing and hope to save up for a house or car will find Betterment to be the most useful for their goals. Betterment's proprietary algorithms assess your risk tolerance by matching you with investment portfolios that are in line with your financial goals. Unlike some of its other competitors, Betterment doesn't have a minimum deposit requirement which makes it easy for anyone to get started investing today.
In this review, we will dive into the features of the Betterment platform, its cost, and allow you to make the decision of whether or not Betterment is right for you.
Pros
Account minimums 

Management fees

Goal tracking

Tax-loss harvesting

SRI portfolios

Email support 

CFP professionals
Cons
Customer service

Premium plan minimums 

No margin

No borrowing

No direct indexing
Betterment is similar to Sofi and other robo-advisors in that you start by giving them your basic information like your age, income level, social security number, and other personal details. Betterment then gives you the option to select one or more goals while using the platform. You can choose from goals like saving for retirement, building an emergency fund, or long-term investing. Then you'll link your external bank account to set up recurring or one-time deposits for money into your Betterment account.
You can then choose from six different portfolios that are tailored based on your investing goals. For people with a long-term investment horizon seeking the power of compound interest, Betterment will recommend a mix consisting mostly of stocks and higher-risk investment options. If you're paying off debt and saving for an emergency fund, or need to save for an auto loan or house mortgage, Betterment typically advises you to choose a portfolio with a mix of bonds.
Betterment uses low-cost ETFs mirroring stock indexes in their investment portfolios. Everyone's goals will vary when it comes to investing, so Betterment may put you in 10 or more asset classes based on your risk and other factors. Betterment also uses your age, income, and goals to tailor your investment portfolios while other robo-advisors have long sets of questions to assess your risk tolerance.
Betterment Custom Portfolio Options
Goldman Sachs Smart Beta
Goldman Sachs Smart Beta custom portfolio uses alternative investing methods for diversification that keep your overall costs low while generating high returns for investors.
Flexible Portfolio
The Flexible Portfolio option gives you the ability to adjust the allocations and funds in your portfolio. Betterment uses the default portfolio where you can make adjustments for your custom needs.
Socially Responsible Investing
The clean energy and social responsibility movement among business owners is not only generating high returns for investors–it's making an impact on conservation efforts and helping those in need. This portfolio invests in ETFs that track companies leading the way in ESG investing.
BlackRock Target Income
This custom portfolio is a bond fund that is ideal for investors who want cash flow in a low-risk investment portfolio.
Betterment Features
Cash management integration
A variable APY cash account acts as a checking account without any fees that let investors keep track of all their investments in one place. Betterment has other integrated cash management features that can be useful for investors with multiple investments that generate their own cash flows.
Tax-loss harvesting
Competitors often require a minimum balance to start automatically using your investments with tax-loss harvesting. This happens when one or more of your underlying funds goes down in value and Betterment automatically sells it at a loss to take advantage of the tax benefits of losing money on your investments. Wealthfront also takes advantage of tax-loss harvesting!
Low management fees
Betterment has extremely low management fees for both the basic plan and the premium plan. The latter requires a minimum balance of $100,000 and also gives you unlimited access to Betterment's financial advisors by phone. Betterment has one of the lowest management fees among robo-advisors we've seen and is one of the top-selling points for the platform.
Rebalancing assets
Along with most robo-advisors, Betterment has a feature where they will automatically rebalance your asset allocations if your risk profile changes. Most robo-advisors offer a similar type of feature, but it's useful to know that Betterment does as well.
Fractional ownership
Fractional shares make it possible for small investors to own a part of larger indexes and funds. This feature is becoming more popular with investors who join with no minimum balances. Instead of leaving some funds in cash, investors can use their entire deposit and invest in various funds.
Mobile capabilities
Not all robo-advisors have award-winning mobile apps. Betterment's app makes it easy for investors to manage their money on the go. The design and features on the app earned Betterment 4.8 stars on Apple's iOS App Store and 4.6 stars on the Google Play Store.
Ease of Use
Like Personal Capital, Betterment's users rave about the design of their website and mobile interfaces. Upon signing up, Betterment walks new and seasoned investors through the features and the best ways to get started managing your investments with Betterment. Users can easily link their bank accounts and set up automatic or one-time withdrawals.
The website and mobile application were featured in top publications like The New York Times, CNBC, Business Insider, and Forbes. Betterment also distinguishes itself with its transparent pricing model, tax-loss harvesting features, and custom portfolio options.
Betterment Interface
Betterment's interface is known to be appealing to new and experienced investors alike, and is comparable to Sofi's. Regardless of your age or experience level, Betterment has a plan for you. Start with their basic plan to get your feet wet and start contributing to your investments based on your goals. They make it very easy for users to start investing fractional shares while working their way up to building a higher account balance.
You may find that you don't need to use Betterment if you link your bank account and set automatic deposits–it simply runs in the background as you continue to contribute to your investments over the years.
Betterment Cost
Betterment is transparent with their fees and they have some of the lowest pricing models among robo-advisors. In fact, you can get started investing with Betterment without any fees whatsoever.
Their starter plan gives you the most basic features that most investors will need to ditch for a full plan. However, the starter plan is great for beginners to bucket their money for individual goals with no fees. You'll also get financial goal-setting tools to help you manage your money.
Investors who want to take advantage of Betterment's full product offering will need the basic plan that comes with a transparent 0.25% annual fee with no minimum balance. This is the plan where you'll get low-cost investment portfolios based on your risk factors and priorities. You'll be able to take advantage of Betterment's top features like tax-loss harvesting, rebalancing, dividend reimbursement, and auto-adjustments.
Serious investors may want to explore the premium plan with an account minimum of $100,000. This plan gives investors all the features of the basic plan but with added perks. Investors get unlimited calls and emails with Betterment's Certified Financial Planners and in-depth advice on their outside investments. You'll also get checking and cash reserve features at no additional cost.
Best For
Betterment's three plans make it useful for beginners and seasoned investors alike. Their low management fees and custom portfolio options are enough to meet the needs of the majority of retail investors on the market. We're confident that you'll enjoy Betterment's friendly user interface which makes it easy to navigate for even the most technologically challenged.
The Bottom Line
Betterment is an industry leader in robo-advising and has been since 2008. Not all robo-advisors survive through market cycles, but Betterment has continually innovated and added new features for investors looking for more than just an investment platform.
Betterment shines with its low management fees and plethora of features in the basic version. Serious investors can upgrade to the premium plan and enjoy talking with CFP professionals to get tailored investing advice that they can't get included with other robo-advisors.