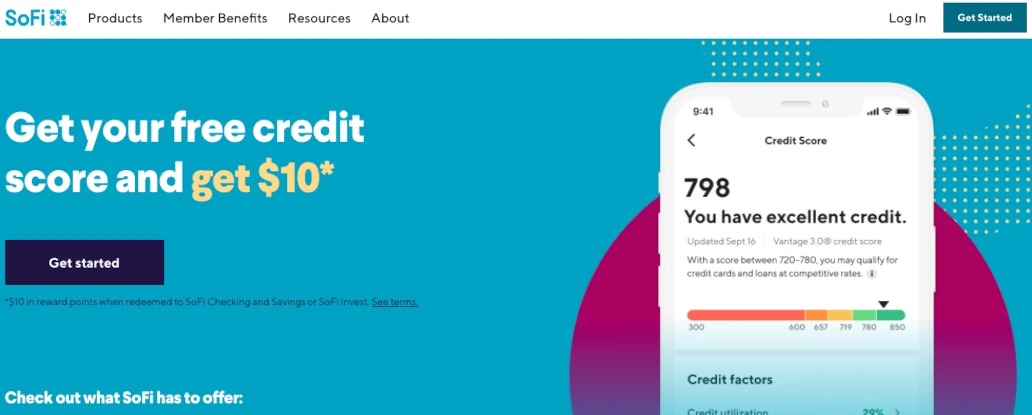 Ratings for Sofi
Features

Ease of Use

Interface

Cost
Summary
SoFi Invest is a relatively new player in the robo-advisor space. The platform is geared toward beginner investors who want a low-cost robo-advisor with the added benefit of having financial professionals to guide you through making smart investment decisions.
SoFi claims to have no management fees, although this doesn't mean that the service is free. SoFi Invest makes money from you in other ways which you should be aware of before signing up.
This article aims to provide information on SoFi Invest and whether or not you should use this investing platform to help reach your financial goals.
Pros
Zero advisory fees

Low-cost investments

Rebalancing

Customer support

Account & investment minimums
Cons
Tax features

Account types

No ESG or socially responsible selections

Portfolio customization
Started by two Stanford graduates in 2010, SoFi's goal is to make money management easier for young adults. Since its founding, SoFi has significantly expanded its breadth of product offerings and launched SoFi Invest to help retail investors reach their financial goals with a robo-advisory service.
Today, SoFi offers a fee-free robo-advisor with portfolios that fall into five categories consisting of low-cost ETFs. Their goal-planning features make it easy to set goals and stick to them for the long term–something that not all robo-advisors offer.
Another key feature of the SoFi Invest service is that investors have unlimited access to financial advisors on the platform. This type of service is not the norm for robo-advisors and makes SoFi an attractive option for new investors who are looking for resources when investing.
There's no disputing that like Ally, the platform is meant for beginner investors and a younger demographic. SoFi is a great way for young professionals to get started investing and saving up for big purchases like a home mortgage or auto loan in the future. However, experienced investors with larger portfolios may want to explore other options like Personal Capital.
Sofi Invest Features
Low Account Minimums
Anyone with a single dollar to their name can get started with SoFi Invest. Some other robo-advisors like Wealthfront, require account minimums of $500 or even $1,000–which is not ideal for beginners. SoFi allows beginner investors to get started on their platform and still offers plenty of the services that other competing robo-advisors offer.
SoFi's Automated Investing account service was voted as the top robo advisor by many personal finance reviewers of apps and robo-advisory services.
No Management Fees
SoFi can confidently say that they are one of the robo-advisors that offers its service completely free of management fees, making it an ideal platform for those with lower account balances and beginners just getting started with investing. There are also no administrative or advisory fees, however, this doesn't mean that SoFi Invest is a free service.
Access to Certified Financial Planners (CFPs)
As we mentioned earlier, joining SoFi Invest gives you access to Certified Financial Planners (CFPs) who are allowed to give financial advice, unlike normal customer service representatives. It's important to know that this is unlimited access while other competitors may offer limited access or charge to talk with a financial advisor. SoFi has a team of CFPs working for them, so there is no shortage of financial planners you can connect with.
Self-Directed Investing
For those that don't want to use the robo-advisory services but still want to invest with SoFi, there are self-directed investing features that allow you to make investments based on your own research. While most robo-advisors require you to choose one of their portfolios, SoFi offers self-directed investing for experienced investors.
Account Rebalancing
SoFi makes quarterly adjustments to ensure your investments stay on track with your risk tolerance and long-term goals. Account rebalancing features are starting to become the norm for robo-advisors, but we thought it was worth mentioning that SoFi offers this feature as well.
Sofi Invest Downsides
Hidden Fees
While SoFi advertises itself as a platform with no management fees, they make money on expense ratios for their ETFs. Although the expense ratios range from 0.02 percent to 0.08 percent, it's important to know that SoFi isn't a free investing platform and there are costs associated with using the service.
Zero Tax-Loss Harvesting Features
Tax-loss harvesting is becoming a popular feature among robo-advisors that allows you to minimize your taxable income by selling investments at a loss. You can potentially save up to $3,000 in offsetting your income with tax-loss harvesting strategies, which SoFi doesn't allow.
SoFi Infancy
SoFi Invest was created in 2017 and is still one of the newer platforms on the market. Experienced investors may continue to turn to SoFi's close competitors like Betterment and Wealthfront. These robo-advisors have established track records and provide consistent returns for investors.
Sofi Ease of Use
The SoFi Invest platform is geared towards a younger demographic, so it makes sense that the platform is intuitive and easy to use. To get started with SoFi Invest, you'll create an account using your email and password and then take a quiz that assesses your financial standing and long-term goals for your new investment account. The answers to this four-question quiz determine the initial portfolio that SoFi creates for you.
You'll be presented with five different options based on your risk tolerance. Each option ranges from conservative to aggressive risk profiles and includes up to nine ETFs from different asset classes.
SoFi allows users to view their potential portfolios before they complete the account setup process. Other robo-advisor apps require users to complete the sign-up process with their social security number and other identifying information that they may not want to share at that time.
After you set up your account and choose your account type, you'll link your bank account to your SoFi Invest profile and transfer the initial funds you want to deposit into your account. You need at least $5 to start investing and you can schedule recurring deposits so that SoFi takes out weekly or monthly withdrawals from your bank account.
Those that need help with setting up their account can use SoFi's customer service representatives on weekdays or the virtual chat which is available 24/7.
Sofi Interface
As we mentioned, SoFi's app interface is visually appealing and has a user interface that is smart and intuitive. There are clear instructions for signing up and linking your bank account to SoFi, so even those who are less technologically advanced can still navigate the app and set up their investments.
Just like Ellevest (although Ellevest tailors towards women), Reaching out for customer support is easy within the app. Standard features like controlling notifications and updating your banking information are easy to do.
Best For
SoFi is a good choice for many beginner investors regardless of your age. The service is one of the newer ones on the block, which means its user interface and features are the best in the business. SoFi Invest is right for you if you want to get involved in automated investing with the lowest fees possible.
SoFi also returns the human element to robo-advisory services with unlimited access to Certified Financial Planners–something that not many other robo-advisors can say they offer. It's great for beginners that need support when they have questions about their investing decisions.
The lack of tax harvesting strategies is typically a problem for experienced investors with high balances. However, beginner investors with low balances probably won't face any real issues with the lack of tax features.
Lastly, SoFi is great for investors with low balances that want to get their feet wet with investing. By getting started young, some investors can approach retirement with a substantial nest egg that's compounded over the years.
The bottom line
SoFi has built a reputation as one of the best robo-advisors on the market that offers plenty of useful features with the added benefit of unlimited access to financial advisors.
We believe you can't go wrong with SoFi if you're just getting started in your investing career. However, experienced investors should probably look elsewhere.