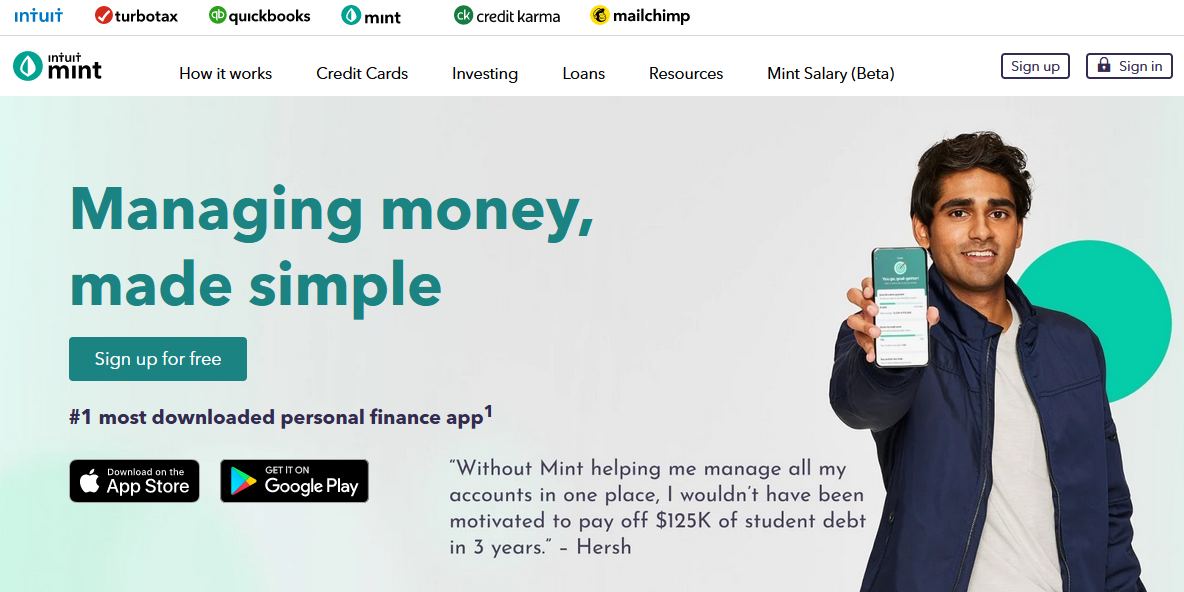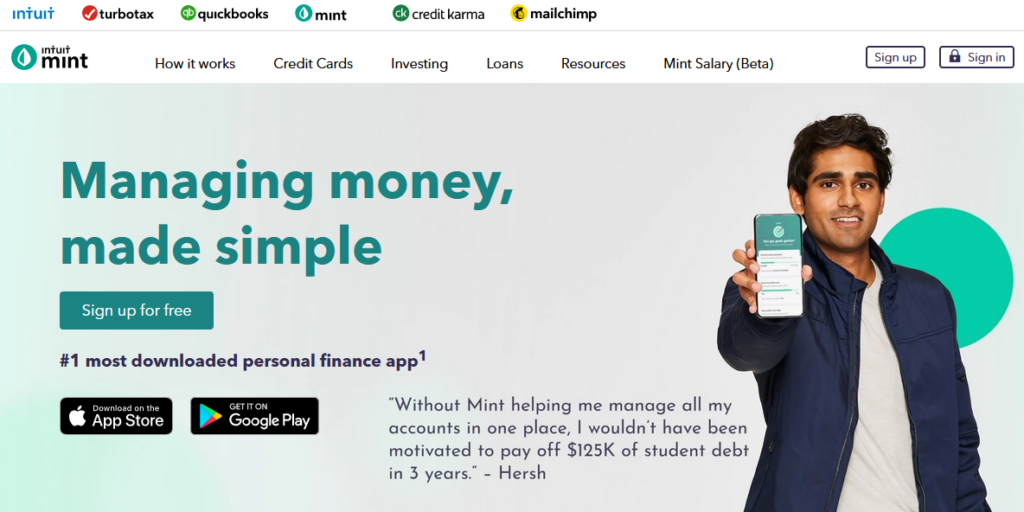 Ratings for Mint
Features

Ease of Use

Interface

Cost
Summary
Mint has been around for a long time and remains one of the market's top personal finance management tools. The app has plenty of features that its users have continued to rave about since its release in 2006.
Mint is perfect for those just starting their investing journey since it has plenty of features that cater to inexperienced investors and "budgeters." Mint also has enough capabilities that many seasoned investors still use to manage their budgets and keep track of their investments.
Pros
Excellent free version
Free credit score monitoring
Easy set up
Links many accounts
Ease of use
Crypto tracking
Cons
Customer support
Limited investing tools
No bill-paying options
Ads and cross-promotions
Incorrectly assigns categories
Connectivity issues
The highlights of Mint include being the best free budgeting and investing app on the market while also providing credit monitoring and net worth tracking abilities. The app has helpful alerts and reminders and uses industry-standard security features to protect its users' data.
However, low points of the Mint app reported by users include connectivity issues and the problem of being badgered by offers from partner organizations. Mint users report constantly trying to be sold for offers on credit cards, auto loans, and other paid financial tools. For many, it seems like that's the small price to pay for having a free all-in-one app like Mint.
In this Mint review, we will discuss the main features, how it works, and decide on a verdict on whether or not you should give this budgeting and investing tool a try.
Mint Overview
Mint is designed to be the only personal finance app that you need. Designed by Inuit (the makers of QuickBooks, TurboTax, and CreditKarma), Mint's budgeting tools allow users to manage their overall spending and track how it fluctuates over time.
Like Wally's budgeting app, you can set specific budgeting and savings goals by category, meaning you can set limits for how much you spend on gas, entertainment, groceries, and more. You can connect nearly all your financial accounts with the app, including bank accounts, credit cards, retirement accounts, and investment accounts.
Mint's desktop and mobile applications are one of the most visually appealing and easy-to-use interfaces we've seen. They make it very easy to connect your accounts and start using the many different features of the app right away.
Once you connect your accounts, Mint will do the rest. While the app has thousands of banks and credit card companies you can choose to link to, you may have to enter some information manually if you don't see your financial institution. There are also reports of users being unsuccessful in linking their accounts with the Mint app.
Mint Features
Spending categories
One of Mint's flagship features is that it breaks your spending into categories and makes it easy to see where your money is going. It gives a complete picture of your bills, credit score, budgets, transactions, goals, investments, and trends in a single place.
Mint has also added features to track your cryptocurrency investments which is something that most other comparable apps on the market can't do.
Credit score monitoring
No matter where you are in your financial journey, monitoring your credit score is a valuable tool. Mint allows you to track your credit score and see when something impacts your credit within just a few days.
This is especially useful for those planning to buy a home, car, or otherwise need a loan for personal use. Knowing where your credit score stands gives you the information you need if you find that your credit score needs to be higher than it is today.
Unlike checking your credit score through some other sources, Mint gives you an estimate that doesn't negatively impacting it.
Alerts and reminders
If you're like most people, you have monthly bills you need to pay at a certain time of the month. Not all bills are always due on the first of the month, which is why Mint gives its users the option to set alerts and reminders for upcoming bills or if they're overspending.
You can set up alerts in the Mint app for the following:
Bill reminders
Low balances
Late fees
Rate changes
Unusual account activity
Overspending
Mint net worth tracking
Your net worth is a numerical representation of the value of your current assets minus any liabilities you have. Some parts of your net worth include liquid assets, investment accounts, stock balances, cryptocurrency, real estate, vehicles, and other items of value.
Mint makes it easy to track your net worth as you progress along your financial journey. You can see how your net worth changes over time and which factors contribute to your net worth going up or down.
Goal setting
If you want to reach a certain net worth or have other financial goals, Mint makes it easy to set realistic goals. The app also uses machine learning technology to suggest how to modify your spending habits to reach those goals on time.
Supporting different financial accounts
Some personal finance apps allow you to link only certain types of accounts like checking accounts or a few credit cards. Mint lets you link many different types of accounts, including:
Bank accounts
Mortgages
Lines of credit
Credit cards
This gives you a clear picture of all your accounts in one place, eliminating the need for secondary apps to input your information into. Seeing debt accounts like mortgages, personal loans, and lines of credit ensure that you track your debt obligations and never accrue any late fees.
Security
Mint uses VeriSign which transfers all your data onto a secure server and provides optional multi-factor authentication to protect your account from hackers and unusual activity.
Mint's Ease of Use
Mint is the budgeting app we've found to be one of the easiest to use compared with similar apps on the market. Right when you download the app, there are helpful instructions on navigating it and using all of its features effectively.
After setting up your Intuit profile, Mint prompts you to connect all your financial accounts to use the service. The linking process may vary depending on your institution. Some banks will have you enter your information on the Mint app, while others will take you to their website to verify the information.
When adding a new budget category in Mint, you'll choose the frequency and set your budget amount. You can choose to start a new month with the leftover balance from the previous month, which rolls over your savings or overages.
Mint's Interface
Mint's interface has been through a complete redesign fairly recently. Users report that the new interface feels like Inuit's other product, TurboTax.
It uses large fonts and heavy weight for text that's designed to boost readability. The graphics are more prominent, easier to read, and a beta version is still in progress to make additional improvements.
While the new interface is much nicer and easier to use, the app lacks guidance on how to budget effectively. They make it easy to create specific categories, but beginners must look elsewhere for solid advice on budgeting their money. However, Mint does an excellent job of showing your spending, income, and financial goals in one place where you can track your progress.
Mint's Cost
While Mint is undoubtedly the best free financial budgeting tool, users must put up with a barrage of offers from their partners that are specifically targeted at them. Mint shows you offers for products like its own TurboTax, credit cards, auto loans, and more.
If the ads bother you that much, you can pay $0.99 per month to get rid of them on your mobile device. Mint Premium offers some additional features and can be purchased for $4.99 per month.
Mint is Best For
As you know by now, Mint is an excellent option for beginners and financially savvy investors alike. The app is totally free to use as long as you can put up with the bombardment of offers from partner organizations.
The app has a friendly user interface and the features are second-to-none. We believe that you'll find the option to create custom categories for your spending and having the ability to track your net worth and credit score extremely useful and are features that most other personal finance apps don't offer.
The Verdict
Whether you're fresh out of college or plan on saving up for a college fund for your kids, the Mint app is a pretty good choice, even the free version. You can set short or long-term goals and track your progress every step of your financial journey.
While the app has several shortcomings and some things that could be improved upon, Mint has a lot going for it, and you can't argue with free.