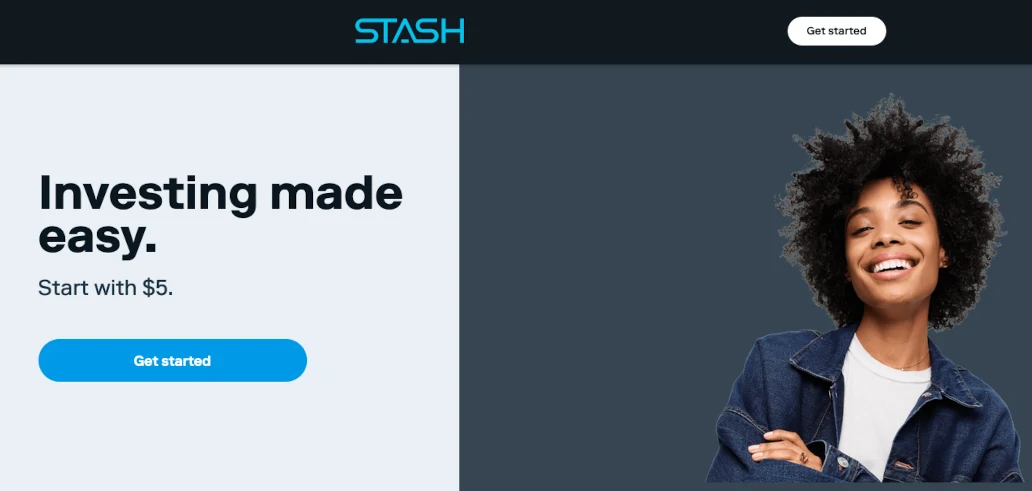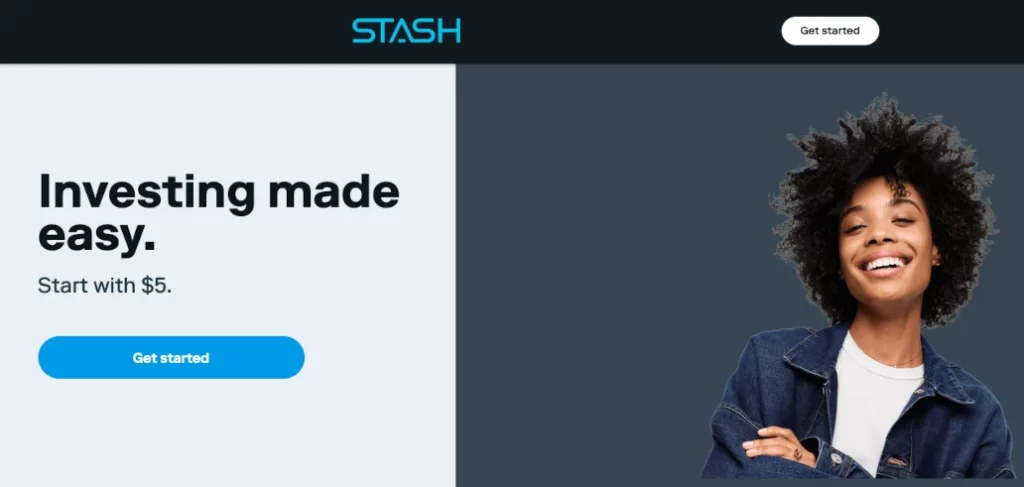 Ratings for Stash
Features

Ease of Use

Interface

Cost
Summary
Stash is a great investment app for those looking to get started in the world of investing. It offers a simple, user-friendly interface and a wide range of investment options, making it a great choice for beginners.
Pros
Easy to use
Features
Affordable
Interface
Overview
If you're looking for an app that will help you make investments and save money, Stash is a great option. It's an easy-to-use app with a variety of features that make it a good choice for both beginning and experienced investors.
One of the best things about Stash is that it offers a wide range of investment options. You can choose from over 4,000 different ETFs and stocks, including some that are socially responsible. This gives you a lot of flexibility in terms of how you want to invest your money.
Another plus is that Stash doesn't have any account minimums, so you can start investing without needing a lot of money upfront. And if you're new to investing, the app offers a helpful guide that explains the basics and helps you get started.
One downside of Stash is that it doesn't offer traditional IRA or 401(k) accounts. So if you're looking for an all-in-one investment app, this may not be the best option. But if you're just looking to invest in individual stocks and ETFs, it's a great choice.
Overall, Stash is a great investment app for beginning and experienced investors alike. It offers a wide range of investment options, doesn't have any account minimums, and provides helpful guidance for those who are new to investing.
Stash Features
As with other investment apps, one of the best features of Stash is that it offers a wide range of investment options. Whether you're just getting started or you're a seasoned investor, you'll find something that suits your needs.
Stock-Back® Card
One of the standout features of Stash is the Stock-Back® Card. This is a debit card that gives you cash back in the form of stock rather than cash.
For the Stash Beginner account, you pay $1 a month. And for the Growth account, you pay $3 a month. As a Stock-Back Card user, you get 0.125% stock reward every time you make a purchase on everyday goods and services.
Both accounts provide $1,000 life insurance access.
Moreover, shopping at certain merchants will net you 5% stock back. The Stash Beginner account also gives you access to a brokerage account. This taxable account gives you the ability to invest in a wide range of stocks and ETFs.
The Growth account gives you access to an IRA, which is a retirement account that comes with tax benefits. It's worth noting that you can't use Stash's Smart Portfolios to manage IRAs. This isn't unique to Stash, however, as many robo-investors follow a similar system.
Then there's the Stash+ account, which gives you all of the features of the other accounts plus a few extras. For $9 a month, Stash gives you access to two custodial accounts, with which you get higher rewards.
Rather than the 0.125% rewards that come standard with the Beginner and Growth accounts, Stash+ gives you twice the stock rewards. In addition, your life insurance access increases from $1,000 to $10,000.
Automatic Investments
With Stash, you can set up automatic investments, so your money goes where you want it to go automatically. This is a great way to ensure that you're regularly investing and staying on track with your goals.
You can choose how much you want to invest and how often you want the investments to be made.
Portfolio Builder
If you're not sure where to start when it comes to investing, Stash can help. The app has a Portfolio Builder tool that helps you create a portfolio based on your risk tolerance and investment goals.
You'll be asked a series of questions so the app can get an idea of your risk tolerance and investment goals. From there, it will suggest a portfolio for you.
You can then choose to invest in the suggested portfolio, or you can customize it to better suit your needs.
Real-time Data
Stash provides real-time data so you can always know how your investments are doing. This is a great feature for those who like to stay on top of their personal finances and investments.
Smart Portfolio
Smart Portfolios are Stash's robo-advisor feature. With this, you can get help building and managing your portfolio.
You'll be asked a series of questions so the app can assess your risk tolerance and investment goals. From there, it will create a portfolio for you and provide ongoing guidance to help you stay on track.
The portfolios are made up of ETFs, which are a type of investment that tracks a group of assets. This helps to diversify your portfolio and reduce risk.
One of the great things about Smart Portfolios is that they're re-balanced automatically. This means you don't have to worry about it yourself, and you can be sure that your portfolio is always well-balanced.
Portfolio Mix
Stash also has a Portfolio Mix feature, which is a tool that shows you how your portfolio is allocated. This is a great way to see if your portfolio is diversified and to make sure that you're not putting all of your eggs in one basket.
As diversified as Stash's Portfolio Mix feature is, it lacks any real exposure to correlated non-market assets, such as commodities and REITs. You do, however, have crypto access.
Ease of Use
Stash is designed to accommodate both beginners and experienced investors. Thanks to an intuitive and user-friendly interface, anyone can pick up Stash and learn its features with ease.
That said, those who are seasoned investors may find Stash to be a bit too limited, as the user experience is largely centered on new investors who are just getting their feet in the door. More experienced investors may find Personal Capital's robust financial planning tools more suitable to their needs.
Still, Stash's interface is a breeze to use and shouldn't present any challenges to even the most novice of investors.
Stash Interface (Mobile & Desktop)
Stash has a very user-friendly interface, both on its mobile app and desktop website. The design is simple and sleek, which makes it easy to navigate and find the information you need. The overall aesthetic of the site is attractive and welcoming, and the user-friendly layout should prove useful to inexperienced users.
The mobile app is especially user-friendly and allows you to easily see your account balance, recent transactions, and investment performance. It's available for both Android and iOS devices, and it's a great way to keep track of your finances on the go.
Cost
Stash has a $3/month account management fee. This tier gets you automated investing, which is more than reasonable when compared to other robo-advisors.
There is also the $9/month "Stash+" account, which gives you access to more investment options, including cryptocurrency and fractional shares. It's admittedly a bit steep, so you may want to look into other investment platforms if you're interested in those options but do not want to spend as much monthly.
Unlike investment apps like Wealthfront who require a $500 minimum deposit, you can start investing with with Stash with as little as $5. This makes Stash one of the more accessible investment platforms. For standard transfers, there's no fee. But for instant transfers (which can be useful if you want to invest spare change), there is a 1% fee.
Lastly, there's a $75 fee for full outgoing ACAT transfers. This is on the high end compared to other robo-advisors but not unheard of.
All in all, the fees for using Stash are pretty reasonable, especially when compared to other robo-advisors. The $3/month account management fee is very affordable, and you can start investing with just $5.
Best For
Stash is best suited for individuals who are looking to invest in a simple and straightforward way. The app takes a unique approach to investing, allowing users to start with as little as $5. With its simple interface and low barrier to entry, Stash is ideal for first-time investors or those who don't have a lot of experience in the investing world.
Another group that Stash is well-suited for is young adults. The app has a number of features that make it attractive to this demographic, including the ability to set up recurring investments and the option to invest in fractional shares. This makes it possible for even those with a limited budget to start investing and building their nest egg.
Finally, Stash is a good option for those who want to have more control over their investments. Unlike some other investing apps, Stash gives users the ability to choose which specific stocks or ETFs they want to invest in. This allows investors to build a portfolio that is tailored to their individual needs and goals.
Bottom Line
Stash is a great way to start investing, especially if you don't have a lot of money to start with. The fees are relatively low, and the app makes it easy to learn about and invest in individual stocks.
That said, there are some drawbacks. Stash doesn't offer as many investment options as some other robo-advisors, and it doesn't have a human advisor option if you want more personal help.
But if you're looking for a simple way to start investing and don't mind paying a little bit more in fees for the higher-end options, Stash is a great option.