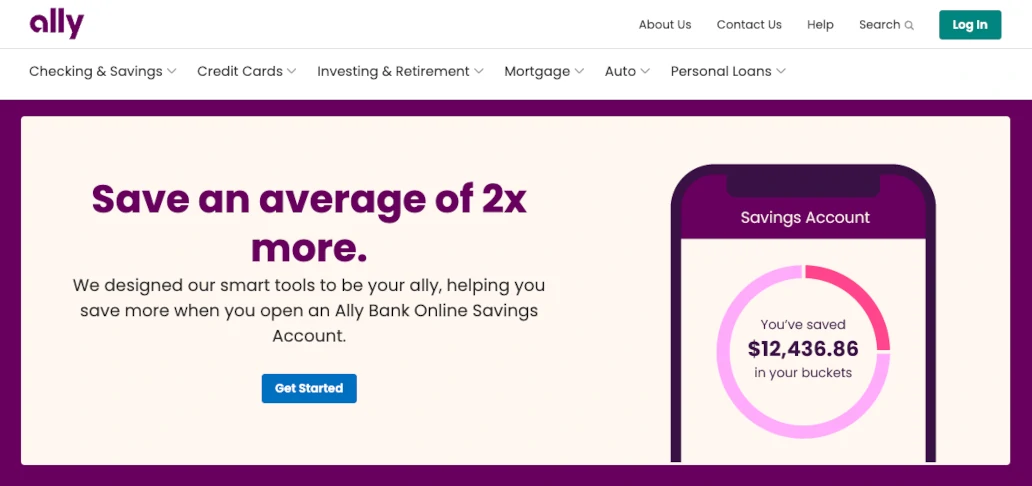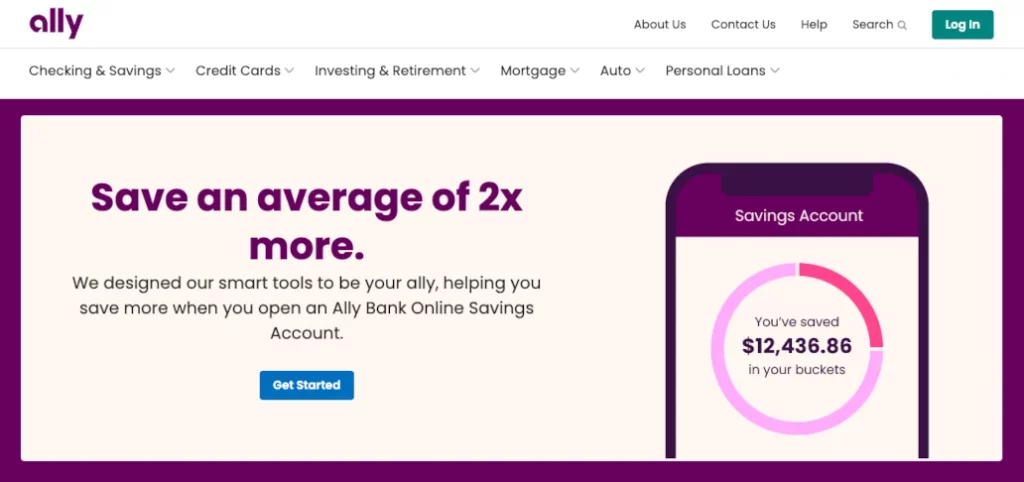 Rating for Ally
Features

Ease of Use

Interface

Cost
Summary
Ally Invest Robo Portfolios is ideal for existing Ally customers who want to automate their investing and save for retirement.
Pros
Low-cost ETFs

Investment options

Account minimums

Management fees
Cons
User interface
Goal-planning

Budgeting

Account types

No tax-loss harvesting 
One of the best parts about Ally Invest Robo Portfolios is that it appeals to people of all ages who want to invest in their retirement now. Whether you're two years away from retirement or twenty years away, Ally has the tools you need to ensure you'll have a comfortable retirement.
The platform isn't new, as it launched in 2009 but it's made upgrades to its interface and other cosmetic changes over the years. Ally Invest Robo Portfolios is known for being great at saving for retirement while lacking in other key areas that their competitors excel in.
Best For
Ally Invest Robo Portfolios is ideal for investors that want to save for retirement. Those that want other features like tax-loss harvesting and goal planning should look elsewhere. Ally Invest Robo Portfolios doesn't have good options for some of the common features of other robo-advisors.
Ally Invest Robo Portfolios has environmental, social and governance (ESG) investment options that allow investors to take part in supporting environmental efforts with emerging technology that helps to conserve resources and make the world a better place.
Ally Features
You can easily change your investments at any time.
Some robo-advisors make it difficult to change your investment allocations and risk profile. Ally Invest Robo Portfolios was noticeably easier to change your investment strategy whenever you feel it's best. Investors can easily navigate through the app and change their investments without any hassle.
Portfolio diversification
Ally Invest Robo Portfolios is a great option for those that are looking to diversify their investment portfolios. The app shows you projections for your annual returns while also giving you the option to change them at any time. Ally gives investors four main types of portfolio corresponding to their level of risk, including:
Tax-optimization. The tax-optimization portfolio strategy helps to lower taxable income by adding bonds to the mix and selling investments at the right time for the most gains possible.
Core. The core portfolio has the ideal mix of stocks and bonds and forms the framework for a sustainable long-term portfolio. Investors new to the platform should consider the core portfolio, as it will meet most of their needs.
Social responsibility. The social responsibility portfolio invests in ESG companies and those who are actively trying to reduce our carbon footprint. ESG investing is starting to become mainstream as more investors are looking to fund companies with a mission to help the environment.
Income. The income portfolio offered by Ally is meant to maximize income and targets income-producing stocks and bonds. Those who want cash flow should consider the income portfolio over the other three we mentioned.
Low account minimums
Ally Invest Robo Portfolios has a $100 minimum investment, making signing up easy and accessible to people of all ages. Other competitors like Wealthfront are geared toward experienced investors who make higher initial deposits.
24/7 customer support
Ally Invest Robo Portfolios has portfolio specialists who are available during normal business hours to answer any account-specific or technical questions. As we mentioned earlier, Ally Invest Robo Portfolios doesn't offer access to trained financial advisors and only has live chat, email, and phone support for investors.
Fee-free rebalancing
Markets tend to shift over time, and Ally Invest Robo Portfolios keeps up with the changes. They rebalance your profile as the market changes to ensure your risk tolerance and investing goals continue to be met. Not all robo-advisors offer this feature, so it's nice that Ally Invest Robo Portfolios rebalances your accounts without any action by investors.
Ally Downsides
No support from investing professionals
Like Acorns, Ally Invest Robo Portfolios doesn't give its users access to CFP professionals as part of the service. Beginner investors may find that they don't get the support they need to get their feet wet with investing. Competitors like SoFi offer unlimited access to financial advisors and don't charge extra for the service–one of the only robo-advisors to do so.
Tax-loss harvesting
Ally Invest Robo Portfolios doesn't have tax-loss harvesting features which are starting to become standard with most robo-advisors. Tax-loss harvesting is ideal for investors since it sells your underperforming assets at a loss to take advantage of the tax benefits. By doing so, some investors can save thousands at the end of the year by reducing their taxable income. However, this isn't possible with Ally Invest Robo Portfolios.
Goal planning
Ally Invest Robo Portfolios doesn't have robust goal-planning features like some of its competitors. Their goal-planning options are limited and all you can do is select one of four options and the time horizons for your goals. Ally doesn't do much else in terms of goal planning and isn't the best option for investors who want to set financial goals and stick to them. If you are using Ally and want goal planning capabilities, we suggest pairing with a budgeting app like EveryDollar or Pylon.
Ease of Use
Of all the robo-advisors we've reviewed, Ally Invest Robo Portfolios isn't at the top of our list. The app interface is appealing but not the best on the market when compared to Stash and Personal Capital . The ease of use is right on par with other robo-advisors. They make it very simple to link your account and set up recurring investments for those that want to automate their investing strategy.
Ally Interface
The interface on the Ally Invest Robo Portfolios is noticeably less appealing compared to some competitors like Wealthfront. However, the interface is still intuitive and generally easy to navigate. The app also has very helpful graphs that show your investment performance over time and how trends in the market affect your portfolio.
Like most other robo-advisors on the market, Ally Invest Robo Portfolios asks you several questions once you sign up for an account. These questions help to identify how close to retirement you are, your personal finances and what your risk tolerance is.
With this information, Ally Invest Robo Portfolios gives you several portfolio types to choose from. Then, Ally prompts you to link a bank account and set up your first withdrawal.
Ally Cost
Ally Invest Robo Portfolios has several portfolio options to choose from. Below are the most popular ones:
Cash-enhanced. This account has no advisory fees and sets aside 30 percent of your entire portfolio balance in cash to cover your investments through periods of volatility. The cash-enhanced portfolio also automatically readjusts to keep the same allocations in your portfolio as the market shifts.
Market-focused. This portfolio has a 0.30 percent yearly advisory fee. This account holds about 2 percent of your money held as cash. You'll earn 2.25 percent in interest which is credited to your investments each month.
Bottom Line
Ally Invest Robo Portfolios is a contender for mid-market products available on the market today but simply can't match the features of popular options like Wealthfront and Betterment. Existing Ally customers benefit the most from Ally Invest Robo Portfolios and it's a logical add-on to those already banking with Ally. However, we believe there are better options on the market for those that want additional features in addition to saving for retirement.