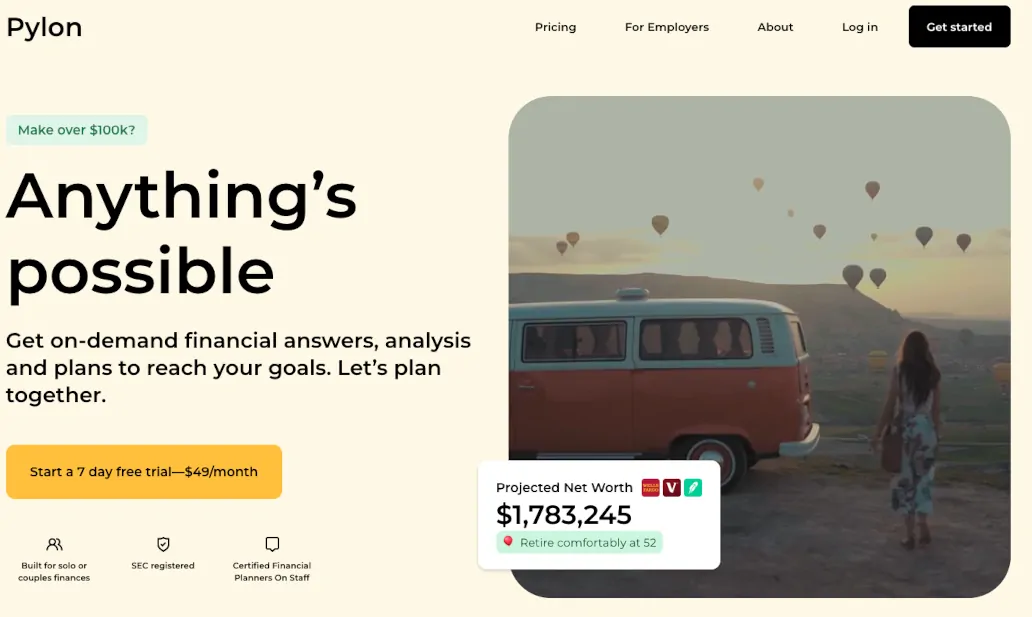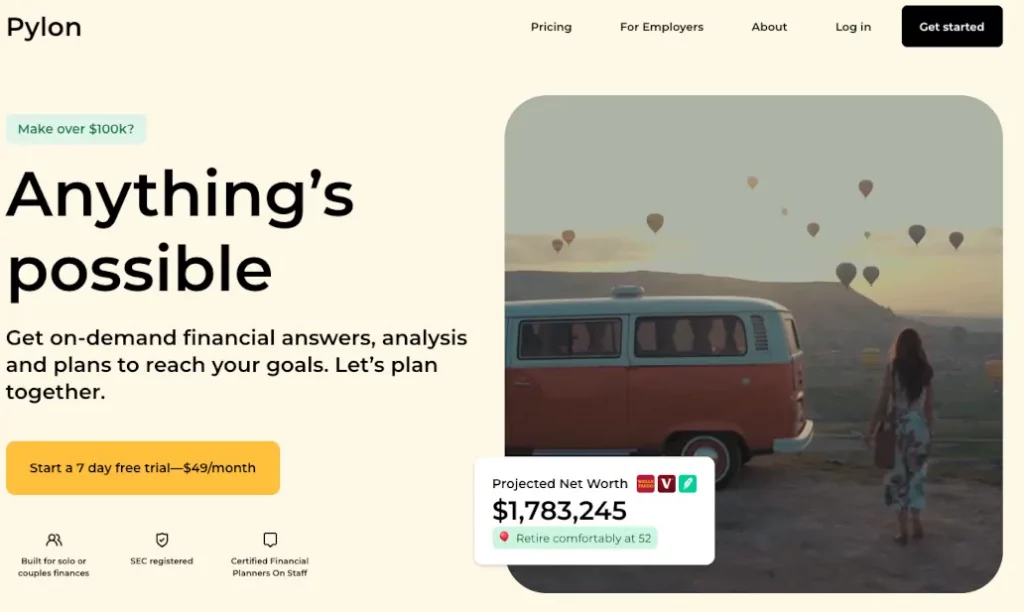 Ratings for Pylon
Features

Ease of Use

Interface

Cost
Summary
Pylon is a lesser-known financial planning tool that differs from many of the other budgeting and personal finance apps on the market. The tool can be extremely useful for those who want an actionable plan for getting to a comfortable retirement by utilizing the advice from Certified Financial Planners (CFPs). The financial planners are verified by Pylon and they can help answer any and all questions you have about your finances and goals in the future.
Pros
Ad-free experience
Goal-focused financial planning
Dedicated customer support
Net worth tracking
Free 7-day trial
Cons
$39 per month
No hands-on investment management
Credit card required
While there aren't all that many reviews and information on the Pylon app available, it remains one of the most useful tools for investment-focused people who want to plan for the future.
While other tools like Mvelopes and CountAbout are meant for everyday budgeting, Pylon users take advantage of their financial planners to get sound investing advice and tips on how to effectively reach their goals.
Pylon specializes in creating money plans for those looking for early retirement, people who just got married, those saving for college funds, and much more. You'll work with a financial planner as part of the monthly subscription to Pylon.
You'll also get pro-level monitoring to ensure that any fraud or unusual activity threats are caught before they manifest into major issues.
Pylon claims that its mission is to eliminate the stress that comes with financial management to improve your financial outcomes regardless of where you're currently at on your financial journey.
They've done the legwork in selecting CFPs who are qualified and trained in getting their clients results from an investment management standpoint.
Pylon Features
By now you know that the main selling point of Pylon is that you can tap into their network of qualified financial advisors, but that's far from being the only thing the app is good for. Below are all the features you'll get when using the Pylon app for your money management.
Custom Financial Plans With Pylon
If you're planning on buying your first home or car and don't know where to start, Pylon might be an excellent option to get your finances in order and develop a custom plan to help meet your goals.
Pylon's hand-selected Certified Financial Planners will get personalized answers to all your questions and give you actionable plans. They give you a complete picture of your financial plan, starting with advice and moving into your goals and what you hope to achieve.
They'll take care of all the planning and provide insights and automation to make your life so much easier than it was with other money management apps out there.
Long-Term Support
Pylon prides itself on providing the best support in the business. They'll ensure that their CFPs answer your questions with the right context while taking your long-term goals into account. They say that "nothing is off the table" and encourage you to ask questions like:
How to save more money
When is a good time to refinance my home?
What type of debt should be paid off first? Student loan debt or my mortgage?
How do taxes work on my capital gains?
How will our plan change if we have another child?
These are straightforward questions that most people wouldn't be able to get answered unless it was by a financial advisor like you'll have with Pylon.
Great Value Without the Fees
You get the dedicated management of a financial advisor without having to give up a portion of your overall portfolio. Traditional CFPs charge upwards of $2,500 plus assets under management (AUM) fees just to manage your money.
They'll also ask you to fill out a form each year to update your financial information, which can be time-consuming and painfully slow. Pylon skips all that and answers questions like:
Can I retire early if I want to buy a vacation home?
Should I change my investment strategy to account for inflation?
Can I retire early if I contribute more to my Roth IRA vs. my 401k?
Pylons Ease of Use
Pylon prides itself on being a straightforward platform for beginner investors and savvy investors alike. The platform is built to scale with the customer at the center of it all. They provide helpful financial visualizations and plans that scale with you as you grow your money. You can add your spouse with joint views and factor in things like college funds, trust funds, and much more.
It's designed for flexibility, growth, and change. Your advisor will also adjust your plans and give you advice based on changes you've made along the way.
Pylons Interface
Like Trim's budgeting app, Pylon has one of the most friendly interfaces we've ever seen in a money management tool. Their colorful graphs separate and highlight the most useful information, and the interface is easy for a beginner to navigate.
They have helpful bell curves to give a visual of where you currently stand in terms of reaching your goals, and asking questions to your advisor couldn't be easier with the chat features they've included on the app.
Pylons Cost
As we mentioned previously, like Quicken, one of the downsides of Pylon is that it is one of the more expensive tools on the market. But as you know by now, Pylon is a much different type of tool than others that are free or have low monthly payments.
Pylon is essentially a full-service financial advisory app where you'll get all the advice and service a traditional CFP provides but at a fraction of the overall cost you would spend on an advisor.
We think Pylon's $39 per month price tag can be justified if you plan on using them for your money management over a traditional advisory firm.
Pylon Is Best For
Pylon is a great tool, but we admit it's not the best fit for everyone. We think the app is best for those already making a good income and having a stable career.
The ideal customer is someone in their early to mid-30s that maybe just started a family and is starting to think about their family's future.
This person will want to plan ahead and ensure their kids are taken care of with their college education funds. The ideal customer also wants to ensure that they and their spouse will be in the best position for a comfortable retirement when the time comes.
If you don't fit this ideal customer description, there's no need to worry. Pylon is still a great choice for anyone looking toward the future and who wants to ensure that they are budgeting their money the right way today.
If you prefer a hands-off approach to investing, you'll find Pylon especially useful. However, you should probably look elsewhere if you like to hand-pick your stocks, trade intraday, or do any other active investment strategy.
Bottom Line
While Pylon has plenty of helpful money management features and some attributes that separate itself from other similar money management apps, many users still might find it difficult to shell out $39 per month on a personal finance app.
We believe that Pylon needs to better educate the consumer on the value they bring. It's not abundantly clear that they offer total money management with the help of CFPs that would otherwise cost them thousands of dollars each year.
Overall, Pylon is great for one thing: money management. If you're looking for other features besides investments and planning, you'll want to look at one of the many different options on the market today like Simplifi.