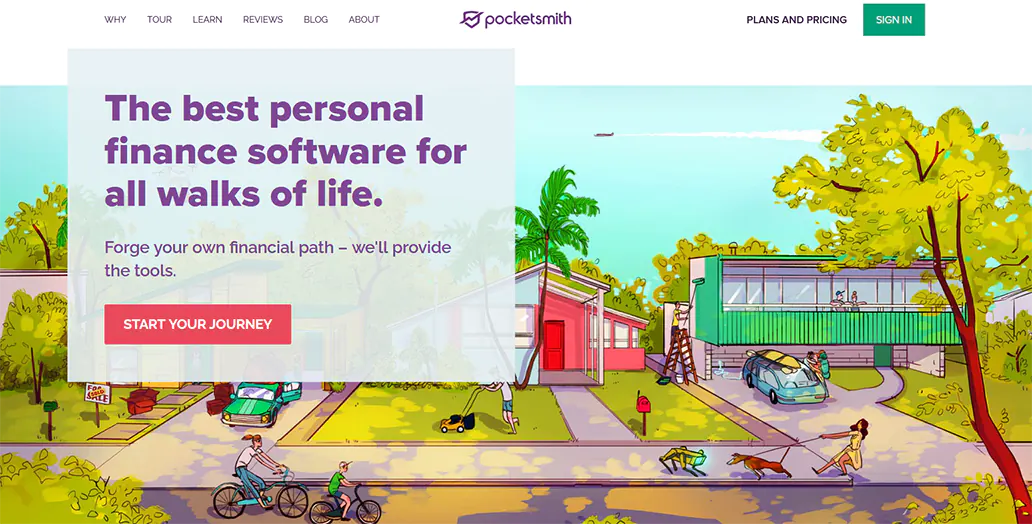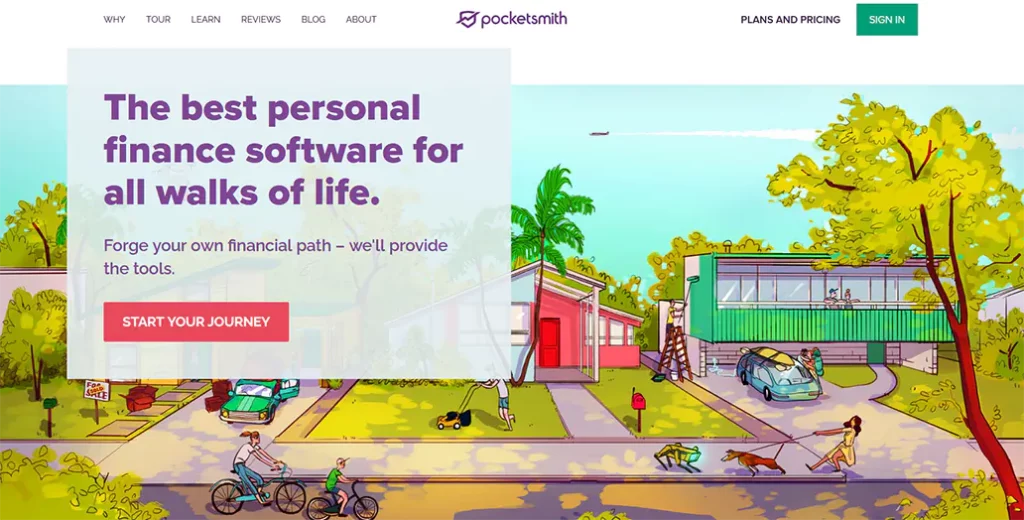 Ratings for PocketSmith
Features

Ease of Use

Interface

Cost
Summary
If you're someone who has suffered substantial financial blows because of improper budgeting, PocketSmith may be a good option for you. This personal budget app was made to make organizing your finances seamless and help you track your spending over time.
Pros
Financial forecasts
Spending categories
Multiple budgets
International Bank Connections
Cons
Expensive
Limited free version
Limited investing features
Customer support is lacking
PocketSmith has plenty of different features that make it a formidable opponent to some of the other personal finance apps on the market, like Wally 3.0 and Honeydue. The app makes managing finances easier by bringing your financial data under one roof with their all-in-one interface.
PocketSmith's calendar feature is beneficial since it gives you an idea of your current accounts and future projections. The calendar also syncs up to your linked accounts as well as all your different budget categories– one of the main selling points of this home budgeting tool.
In this PocketSmith review, we will discuss the pros and cons of using the platform, its features, and how to decide if this personal finance app is right for you.
Overview
Founded in 2008, PocketSmith acts as a personal finance assistant since it allows you to manage your expenses and see your complete financial picture. With the PocketSmith app, you can view a full summary of all your accounts and your transaction history in one place.
The main advantages of using PocketSmith over some of the other competitors in the market include creating any budget at any time. Most personal finance apps require you to create a budget at the beginning of each month, but PocketSmith allows you to create your daily, weekly, or monthly budgets at any time and you can choose when they start.
Like YNAB (You Need a Budget), PocketSmith also tracks recurring expenses like rent, utilities, mortgages and loan payments. You can also manually add one-time expenses or track streams of income like rental property income, freelancing wages, and quarterly taxes.
The app also lets you track your spending with standard budgeting categories and also allows you to create your own. Other apps like Mint organize your spending into categories without giving the user the option to create their own.
PocketSmith also helps highlight your spending habits over time so you can compare your budget with your actual expenses to get an idea of how close you are to meeting your budget.
While PocketSmith has some great features that other personal finance apps don't, there are some shortcomings that you should also be aware of. Below are some pros and cons of using this handy budgeting app.
Features
PocketSmith has many useful features, but we will highlight just a few here.
First, PocketSmith's forecasting ability is what separates this app from many of the others. Some apps, like Mvelopes, tend to focus on budgeting, but PocketSmith gives you valuable insight into forecasting in the future.
PocketSmith uses your previous data and spending trends and forecasts your financial picture for up to 30 years. This includes your daily bank balances that are adjusted to account for past spending habits.
The app also gives you clear visualizations using pie charts for its cash-flow forecasting models that allow you to see your current spending habits and how they can influence your wealth in the future.
PocketSmith also comes with a feature where you can test different scenarios from a financial perspective. For example, if you plan on taking a year off to travel, you can try the scenario to see how it changes your financial future. Other scenarios you can test could be for life events like saving for college, paying down credit cards, planning for a wedding, or saving up for a home for your family.
The app also excels at its bank aggregation, being able to connect users with over 12,000 financial institutions and get automatic updates from them. Each login that you do will provide you with the most up-to-date information about your bank accounts.
PocketSmith is also known for its security features. They use two-factor authentication to store all your data on their physical services and the data is encrypted with state-of-the-art technology.
Other features of the PocketSmith app include a net worth tracker so you can see how your net worth changes over time. Also, you can use the app to download income and expense statements and view your transaction history right from within the app.
Some apps are only available on mobile or desktop, but the PocketSmith app is compatible on any type of platform so you can access your information from anywhere.
Ease of Use
We found that PocketSmith is an app that is easy to use for people of all ages. The signup process takes seconds, and there are only five steps that you need to follow. You can also change your plan or cancel at any time with the touch of a button.
Some personal finance apps make it hard to cancel their services and make you jump through hoops. However, PocketSmith is so confident in its service that they make it very easy for users who wish to cancel.
Once you've imported all your information into the app, you'll see the dashboard where you can view all your current earnings and spending habits in one place. From here, you can navigate to different pages like reporting, budgeting, calendar, and transactions.
Like many other personal finance apps on the market, PocketSmith has great reporting features and gives you helpful graphs that allow you to map out your spending into different categories. While most apps have these features, we believe that PocketSmith is right in line with other budgeting apps from a reporting perspective.
Interface
The interface of the PocketSmith app is highly intuitive and gives you a clear understanding of your financial data and how your spending impacts your wealth in the future.
On the dashboard, you'll see that PocketSmith gives you a summary of your linked bank accounts and cards along with your recent transactions and your earnings and spending. You can also filter your earnings and spending for the week, month, and year.
The interface of PocketSmith also gives the option to import your data from Mint, which can be very helpful if you currently use Mint as a financial tool. Some people find that Mint doesn't allow them to link all their accounts, or they become annoyed that Mint is constantly trying to sell them financial products via advertisements so they switch to PocketSmith.
Cost
As we alluded to, you'll need to pay for PocketSmith if you want to get most of the features we've discussed. The free version has limited capabilities and only lets you add up to two bank accounts.
PocketSmith Premium gives you automatic bank updates and automatically imports your transactions and categories. This option gives you ten years of forecasting, and you can also create an unlimited amount of budgets in the app. Pricing for PocketSmith Premium is $9.95 per month, or you can opt for an annual plan at $89.
If you want the most features from PocketSmith, you'll want to get PocketSmith Super. This tier gives you 30-year projections and lets you add an unlimited amount of accounts and budgets. Pricing for PocketSmith Super is $19.95 or $169 per year.
Best For
Some personal finance apps only appeal to a specific demographic. However, PocketSmith is an app suitable for users of any age. The signup process is straightforward, and importing your banking information is seamless.
Older individuals will find that the forecasting features of PocketSmith allow them to plan for life events, while younger users will also appreciate its detailed reporting and visually stunning interface.
Savvy younger investors can also take advantage of the forecasting features to get a visual of how much they are able to save for retirement based on their budgets and saving habits.
Bottom Line
While PocketSmith has plenty of useful features that challenge other budgeting apps on the market, one user said that "PocketSmith is a five-star product with one-star pricing." Its pricing makes it less desirable, and the free version of PocketSmith is essentially useless.
If you're looking for a way to organize your financial information and want the ability to forecast your wealth in the future, then PocketSmith may be a good option for you. With the unique calendar feature that syncs to all your accounts, PocketSmith is a powerful tool to consider if you want to start taking control of your finances and plan for the future.