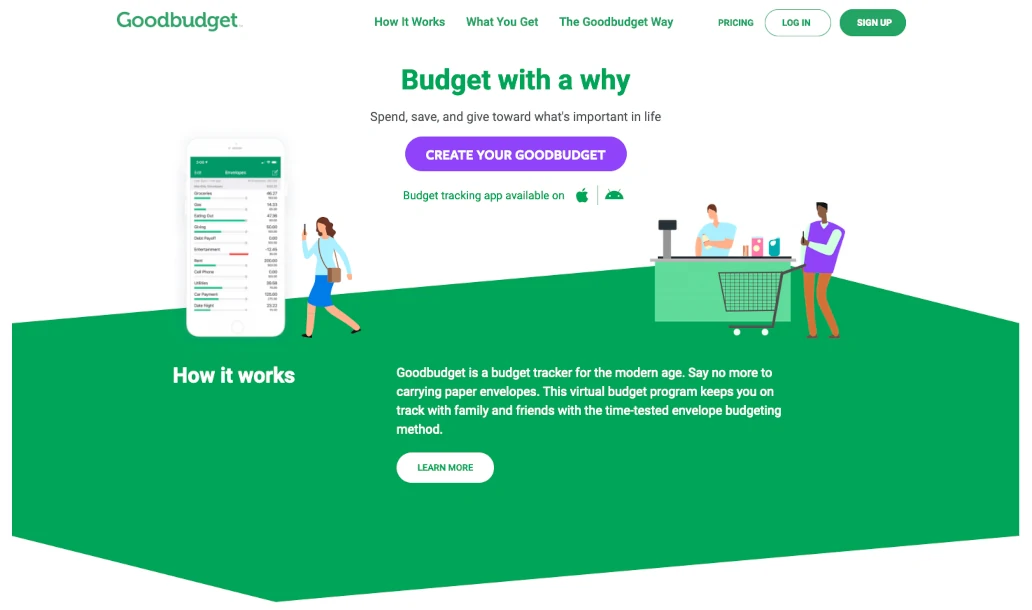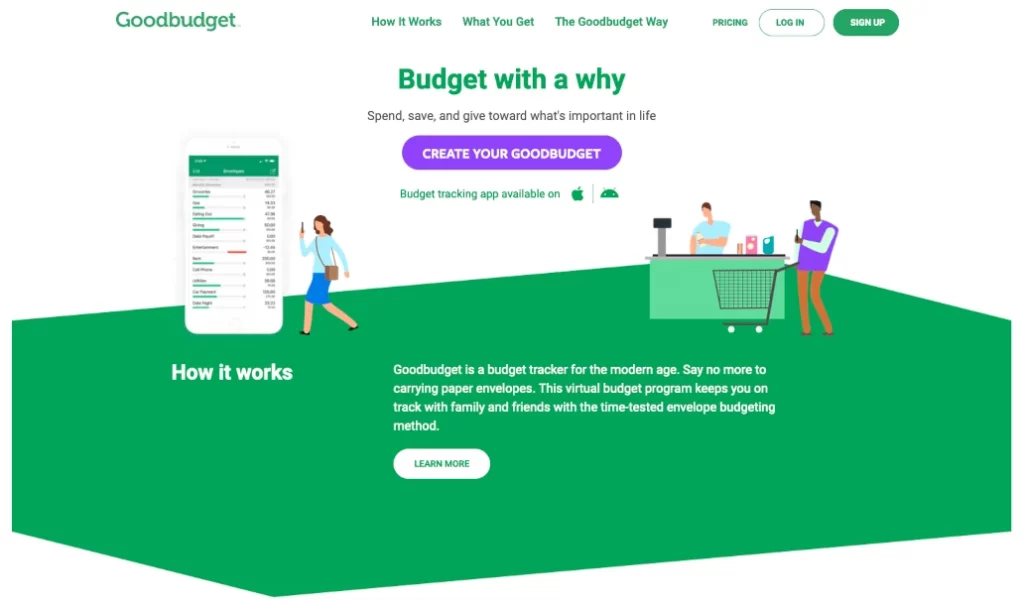 Ratings for Goodbudget
Features

Ease of Use

Interface

Cost
Summary
Goodbudget is a budgeting app that helps you handle your cash as effectively as possible. It uses the "envelope" method to designate your money for different purposes. Goodbudget is practical and benefits the user on a psychological level, too.
Pros
Affordable price point
Reports offered to users
Multiple user support
Multiple device report
Intuitive operation for users
Cons
Manual logging is a necessity
Limited access for the free version
Fewer features than similar apps
Overview
Goodbudget is an app that works for those tired of using spreadsheets and other platforms when investing in mortgages, college education, auto loans or daily expenses. They have all the features you need to keep everything in order and use a unique philosophy to separate funds.
If you are on the hunt for a practical digital app to keep track of your funds, Goodbudget is a good way to go. They bring money and the spender together in the best ways.
This app is ideal for individuals or households that need to keep track of their finances. It might be trickier for big companies to take advantage of Goodbudget's features. It helps take personal finance to the next level and makes overwhelming money management much easier for the average human.
Let's talk more about Goodbudget's features, ease of use, and who Goodbudget works best for in the world.
Goodbudget Features
Every budgeting app is different, and Goodbudget is no exception. There are features in this app to help you handle your expenses at a professional level. They can help you make the most of what you have and limit spending on things you don't need.
If you need help budgeting for mortgages, retirement, debt, emergency funds, and more, this is for you. Some features work well to improve household management of money.
This is a fast overview of Goodbudget and the features that make up the system. These will help you determine if Goodbudget is an ideal application for your life.
Envelope Budgeting
One of the best things about Goodbudget is its saving philosophy. Just like Mvelopes, the Goodbudget app offers envelope budgeting, which creates envelopes for every category you need to put money in for the future. Envelopes can include items like groceries, car payments, insurance, college payments, clothes, and anything else you might need.
The envelope budgeting is excellent because you can plan your spending rather than monitor your spending. It provides a way to think twice about taking money out of an account before you do it. You're less likely to remove income if you have it in an envelope labeled for groceries.
Most apps (like PocketSmith or Honeydue) allow you to set aside money in one account. Goodbudget splits it up. You can save for retirement, save for that apartment you've always wanted, or pay for medical bills a little at a time. There's much versatility to the envelope budgeting feature.
Goodbudget Syncing and Sharing
One of the best things about Goodbudget is that they allow you to sync and share your budgets with people in your household. You can keep track of finances and ensure everyone is on the same page with spending. If you're worried about funds, Goodbudget provides a way to check that everyone behaves accordingly.
Everyone has experienced a moment in their house when a loved one purchased something crazy and didn't tell them. With Goodbudget's syncing and sharing, you can see that expense as soon as it happens. You can talk to that person and communicate before confusion erupts in your household.
You can look at your budget and sync it across iPhones and Androids. There are no more excuses if you have a different type of phone - Goodbudget works on all devices. This sharing is also an excellent way to teach younger family members about budgeting and taking care of finances.
Planning
Planning is critical when it comes to finances. If you have a large household, you have to prepare for expenses ahead of time. You can't throw money around without warning. Goodbudget has multiple planning features to help you stay on top of upcoming fees and plan for the future worry-free.
Everyone has expenses in their life. Maybe you need a new car, want to pay down your credit cards or you're planning to move to a larger house. Goodbudget allows you to look ahead and set aside funds in preparation for that change. You can start months ahead of the purchase rather than waiting for the day to drain your account.
Even if you expect an expense, it hurts to see the funds pour out of your account. Putting money aside in Goodbudget allows you to pay with that account rather than pushing funds directly from your main account. It's much better for the mind and the wallet when done this way.
Goodbudget Debt Payment
Last but not least, Goodbudget allows users to pay off debts practically. They have a debt accounts section you can use to make payments, one at a time. You can even track your progress to see how much you have left in the process! It's easy to make payments with Goodbudget.
Debts are overwhelming. It's like a pin in your head, threatening all expenses. With a tracker, you can have peace of mind. You and your loved ones can know how close you are to pushing out of the pit of debt. It's more encouraging this way. Visuals help a lot!
It helps to keep track of debt while setting aside funds for what you need in the future. Goodbudget makes it possible to accomplish everything at once for the multitaskers in the world.
Ease of Use
Overall, Goodbudget is simple to use. You can click through with ease, access reports, and put funds in envelopes without much trouble. Users should have no problem sorting through the interface, whether using it on a computer or a smartphone.
The staff behind Goodbudget are always ready to talk and help with any need you might have. If something is confusing, you can give them a call and know there is someone else on the other end. That's a rarity for an application. The design is sleek and meant to benefit the user as much as possible.
There is a forum where you can ask people questions about the app. Goodbudget makes it so that you don't have to be alone while you work through your finances. There is always someone there for you, whether a worker or a fellow user. It's easy to use.
Goodbudget Interface (Mobile & Desktop)
Goodbudget works to make a user feel right at home. There are helpful diagrams and charts to break down where your money goes in a period. Everything is labeled to make it simple to move from one place to another.
Like Mint, the dashboard is simple and makes it easy to determine between expenses and budget. It's the same, whether you are on a mobile device or working from a desktop.
Of course, things get trickier if you are not savvy with computers. If technology is your downfall, it may be hard to find your way at first. Take your time and work through the application to ensure you understand everything before starting with more critical financial items.
Cost
There are two options for Goodbudget - free and a premium plan. They are very different. This portion of the app might be why people go with something else.
With the free plan for Goodbudget you can make use of basic features. Unfortunately, you are limited on what you can access without paying money. You get twenty envelopes, one account, two devices, a year of transaction tracking, and all the community support you need. It's minimal.
The paid plan costs $7.00 a month or $60.000 a year. It's affordable for a budgeting app especially compared to app like Quicken, and you get access to much more. With the paid plan, you get unlimited envelopes and accounts, five devices, seven years of transaction tracking, and all the email support you need.
If you are serious about tracking finances, Goodbudget is worth it. They are an affordable app, and the free version doesn't offer much. You might as well invest the money now for your finances in the future.
Goodbudget Is Best For
Goodbudget is best for individuals and families wanting to take a more proactive approach to their budgeting and personal finances. It makes it easy to put the small things in envelopes and ensure you're not spending too much.
This app isn't ideal for corporations. It's best for families and small groups of people who are serious about keeping track of their spending and want to make a difference.
Bottom Line
Overall, Goodbudget is an excellent app with budgeting envelopes to help you keep track of various budgets. The paid version allows you to connect accounts and monitor what everyone else in your house is doing. You can pay debts, track finances, and prepare for big moments like retirement or paying auto loans.
The biggest drawback is that the free version doesn't work well. If you want Goodbudget, you need to be ready to pay $60 a year.